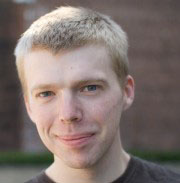 Andrew Norman (b. 1979) is a composer of chamber and orchestral music. A native Midwesterner raised in central California, Andrew studied the piano and viola before attending the University of Southern California and Yale. His teachers and mentors include Martha Ashleigh, Donald Crockett, Stephen Hartke, Stewart Gordon, Aaron Kernis, Ingram Marshall, and Martin Bresnick.A lifelong enthusiast for all things architectural, Andrew writes music that is often inspired by forms and textures he encounters in the visual world.
His music draws on an eclectic mix of instrumental sounds and notational practices, and it has been cited in the New York Times for its "daring juxtapositions and dazzling colors" and in the L.A. Times for its "Chaplinesque" wit.
Andrew is increasingly active as an orchestral composer. His symphonic works, often noted for their clarity and vigor, have been commissioned and premiered by the Los Angeles Philharmonic, the Royal Liverpool Philharmonic, the Orpheus Chamber Orchestra, the Minnesota Orchestra, the Tonhalle Orchester Zurich, and the Grand Rapids Symphony among others.
Andrew's chamber music has been featured at numerous venues in recent seasons, including the Wordless Music Series at Le Poisson Rouge, the MATA Festival, the Tanglewood Festival of Contemporary Music, the Los Angeles Philharmonic's Green Umbrella Series, the Juilliard School Focus Festival, and the Aspen Music Festival. In May of 2010, the Berlin Philharmonic's Scharoun Ensemble presented a portrait concert of Andrew's music entitled "Melting Architecture."
Andrew is the recipient of numerous awards and honors, including the 2005 ASCAP Nissim Prize, the 2006 Rome Prize and the 2009 Berlin Prize. He joined the roster of Young Concert Artists as Composer in Residence in 2008, and held the title "Komponist für Heidelberg" for the 2010-2011 season. Andrew's 30-minute string trio The Companion Guide to Rome was recently named a finalist for the 2012 Pulitzer Prize in Music.
Upcoming projects for Andrew include performances by the New York Philharmonic, the Philadelphia Orchestra, the Melbourne Symphony and the Saint Paul Chamber Orchestra as well as commissions from the Los Angeles Chamber Orchestra, where Andrew will serve as Composer in Residence for the next three seasons, and the Boston Modern Orchestra Project, where he is currently Composer in Residence. Andrew is also looking forward to upcoming collaborations with the Calder Quartet, pianists Jeremy Denk and Emanuel Ax, percussionist Colin Currie and Violinist Jennifer Koh.
Andrew lives and works in Brooklyn, New York, and his works are published by Schott Music.
View Andrew Norman's website >>