Antoine Tamestit, Viola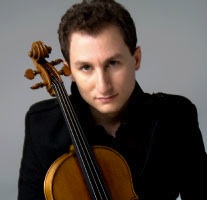 Antoine Tamestit was born in Paris and studied with Jean Sulem, Jesse Levine and Tabea Zimmermann. He was the recipient of several coveted prizes which lauched him at the highest level – First Prize at the Maurice Vieux Competition (Paris, 2000) and the William Primrose Competition (Chicago, 2001), First Prize at the Young Concert Artists (YCA) International Auditions which led to his New York, Boston and Washington recital debuts in 2003. In September 2004, he took First Prize at the 53rd ARD Munich International Music Competition.
In April 2004, Antoine Tamestit was selected to participate in BBC Radio 3's New Generation Artists Scheme; he is one of the winners of the Borletti-Buitoni Trust Award 2006, as well as laureate the Förderpreis Deutschlandfunk in 2008 and of the Crédit Suisse Young Artist Award 2009.
His repertoire ranges from the Baroque period to the contemporary. He has performed and recorded many world premieres – Viola, Viola by George Benjamin with Tabea Zimmermann which they played first in the Feldkirch Festival and subsequently recorded in 2003 for Nimbus Records. He premiered the Concerto for two violas by Bruno Mantovani written for Tabea Zimmermann and himself with the Orchestre Philharmonique de Radio France, the Liege Orchestra and the WDR Cologne. In 2009, the Austrian composer Olga Neuwirth wrote a concerto for Tamestit which he premiered in Vienna, Berlin, Tokyo and will soon play in Paris with the Orchestra Philharmonique de Radio France.
As soloist, Antoine Tamestit has worked with the Bavarian Radio Symphony Orchestra, the Leipzig Gewandhaus Orchestra, the Deutsches Sinfonie-Orchester Berlin, the Dresden PO, RSO Stuttgart, with the major French orchestras including the Orchestre Philharmonique de Radio France, Orchestre de la Suisse Romande under Marek Janowski and with the several BBC symphony orchestras. In 2008, he played with the Vienna Philharmonic Orchestra under Riccardo Muti at the Lucerne Festival.
Chamber music is an important element of Antoine Tamestit's work and life. His chamber music partners include Gidon Kremer, Leonidas Kavakos, Christian Tetzlaff, Emmanuel Pahud, Jean-Guihen Queyras, Renaud and Gautier Capuçon, Nicholas Angelich, Natalia Gutman, the Ebène and the Hagen quartets. He is invited by the most prestigious festivals: Lockenhaus, Rheingau, Schwarzenberg, Lucerne, Verbier, Salzburg and Newport. He regularly plays in a string trio with Frank-Peter Zimmermann and Christian Poltera.
In recital, he works with the German pianist Markus Hadulla and together they have played in the m ajor halls across the world – the Amsterdam Concertgebouw, the Vienna Musikverein, Carnegie Hall, Wigmore Hall in London, Megaron in Athens, Palais des Beaux-Arts in Brussels, Konserthus in Stockholm and the Cité de la Musique de Paris as part of ECHO's Rising Stars programme. In November 2006 he performed at New York's Lincoln Center – the first time the Center has programmed a viola recital.
Antoine Tamestit has a distinguished discography – a solo recording of Bach and Ligeti released in 2007 by Naïve/Ambroisie, Mozart's Sinfonia Concertante with Renaud Capuçon, Louis Langrée and the Scottish Chamber Orchestra for Virgin Classics; Schnittke Concerto with Warsaw Philharmonic and D. Kitajenko for Naïve/Ambroisie and Schubert's Trout Quintet with Christian Tetzlaff, Marie-Elisabeth Hecker, Alois Posch and Martin Helmchen for Pentatone. His most recent releases, an All-Schubert recording with soprano Sandrine Piau (Naïve), and the complete Faure Piano Quartets with the Trio Wanderer (Harmonia Mundi), have been widely and very warmly received: "Such bold invention is the result of a lifelong immersion in music… I admire Tamestit´s ability to bring forth a whole rainbow of colours even on one held note" The Strad.
Antoine Tamestit is professor at the Cologne Musikhochschule. He plays on a viola made by Stradivarius in 1672, loaned by the Habisreutinger Foundation.
Visit Antoine Tamestit's website >>