Leif Ove Andsnes, 2012 Music Director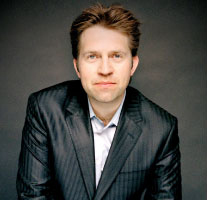 The New York Times has called Leif Ove Andsnes "a pianist of magisterial elegance, power and insight." With his commanding technique and searching interpretations, the celebrated Norwegian pianist has won worldwide acclaim, prompting the Wall Street Journal to call him "one of the most gifted musicians of his generation." He gives recitals and plays concertos each season in the world's leading concert halls and with the foremost orchestras.

Andsnes is also an active recording artist, as well as an avid chamber musician who has joined select colleagues each summer at Norway's Risør Festival of Chamber Music. He will serve as Music Director of the 2012 Ojai Music Festival in California.Beethoven will figure prominently in Leif Ove Andsnes's 2011-12 season and beyond, in concerto performances, recitals and recordings. Together with the BBC Symphony Orchestra and Jiří Bělohlávek, he will perform the Third Concerto in London and on tour in Spain. Soon after, he performs the First Concerto with the Vienna Symphony and Andris Nelsons, including concerts in Vienna's Musikverein. Andsnes will play the same two concertos with the Norwegian Chamber Orchestra in Gothenburg and Oslo. He then heads to North America for a series of fall performances of the First Concerto: with the Pittsburgh Symphony and Manfred Honeck; the Montreal Symphony with Roger Norrington; and, in January, the Boston Symphony under David Zinman, before returning to the Third Concerto, which he performs with the Philadelphia Orchestra and Herbert Blomstedt. Andsnes will play and direct both concertos with the Swedish Chamber Orchestra in Örebro, Sweden; and with the Trondheim Symphony Orchestra in Trondheim, Norway. He will tour with the Mahler Chamber Orchestra in Italy – including performances in Brescia, Lugano, Torino, Bergamo – as well as Dresden, Prague, and Bergen. The Prague concerts will be recorded live by Sony Classical – his label debut – and are the beginning of a multi-year project, entitled "Beethoven – A Journey," to play and record all five of Beethoven's Piano Concertos.
Other highlights of the 2011-12 season include performances of Rachmaninov's Piano Concerto No. 3 with Hannover's NDR Radiophilharmonie, Japan's NHK Symphony, and his hometown orchestra, the Bergen Philharmonic. While in Japan, he will also give recitals in Tokyo and Nagoya. Music by Chopin, Debussy, Bartók and Haydn will be featured on a recital program in North America and Europe. The first leg of the tour includes performances in Los Angeles; Morrow and Savannah, Georgia; Washington, DC; New York's Carnegie Hall; Chapel Hill, NC; and Chicago. A nine-city European tour includes performances in Schloss Elmau (Munich), Brussels, Oslo, Paris, Birmingham, London, Florence, Genova, and Berlin. A spring recital tour featuring songs by Mahler and Shostakovich brings Andsnes back to the States for performances with baritone Matthias Goerne in San Francisco, St. Paul, Kalamazoo, Detroit, and New York's Carnegie Hall.
Among the many highlights of Leif Ove Andsnes's 2010-11 season were two residencies: as Pianist in Residence with the Berlin Philharmonic Orchestra, he performed five diverse programs including chamber music, Brahms's Piano Concerto No. 2 with conductor Bernard Haitink, and a solo recital. He also served as Artist in Residence with his hometown orchestra, the Bergen Philharmonic. He toured Europe with the London Philharmonic and Vladimir Jurowski as well as Mariss Jansons and the Royal Concertgebouw Orchestra, and performed concertos with the Chicago Symphony Orchestra and Orchestre de Paris.
Last fall, EMI Classics released a recording of Rachmaninov's Piano Concertos Nos. 3 and 4 with Andsnes, Antonio Pappano and the London Symphony Orchestra; in the spring his recording of Schumann's complete Piano Trios with violinist Christian Tetzlaff and his sister, cellist Tonja Tetzlaff was also released on EMI Classics.
Leif Ove Andsnes now records exclusively for Sony Classical. His previous discography comprises more than 30 discs for EMI Classics – solo, chamber and concerto releases, many of them bestsellers – spanning repertoire from Bach to the present day. He has been nominated for seven Grammys and awarded many international prizes, including five Gramophone Awards. His recordings of the music of his countryman, Edvard Grieg, have been especially celebrated: the New York Times named Andsnes's 2004 recording of the Piano Concerto with Mariss Jansons and the Berlin Philharmonic a "Best CD of the Year," and the Penguin Guide awarded it a coveted "Rosette." Like that Concerto recording, his disc of Grieg's Lyric Pieces won a Gramophone Award. His recording of Mozart's Piano Concertos 9 and 18 was another New York Times "Best of the Year" and Penguin Guide "Rosette" honoree. He won yet another Gramophone Award for Rachmaninov's Piano Concertos Nos. 1 and 2 with Antonio Pappano and the Berlin Philharmonic. A series of recordings of Schubert's late sonatas – innovatively paired with selected songs sung by Ian Bostridge – prompted lavish acclaim, with the Chicago Tribune calling one release "Schubert playing of the highest order throughout."
Andsnes was born in Karmøy, Norway in 1970, and studied at the Bergen Music Conservatory under the renowned Czech professor Jiří Hlinka. Andsnes currently lives in Copenhagen and Bergen, and also spends much time at his mountain home in Norway's western Hardanger area. He is a Professor at the Norwegian Academy of Music in Oslo, a Visiting Professor at the Royal Music Conservatory of Copenhagen, and a member of the Royal Swedish Academy of Music. Andsnes occasionally contributes written commentaries to NPR's "Deceptive Cadence" blog, and in June 2010, he achieved one of his proudest accomplishments to date: he became a father for the first time.
Visit Leif Ove Andsnes' website >>