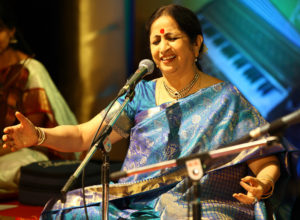 India's legendary classical vocalist Padma Shri Aruna Sairam, makes her Ojai Music Festival debut on June 11, 2016, at 8pm, during the milestone 70th edition of the world-renowned music festival in Ojai, California.
Regarded as the Music Ambassador of India for successfully taking Indian music to the global arena, Aruna Sairam will present a "pure south Indian classical" vocal concert. Joining her will be M Rajeev, violin; Sai Giridhar, mridanjam; Ravi Balasubramaniam, ghatam; and Aamani Mynampati, tempura.
"We are thrilled to welcome to Ojai one of the most revered, beloved, surprising, and progressive stars of South Indian music. Aruna Sairam traces her artistic and spiritual lineages from some of the great gurus of the female vocal tradition, both within her own family and across multiple strands of Indian music. This is a woman who lives and moves in many worlds and holds them all magically on the breath. South Indian music is itself a spiritual quest, a philosophical journey, and an evolving state of ecstasy, rapture, and atonement. Aruna Sairam is one of the masters whose long, sinuous vocal line delineates a past that rises spontaneously in her breath as the future," said 2016 Music Director Peter Sellars.
Aruna Sairam was born in Mumbai into a family with a deep love of music. Her mother, the singer Smt. Rajalakshmi Sethuraman, was her first teacher in the art of Carnatic music of South India. Her father, a music connoisseur, received the greatest musicians and dancers from northern and southern India in their home. It was in this propitious atmosphere, which was fundamental to the development of her art, that Aruna met Sangita Kalanidhi Smt. T. Brinda, who trained Aruna in the style of her own mentor, the great Veena Dhanammal, one of the most outstanding figures in Carnatic music.
The many national and international honors that have come her way include one of India's coveted Civilian Honors the Padma Shri, and the prestigious US Congress Proclamation of Excellence, wherein the U.S. national flag was flown atop the Capitol building and handed over to Aruna Sairam with a special Congressional proclamation recognizing her musical contribution. She was appointed by the Chief Minister of Tamil Nadu as advisor to the Department of Culture, Tamil Nadu, on Musical Education. She is currently Vice Chairperson of India's National Center for the Performing Arts, The Sangeet Natak Akademi. She has also performed across the length and breadth of the country, bringing the richness of South Indian classical music to people from all walks of life.
CARNATIC MUSIC OF SOUTH INDIA
The musical map of the Indian subcontinent could be viewed as a vast single cultural area with a rich and fascinating range of musical dialects. Among a huge number of regional traditions, several have attained high artistic status, through strong patronage and through the concentration of gifted musicians in particular places. Among these traditions, larger 'canonical' groupings have come to be recognized over the centuries, in which different local practices have taken their places within overarching musical cultures.
The two most commonly acknowledged 'classical' cultures are the Hindustani music of the North and the Carnatic (or Karnatak) of the South. 'Classical' in the Indian context means, among other things, a music that at the highest level is practiced by rigorously trained specialists, is associated with a long and respected tradition of musical theory and is supported by powerful patronage – whether this be historically that of the temple or kingly court or, as more recently in India, a public following in concerts, broadcasts and a recording industry. Though there are musicians who are trained in both Hindustani and Carnatic music – and there have been experiments in melding the two – true musical 'biculturalism' is rare and an upbringing in one tradition does not automatically entail an understanding of the other. But underlying the music there are some fundamental concepts of melody, rhythm and composition common to both.
Carnatic music is the dominant classical tradition in the southern states – those parts of India where the major Dravidian languages are spoken: Kannada, Malayalam, Telugu and Tamil. With the help of a few guiding principles, a first encounter with this fascinating world of South Indian sound and meaning can prove highly rewarding.
Carnatic music, as we now understand it, can be traced as far back as the 17th century, with some surviving from earlier times. The Hindu religious poet Purandara Dasa (died 1564) composed his Kannada-language poems to be sung and he is popularly regarded as the 'father' or 'grandfather' of Carnatic music. Though we cannot know much about the style in which his poems were first performed, they are still studied and sung in more recent musical settings. There was a rich musical culture in the 18th century at the Maratha court of Tanjore (Thanjavur, in present-day Tamil Nadu). Here were born, all around the same time in the town of Thiruvarur, the three towering figures commonly referred to as the Carnatic 'Trinity'. Thyagaraja (1767-1847) , Shyama Shastri (1762-1827) and Muttusvami Dikshitar (1775-1835).The works of these composers have formed the major part of the concert repertoire and it would not be uncommon in even a full-length public performance to hear renderings of works of these 'composers' alone.( The similarity, the time period, the proximity of locations and the impact on the legacy are all very close to the Western Music Trinity, Mozart, Bach and Beethoven ) . All three are inseparably associated with the South Indian Music and most Carnatic concert music is strongly derived from their works.. The association of the temple is as strong as that of the concert hall.
The Thanjavur musicians became famous and exerted wide influence. Through the traditional Indian system of 'teacher-pupil succession' (guru-shishya parampara), repertoires of songs and associated musical lore were kept alive and flourished through the 19th century and beyond. Thanjavur musicians were employed in many other kingly courts, most notably those of Travancore in present-day Kerala and Mysore in Karnataka. In Travancore the young ruler Raja Swati Tirunal (1813-46) was himself a gifted composer and musical connoisseur, and many hundreds of song compositions still sung today are attributed to him. At his court instrumental music also flourished, especially in the hands of a group of players known as the Thanjavur Quartet. At Mysore under the ruling Wadiyar dynasty there grew up an especially distinguished tradition of veena playing. More recently it was particularly in Madras (now Chennai) that public patronage of Carnatic music dominated. The Music Academy founded in that city in 1928 became chief among numerous institutions teaching and promoting the practice and theory of classical music and dance.
WHAT IS CARNATIC VOCAL MUSIC
The repertoire heard in Carnatic concerts is overwhelmingly based on songs – all musicians are brought up to regard the voice as primary and instrumental music as the offspring of the vocal. So it is that instrumentalists can – indeed should – be fundamentally influenced by knowledge of a vocal repertoire and its intricacies, and even of the voice culture that goes with it. A typical program, whether the main soloist is a singer or an instrumentalist, is a mixture of predetermined and improvised material. The same 'pieces,' which serve as a basis for extended performance in rigorously structured improvisation, may be sung or played. Instrumentalists – the solo instrument may be a violin or a veena or some other kind of plucked lute will of course omit the words, but many players and teachers insist nevertheless that constant mental reference to the original song, its text and meaning must be made while playing.
A concert will typically start with a song form called a varnam, a structure in three sections preceded by a brief alapana – an improvised introduction to the raga (the underlying melodic and modal structure of the piece). This will be followed by a number of kritis – many being originally composed by members of the Trinity; the melodies of the songs are often also ascribed to these composers and each is in a prescribed metrical cycle (tala). One kriti is likely to be longer and more developed than the others in its execution and elaboration, but each one will be preceded by at least a brief alapana and each will be extended by some apparently open-ended improvisation which reflects the soloist's inventiveness and a studied body of relevant melodic and rhythmic patterns. A particularly large-scale form is the ragam-tanam-pallavi, in which the opening alapana is long and highly 'exploratory'.
Like much of Indian music, and especially that of the 'classical' traditions, Carnatic melody is based on a system of modal substructures (ragas), each of them defined not only by its name and by ascending and descending scalar patterns, but also by characteristic 'inflection' of notes – shakes, oscillations, tremolos and so on – and it is perhaps this style of melodic embellishment above all else that gives South Indian music its particular beauty and its characteristic flavor. There is no fixed pitch; the unshifting tonic of the raga (played throughout the performance by one or more drone instruments – called the tanpura) may be set to suit the natural pitch of the main performing voice or instrument.
By Western standards, audiences of Indian music tend to show their appreciation of performances rather uninhibitedly, and in Carnatic concerts 'participation' is expressed most visibly by the marking and punctuating, through hand and finger gestures, of the metrical schemes (talas) to which the songs are set – rhythms and patterns which are played out on the drums and other accompanying percussion instruments. You may like to try it out – just take the lead of a South Indian sitting nearby!
—–Introduction on Carnatic and Vocal Music © Jonathan Katz
Jonathan Katz teaches at St Anne's and Brasenose Colleges, Oxford. He is a linguist and musician with interests in European as well as South Asian language, literature and musicology.