Longtime contributors to new music blog I Care If You Listen Larry and Arlene Dunn recently published an interview with 2016 Music Director Peter Sellars for the site's popular "Five Questions To…" interview series. Read the interview below, reposted with permission, and explore more articles and news on the I Care website.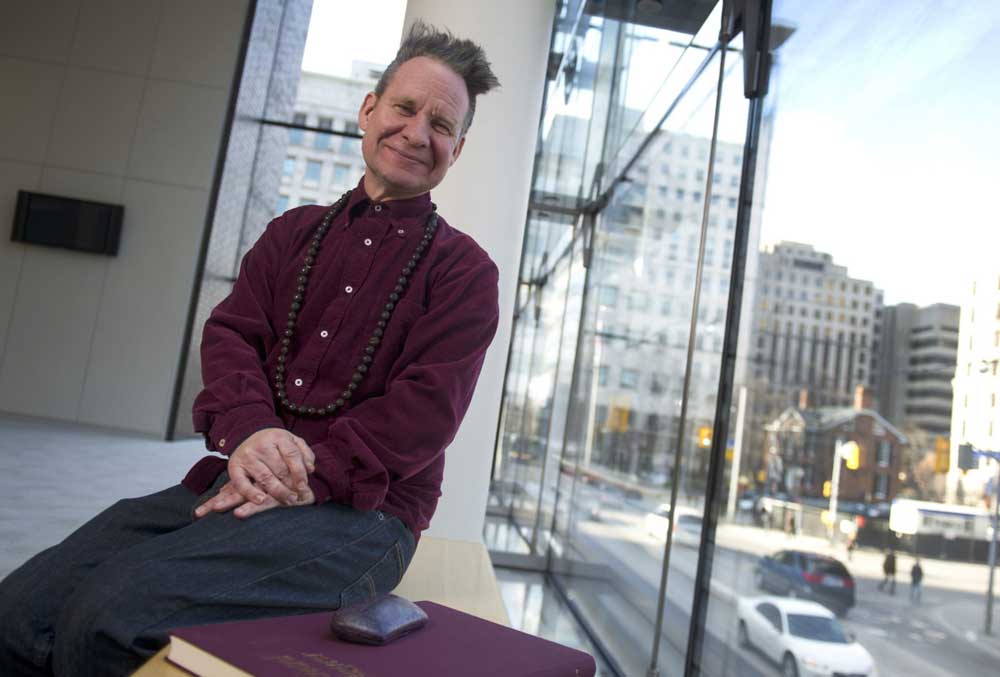 Opera and theater director Peter Sellars is the Music Director for the 70th annual Ojai Music Festival, coming up in June in Ojai, California. He is in great demand as a creative collaborator by composers, performers, and other artists around the globe, as exemplified by this year's Ojai program which features works by composers Kaija Saariaho, Claude Vivier, and Tyshawn Sorey, and performances by International Contemporary Ensemble (ICE), soprano Julia Bullock, and international sensations  Aruna Sairam and Dina El Wedidi.
What has been your experience of the Ojai Festival, leading up to your stint as Music Director?
I've been coming to Ojai as an audience member for over 30 years, since I first moved to California. The first time I worked here was with Pierre Boulez when we staged Stravinsky's Soldier Story a week after the Los Angeles uprising. More recently I worked with Dawn Upshaw, when she was Music Director in 2011, to stage George Crumb's The Winds of Destiny. I am thrilled to now be able to assemble a multi-layered program that rests on the immense history of this place — the spiritual searchings of Krishnamurti sitting under the trees, this sacred site of the Chumash people. Contemporary music is always at the forefront here and represents the connection between music and political and social change. This is not new. Classical composers, in their own times, have a long history of foregrounding the textual materials of the movements of their day, taking their music well beyond the realm of entertainment. Mozart in the Marriage of Figaro, Schoenberg in Moses and Aaron, they directly addressed the structures of inequality through their works. This year at Ojai, most of the composers are women. Now, on the one hand, I'd rather not have to mention that. But there's something wildly exciting about hearing from the other half of the planet. And there are so many more than just a few to choose from! It's an amazing and deep body of work, and it would be nice if more institutions recognized that.
Your Ojai program will highlight the works of Kaija Saariaho; what is it like developing projects with her?
Kaija is just an incredible joy to work with; she has such absolute commitment. We discuss new work deeply and intensely, starting very far ahead. Eventually she goes in a room, closes the door and enters a depth of concentration that is extraordinary. She begins with a chart of harmonic colors and everything flows from there. When she has something ready, her work ethic is exemplary. She is in every rehearsal and absolutely engaged with the performers as we hone the final product.
You've programmed a chamber version of Saariaho's La Passion de Simone; how will it differ from the original?
La Passion was originally written ten years ago for Dawn Upshaw, with large symphony orchestra and chorus. The story delves into the inner life of Simone Weil, the 20th century French philosopher, Christian mystic, and political activist. In this new version, we have the soloist, a chamber orchestra of 19 musicians from ICE, still reasonably large, and a vocal quartet of singers from Roomful of Teeth. In this scale, the piece becomes much more intimate. Our soloist will be the stunning young soprano Julia Bullock, one of Ms. Upshaw's proteges. Ms. Bullock, a young woman of color, brings the Black Lives Matter movement into the room and makes this piece relevant to today's world. This upends the abstract character of Simone Weil's philosophy and gives the work new dimensionality. Then as now, we face the danger of civilization in collapse, confronting evil of all kinds. Kaija's pathbreaking musical work endures and astonishes us with newfound understanding of our world, its challenges, its possibilities.
You'll also present the world premiere of Josephine Baker: A Portrait; what more can you tell us? 
Ah, yes. Julia Bullock will also perform the lead role in Josephine Baker: A Portrait, a new oratorio of sorts by Tyshawn Sorey, percussionist, band leader, and composer beyond categorization. Josephine Baker was an African American expatriate in Paris, a contemporary of Simone Weil. And just like Weil, Baker placed her philosophy in her body, her entire lived self. She was an iconic lightning rod challenging the French establishment on issues of racial and gender equality.
Sorey's work blurs the boundaries of so-called jazz and classical musics. He looks expectantly to the future, yet is deeply rooted in the present. The spaciousness of his sensibility and many cultural viewpoints intersect with his highly organized musical structures. Although it is important for him to show Josephine Baker as in control of her own destiny, he also takes the audience into her mysterious life behind the stage where she is haunted by deeper principles and the human struggle to survive. This work breaks Josephine Baker free from her commercial patina and probes her inner dimensions.
What other performers on the program are you particularly excited about?
First, let me say I am simply enthralled to be working with ICE. This is our first time collaborating together and it's totally exhilarating. It seems there is nothing they can't or won't do in service to the music. I'm over the moon! They draw you right into their family and make you feel a part of their process. I want to adopt them, or have them adopt me. We also have two paragons of international musics who will inject the soul of their home regions into the festival. Aruna Sairam is the absolute flower of South Indian spiritual music. She is an innovative singer with a strong political voice, and a visionary collaborator with Western musicians. Dina El Wedidi, from Cairo, is the voice of Tahrir Square and the next generation of Egyptian music. Her voice is captivating and irresistible. There is a fierce political thread through her music that opens a space for a future otherwise unable to be born.
Upcoming:
Friday, May 13, 2016: Q2 Ojai Festival Preview with Peter Sellars at the Greene Space in New York City
Monday, May 16, 2016: Ojai Festival Preview with Peter Sellars and Alex Ross at the Wallis Annenberg Center for the Performing Arts in Beverly Hills, CAJune 9-12, 2016: 70th Ojai Music Festival, Ojai, CA
June 16-18, 2016: Ojai at Berkeley, at Zellerbach Hall in Berkeley, CA