Each year, the Ojai Music Festival Arts Management Internship Program welcomes a dozen college students and recent graduates to go behind the scenes of a renowned summer music festival. Interns work closely with the staff and production team, providing critical support and gaining invaluable hands-on experience and skills for their future careers. Each intern receives during their two-week internship:
An immersive experience in the world of a festival and inside knowledge into the many different pieces that come together for a successful weekend of concerts
Training for their areas of responsibility from staff and leaders in the field
Free and discounted tickets to Festival concerts (depending on work schedule and availability)
Housing and/or homestay in the beautiful Ojai Valley and most meals during the Festival
Stipend
Applications for the 2024 Internship Program will open in the Spring of 2024. Join our mailing list to stay up-to-date!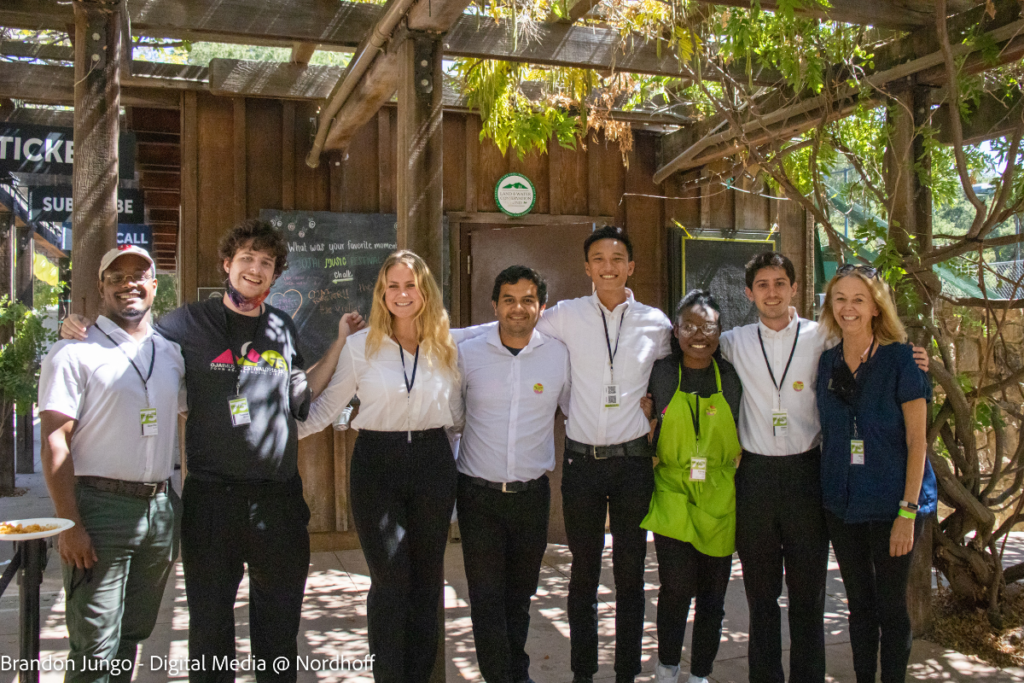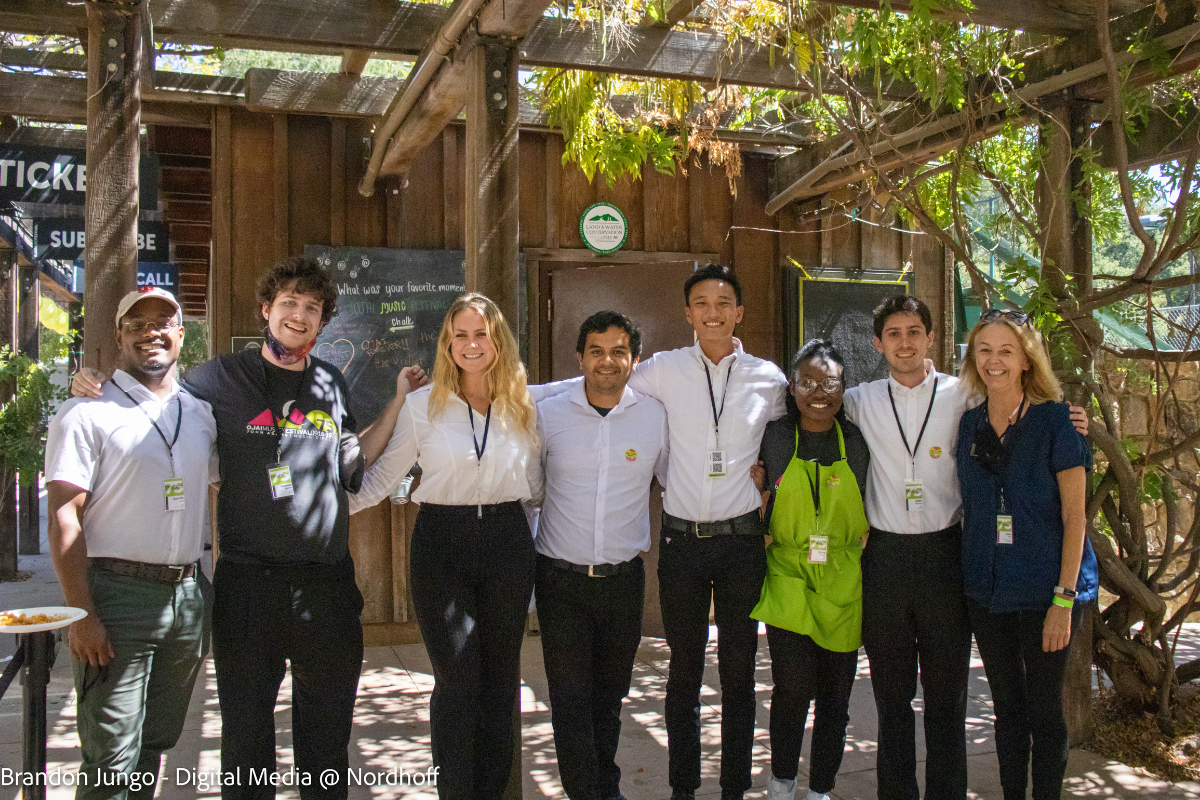 "As an intern for the Ojai Music Festival, you become a messenger for the organization's purpose: to dare the audience to be innovative listeners of new music. The office staff and other interns become your mentors and family for the duration of your internship experience. Working with like-minded people creates the perfect atmosphere for discussion and pushes you to be your best creative self." – Emily Persinko, San Diego State University, Ojai Alum 2016-2018
The Festival invites students from all fields of study to apply. The program is ideally suited for curious, motivated individuals who are interested in the diversity of possible careers in the arts, events, and the nonprofit world. Festival interns have gone on to have successful careers in both the nonprofit and for-profit sectors – those who have gone on to work in the arts have done so at organizations across the country, including the International Contemporary Ensemble (ICE), Pacific Symphony, Early Music Guild of Seattle, and Voices of Change, as well as forged new paths as entrepreneurial performing artists and composers.
Steven Rothenberg Internship Fellow
In 2011, Ojai Valley residents Ila and Fred Rothenberg provided the Festival with a new fund to help support the internship program, which is dedicated to in memory of their son, Steven Rothenberg. The 2021 Rothenberg Fellow was Jonathan Bergeron of UC Santa Barbara.Festival interns have come from colleges and universities throughout the country, including:
Internship Requirements
Applicants must be 18 or over. Knowledge of classical music is suggested but is not a requirement. Interns commit to 2-3 weeks in Ojai and must be available during the Festival week. Please indicate on your application if you have special schedule requirements.
How to Apply – Deadline for the 77th Ojai Music Festival – June 8 to 11, 2023 – is March 1, 2023.

Complete the internship application, including the two essay questions, and return along with a cover letter and resume.
Submit two letters of recommendation. Letters from college faculty should include how the applicant would benefit from the Internship, and how the Internship would strengthen the applicant's specific college and career goals. Letters from college faculty must be on school letterhead. These letters may be sent with the application or to the office directly.
Ojai Music Festival Internship Program
PO Box 185
Ojai, CA 93024
Attn: Laura Walter
[email protected]
---
Internship Opportunities
Each of the Festival's internship opportunities places interns in a specific area of responsibility, enabling them to gain specialized experience. However, the multilayered nature of the Festival means that often interns will assist in many different areas, as projects require. Read the brief descriptions below to see what might best interest you and indicate your interests in order of preference when you apply. The "good fit for" is not at all a requirement, just a suggestion.
Administration
Administration interns work with the Office Manager to provide a critical central point of contact for artists, staff, and vendors. They maintain office communications and coordinate/complete projects essential to all areas of the Festival. A good fit for: interns looking to gain experience in administration, customer service, and office management.
"My experience with the Ojai Music Festival was awesome. I loved getting to know all of the people and working with the staff. The environment is very uplifting, the other interns were fun to be around, and I've made a lot of connections! The staff that I worked with was very helpful and was there when I needed them, and even gave me advice on topics that I just had questions about. It was a lot of work, but worth it in the end. I definitely learned a lot and I hope to be back next year!" – Ebony Lockwood, Georgia State University, Ojai Alum 2021
Audio/Sound
The audio/sound intern works with the production team and the sound designer for the Libbey Bowl concerts. A good fit for: interns interested in gaining experience on sound design and logistics.
Development and Special Events
Development and special events interns work with the Director of Development to produce the various social and donor events throughout the Festival. They manage RSVP lists, coordinate and schedule vendors, create materials, and assist with other fundraising projects. A good fit for: interns interested in gaining experience in special events coordination and fundraising.
"As the Production Intern at the Ojai Music Festival, I had the honor of working alongside some of the most brilliant, talented, and caring staff, administration, and musicians. I truly felt at home at the festival due to the staff's openness to mentor and welcome me into their Ojai Festival family. The collaborative atmosphere allowed me to open up, ask questions, try new things, and experience concert production on a whole new level. Through the skills and advice I received from this internship, and the lifelong connections I've made, I feel even more confident in my desire to pursue a career in arts administration and production." – Jonathan Bergeron, University of California Santa Barbara, 2021 Rothenberg Fellow
Patron Experience/Front-of-House
Patron Experience interns work with the Front-of-House team including the House Manager and Lead Usher to provide a welcoming, hospitable, and safe experience for Festival patrons. A good fit for: interns interested in gaining experience in event coordination and gaining experience in patron interaction.
Live Stream
Live stream interns work with our live stream crew which handles our live stream concerts during the Festival. Live stream interns are also responsible to help with graphics related to live stream and can handle working with the film crew. Knowledge of Photoshop, Google Docs, I-Movie, and Final Cut Pro. A good fit for: interns interested gaining experience in video editing and live stream, film work.
Stage
Stage intern works and assists Festival stage managers in various performance venues. A good fit: interns interested in gaining experience in stage management.
"I loved the interdisciplinary aspect of everything. I got back just as much as I gave. Educationally this was a really incredible experience and much more than I expected." – Landon Wilson, Manhattan School of Music, Ojai Alum 2022
Patron Services/Box Office
Patron services interns work in the box office, serving as a guide to the Festival experience for ticket buyers, donors, and community members. A good fit for: interns interested in gaining customer service, communications, and hospitality experience.
Production
The production intern is also each year's Rothenberg Fellow. The production intern works with the Festival Producer to coordinate artists and their needs throughout the Festival. They also work on stage and with the Stage Manager to help produce the Festival's concerts, manage rehearsals and performances, stage changes, and coordinate between lighting and sound engineers. A good fit for: interns interested in gaining experience in concert production.
"The Ojai Music Festival was an amazing experience. I met great people, listened to fabulous music, and learned about the ins and outs of putting on a music festival. Having a team of interns to hang out with throughout the days was a bonus highlight of my experience. All of the people working with OMF were kindhearted and nice. This experience was extremely rewarding. I learned a lot while I interned at the Ojai Music Festival and can't wait for next year!!" – Lizzy Tepaske, University of California Santa Barbara, Ojai Alum 2021
Public Relations and Marketing
Marketing interns work with the Director of Marketing & Communications and other marketing team members in communicating with and coordinating press in the days leading up to and during the Festival. They also assist with the Festival's social media presence during the Festival and creating and distributing marketing materials. A good fit for: interns interested in gaining experience in public relations, marketing, and social media.
Patron Services (Retail/Concessions)
Patron services work with the Retail Managers to sell and manage merchandise. They complete pre- and post-inventories, determine signage and décor needs, and provide a warm customer experience during the Festival. A good fit for: interns interested in gaining experience in customer service and retail management.