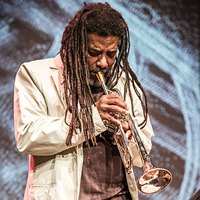 A trumpeter and multi-instrumentalist, composer, and improviser, Ishmael Wadada Leo Smith has been active in creative contemporary music for over forty years. His systemic music language Ankhrasmation is significant in his development as an artist and educator.
Born in Leland, Mississippi, Smith's early musical life began in the high school concert and marching bands. At the age of thirteen, he became involved with the Delta Blues and Improvisation music traditions. He received his formal musical education with his stepfather Alex Wallace, the U.S. Military band program (1963), Sherwood School of Music (1967-69), and Wesleyan University (1975-76). Mr. Smith has studied a variety of music cultures: African, Japanese, Indonesian, European and American.
He has taught at the University of New Haven (1975-'76), the Creative Music Studio in Woodstock, NY (1975-'78), and Bard College (1987-'93). He is currently a faculty member at The Herb Alpert School of Music at California Institute of the Arts. He is the director of the African-American Improvisational Music program, and is a member of ASCAP, Chamber Music America, and the Association for the Advancement of Creative Musicians.
Mr. Smith's awards and commissions include: MAP Fund Award for "Ten Freedom Summers" (2011), Chamber Music America New Works Grant (2010), NEA Recording Grant (2010), Fellow of the John Simon Guggenheim Memorial Foundation (2009-2010), Other Minds residency and "Taif", a string quartet commission (2008), Fellow of the Jurassic Foundation (2008), FONT(Festival of New Trumpet) Award of Recognition (2008), Jazz Journalists Association Jazz Award (2005), Islamic World Arts Initiative of Arts International (2004), Fellow of the Civitela Foundation (2003), Fellow at the Atlantic Center for the Arts (2001), "Third Culture Copenhagen" in Denmark-presented a paper on Ankhrasmation (1996), Meet the Composer/Lila Wallace-Reader's Digest Commissioning Program (1996), Asian Cultural Council Grantee to Japan (June-August 1993), Meet the Composer/Lila Wallace-Reader's Digest Commissioning Program (1990), New York Foundation on the Arts Fellowship in Music (1990), Numerous Meet the Composer Grants (since 1977), and National Endowment for the Arts Music Grants (1972, 1974, 1981).
Mr. Smith's music philosophy Notes (8 Pieces) Source a New. World Music: Creative Music has been published by Kiom Press (1973), translated and published in Japan by Zen-On Music Company Ltd. (1976). In 1981 Notes was translated into Italian and published by Nistri-Litschi Editori.
He was invited to a conference of artists, scientists and philosophers "Third Culture Copenhagen" in Denmark 1996, and presented a paper on his Ankhrasmation music theory and notational system for creative musicians. His interview was recorded for Denmark T.V., broadcasted September 1996.
Some of the artists Smith has performed with are: Muhal Richard Abrams, Anthony Braxton, Leroy Jenkins, Roscoe Mitchell, Lester Bowie, Richard Teitelbaum, Joseph Jarman, George Lewis, Cecil Taylor, Andrew Cyrill, Oliver Lake, Anthony Davis, Carla Bley, David Murray, Don Cherry, Jeanne Lee, Milton Campbell, Henry Brant, Richard Davis, Tadao Sawai, Ed Blackwell, Sabu Toyozumi, Peter Kowald, Kazuko Shiraishi, Han Bennink, Misja Mengelberg, Marion Brown, Kazutoki Umezu, Kosei Yamamoto, Charlie Haden, Kang Tae Hwan, Kim Dae Hwan, Tom Buckner, Malachi Favors Magoustous, and Jack Dejohnette among many others.
Smith currently has three ensembles: Golden Quartet, Silver Orchestra, and Organic. His compositions have also been performed by other contemporary music ensembles: AACM-Orchestra, Kronos Quartet, Da Capo Chamber Player, New Century Players, San Francisco Contemporary Music Players, Contemporary Chamber Players (University of Chicago), S.E.M. Ensemble, Southwest Chamber Music, Del Sol String Quartet, New York New Music Ensemble, ne(x)tworks, and California E.A.R. Unit.
Smith's music for multi-ensembles has been performed since 1969. Tabligh for double-ensemble was performed by Golden Quartet and Classical Persian ensemble at Merkin Concert Hall (2006) and by Golden Quartet and Suleyman Erguner's Classical Turkish ensemble at Akbank Music Festival in Istanbul (2007). His largest work Odwira for 12 multi-ensembles (52 instrumentalists) was performed at California Institute of the Arts (March 1995). His Noh piece "Heart Reflections" was performed in Merkin Concert Hall, NY (November 1996).