Creative Lab: Program Notes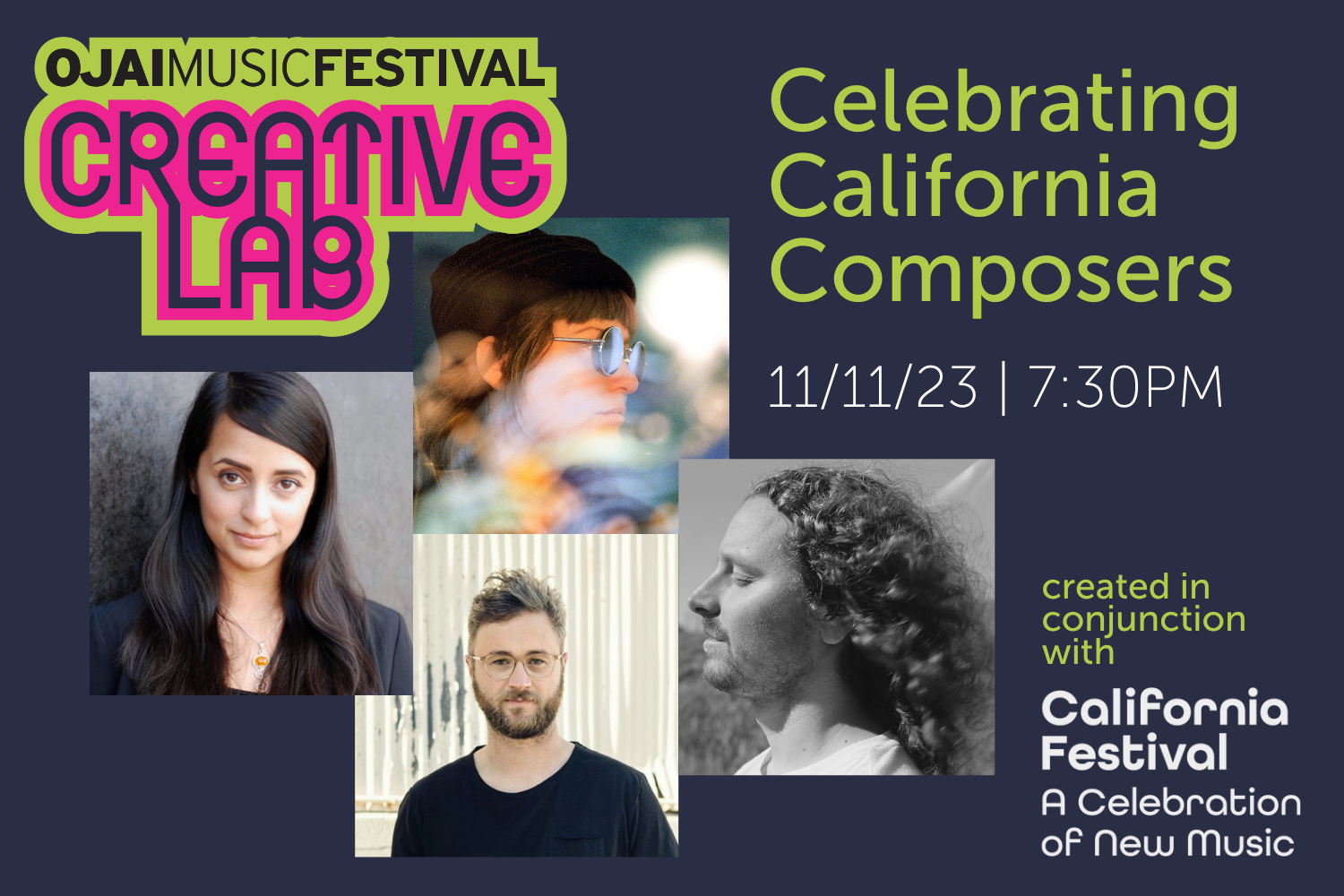 Saturday, November 11, 2023 | 7:30pm
Greenberg Center, Ojai Valley School
Reena ESMAIL Ragamala (2015)
Saili Oak, vocals | Zelter Quartet: Kyle Gilner and Gallia Kastner, violins, Carson Rick, viola, Allan Hon, cello
I. Fantasie – Bihag Overlay
II. Scherzo – Malkauns
III. Recitativo – Basant
IV. Rondo – Jog
Samuel Carl ADAMS Études (2023)
Conor Hanick, piano
I. Clear, resonant
II. Rippling
III. Steady, quiet
IV. Pulsing
V. Rippling
VI. Steady, with a full sound
VII. Clear, resonant
Performed without pause
Dylan MATTINGLY After the Rain (2017)
Sérgio Coelho, clarinet | Gallia Kastner, violin | Sidney Hopson, vibraphone

M.A. TIESENGA Ganymēdēs (Arr. 2023)
M.A. Tiesenga, multi-instrumentalist | Zelter Quartet

There will no intermission during the performance. Running time of concert is apx. 80 minutes.
This concert is produced in conjunction with a Green Umbrella program by the Los Angeles Philharmonic New Music Group, featuring different, larger-scale works by the same four composers on Tuesday, November 14, 2023 at Walt Disney Concert Hall. Visit CAFestival.Org for more information about the California Festival
---
Program Notes
Today's program gives us four pieces of distinct instrumentations and characters. While unique in their own musical content, each composition invites us to listen to how a single idea or micro-structure can develop into the larger architecture of an entire piece. This may be through the magic of the repeated introduction in Reena Esmail's Ragamala, or through the intricate, mirror-like form of Samuel Adams' Etudes. Or perhaps more abstractly, you might experience the dilation of a single fleeting moment in Dylan Mattingly's After the Rain, or hear how the electroacoustic hurdy gurdy in M.A. Tiesenga's Ganymēdēs can be the centerpiece of disparate dichotomies.
Ragamala—Reena Esmail
In a synthesis of Hindustani and Western classical music traditions, Reena Esmail's Ragamala, for string quartet and Hindustani vocal improvisation, takes us through four seamless movements of both contemplation and vivaciousness. While each movement uses a different traditional raag as its basis, they all begin with the same musical introduction—an idea inspired by the beautiful audience-artist connection that Esmail experienced during raag performances in India: "When the artist would announce the raag to be sung or played that evening…the audience would begin humming the characteristic phrases or 'pakads' of that raag quietly to themselves…It had a magical feeling – as if that raag was present in the air, and tiny wisps of it were already starting to precipitate into the audible world…"

This magical feeling of musical wisps in the air permeates Ragamala beyond the introductory material and is carried throughout all four of the varied movements. The piece opens with "Fantasie – Bihag Overlay," in which the melodies of each player dance and intertwine with each other in a push-and-pull between reflection and restlessness. The second movement, "Scherzo – Malkauns" slowly unfolds into a lively, upbeat setting of the Malkauns raag. "Recitativo – Basant," uses a raag traditionally associated with springtime, embodied here by the solo cello which leads the rest of the quartet in a soulful call and response. "Rondo – Jog," is a varied and rhythmically complex final movement that lifts the music joyously before returning to its final, contemplative ending.
Études—Samuel Carl Adams
Études was written for a premiere at Music Academy of the West by six pianists who alternated playing each separate movement. With this in mind, Samuel Carl Adams found that "The challenge in writing the piece was to create a set of short pieces that could both work as strung together in a seamless performance with multiple pianists as well as with one pianist doing the whole thing." This challenge led Adams to compose a long-form take on the traditionally short forms of études, or musical studies.

In Études, each movement serves as its own étude, but rather than compiling seven unrelated technical studies, Adams writes each movement in sets of corresponding pairs: 1 with 7, 2 with 5, and 3 with 6. Études 1 and 7 focus on the nuances of resonance and pedaling, while 2 and 5 "challenge the pianist to create a sustained, rippling, and polyrhythmic surface above a river of constantly shifting harmonies." Études 3 and 6 explore the interaction of contrapuntal lines that expand and contract over an unpredictable bassline. This leaves the lone middle movement, étude 4, which "stands alone as the only movement without a twin, showcasing the extreme dynamic range of the piano. It consists of a series of brightly hued bell-like gestures that hover over an almost imperceptibly quiet pulse, serving as the keystone of the seven-movement arc."
Because the movements are performed seamlessly without pause, the overarching form of the piece becomes that of large mirror image, with étude 4 at its center. This creates, in essence, one large étude in itself that "goes beyond the material and individual technical challenges and becomes, in addition, about a kind of study in long-form structure."
Études (vol. 1) was commissioned by Music Academy of the West. The first performance was given by the Piano Fellows of the Music Academy on July 17, 2023 at Hahn Hall, Santa Barbara, CA.

After the Rain—Dylan Mattingly
After the Rain is part of a series of works Dylan Mattingly composed that seeks to capture the essence of those most beautiful yet fleeting moments in life. "Each work in this series is devoted to a single moment of joy, a chance to focus for an instant on the transient communal ecstasies of being alive on this planet — walking along the ocean in excited conversation, finding ourselves in the endless dark between the stars or by the midnight Pacific in the saltspray, or hearing the rise and fall of breathtides from someone still asleep in the next room, or the smell of grass after the rain."

We can unmistakably imagine just what moment Mattingly is capturing in After the Rain, as droplets of detuned pitches and rhythmic patterns shift kaleidoscopically in the piece's opening. In this first section, rather than following a single melody or instrument, we are instead absorbed into the luminosity of the contrasting tunings and rhythmic interplay. After building in intensity, the piece takes on a more relaxed flow, with the clarinet shining above the hushed beads of the violin and vibraphone. This easier pace is short lived, however. The music gradually builds through a clever transition that lands us back to the original buoyancy of the opening, propelling the piece toward its exuberant end.

Ganymēdēs—M.A. Tiesenga
M.A. Tiesenga's Ganymēdēs is part of a larger project, Wheel / Orb / Body, that uses the electroacoustic hurdy gurdy to explore the space between science and divination. For Tiesenga, this unique instrument is the perfect medium for bridging the past and the present, the celestial and the tangible, and the consonant and the dissonant. They note that "Despite its complexity, its basic mechanics have remained the same for almost a thousand years. Used for generating sound in the era of music of the spheres, the vielle becomes a vehicle for divination. The sound of the instrument that we hear today is not too different from the sounds that would have been heard resonating in monasteries centuries ago."

With the electroacoustic hurdy gurdy as the centerpiece, Ganymēdēs, is "a microtonal homage to the ascension / abduction of Ganymede by the Aetos Dios, the eagle of Zeus." In this Greek myth, Zeus deems Ganymede the most beautiful of all mortals and abducts him to be his personal servant. The tension of the music we'll hear in Ganymēdēs reflects the contradictions Tiesenga sees in societal interpretations of this myth: "The plot of this myth in particular is particularly interesting to me because the distillation of the horrific violence that's described – an atrocity, by modern standards – is so starkly contrasted with the deep romanticization of the story."

Beyond the contrasting elements of the music, the compositional components of the piece add an additional symbolic layer. According to some versions of the myth, Zeus also puts Ganymede in the sky as the constellation Aquarius. In recognition of this, the form, gestural shape, and pitch content of Ganymēdēs are derived from the shape and spatial relationships of the Aquarius constellation.
Bios
Samuel Carl Adams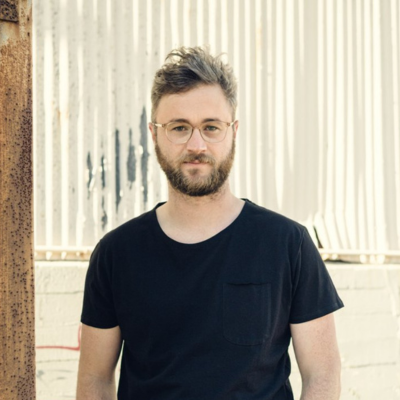 Samuel Carl Adams (b. 1985) is an American composer whose music weaves acoustic and digital sound into "mesmerizing" (New York Times) orchestrations. Sought after by orchestras and contemporary ensembles alike, he has received commissions from a broad range of organizations including San Francisco Symphony, Carnegie Hall, New World Symphony, The Australian Chamber Orchestra, and Spektral Quartet, and has collaborated with performers and conductors such as Esa-Pekka Salonen, David Robertson, MTT, violinists Anthony Marwood, Jennifer Koh, Karen Gomyo, and pianists Emanuel Ax, Sarah Cahill, David Fung, and Joyce Yang.
The 2022-23 season highlights several world premieres including Echo Transcriptions, a new work for electric violin and orchestra commissioned by the Australian Chamber Orchestra for Richard Tognetti. The work will be taken on a national tour of Australia in late 2022 and will receive North American performances in California and Toronto the following Spring. In February, pianist Conor Hanick and the San Francisco Symphony premiere a new work under the baton of Esa-Pekka Salonen, and the following week, the Cincinnati Symphony premieres Adams's Variations, a 2020 orchestral work co-commissioned by the CSO and the Netherlands Radio Philharmonic. Other season highlights include a performance of Adams's 2017 Chamber Concerto with violinist Karen Gomyo and the release of a new record featuring the Chicago-based Spektral Quartet.
Adams was Mead Composer In Residence with the Chicago Symphony Orchestra from 2015 to 2018 and in the 2021-22 season was the Composer in Residence with Het Concertgebouw in Amsterdam. He has held residencies at Civitella Ranieri (Umbria, IT), Djerassi Resident Artists Program (California, USA), Ucross (Wyoming, USA), and Visby International Centre for Composers (Gotland, SE). He is a 2019 Guggenheim Fellow and lives and works in Seattle, WA.
Reena Esmail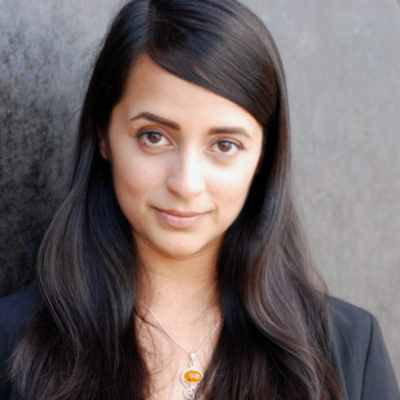 Indian-American composer Reena Esmail works between the worlds of Indian and Western classical music, and brings communities together through the creation of equitable musical spaces.
Esmail's life and music was profiled on Season 3 of PBS Great Performances series Now Hear This, as well as Frame of Mind, a podcast from the Metropolitan Museum of Art.
Esmail divides her attention evenly between orchestral, chamber and choral work. She has written commissions for ensembles including the Los Angeles Master Chorale, Seattle Symphony, Baltimore Symphony Orchestra and Kronos Quartet, and her music has featured on multiple Grammy-nominated albums, including The Singing Guitar by Conspirare, BRUITS by Imani Winds, and Healing Modes by Brooklyn Rider. Many of her choral works are published by Oxford University Press.
Esmail is the Los Angeles Master Chorale's 2020-2025 Swan Family Artist in Residence, and was Seattle Symphony's 2020-21 Composer-in-Residence. She also holds awards/fellowships from United States Artists, the S&R Foundation, the American Academy of Arts and Letters, and the Kennedy Center.
Esmail holds degrees in composition from The Juilliard School (BM'05) and the Yale School of Music (MM'11, MMA'14, DMA'18). Her primary teachers have included Susan Botti, Aaron Jay Kernis, Christopher Theofanidis, Christopher Rouse and Samuel Adler. She received a Fulbright-Nehru grant to study Hindustani music in India. Her Hindustani music teachers include Srimati Lakshmi Shankar and Gaurav Mazumdar, and she currently studies and collaborates with Saili Oak. Her doctoral thesis, entitled Finding Common Ground: Uniting Practices in Hindustani and Western Art Musicians explores the methods and challenges of the collaborative process between Hindustani musicians and Western composers.
Esmail was Composer-in-Residence for Street Symphony (2016-18) and is currently an Artistic Director of Shastra, a non-profit organization that promotes cross-cultural music connecting music traditions of India and the West.
She currently resides in her hometown of Los Angeles, California.
Visit Reena Ismail's Website
Sérgio Coelho
Sérgio Coelho was born in Portugal where he started learning clarinet and piano at the age of 9. Later he became a freelance musician and instructor in his native country where he performed regularly with the Orchestra Artave, Orchestra APROARTE and the Lisbon Metropolitan Orchestra. He taught at the Academia da Sociedade Filarmónica Vizelense and Escola das Artes do Alentejo Litoral where he maintained his clarinet studio and conducted youth orchestras.
Presently Coelho is a freelance musician in the Los Angeles area and he is the principal clarinet of the American Youth Symphony Orchestra. He performs regularly with orchestras from Los Angeles area such as Kaleidoscope Chamber Orchestra, Downey Symphony Orchestra, the Los Angeles Sinfonietta and the Dream Orchestra. He was selected to be a substitute for the New World Symphony Orchestra and Runner-up for the Richmond Symphony Orchestra. Lead by passion by motion pictures, he recorded for some movies and television shows such as the Netflix show "Chefs Table". Coelho demonstrates a great passion for new music.
As a member and founder of the woodwind trio "Sirius Trivium", he won competitions and performed in festivals like the Harmus Festival in Oporto (2013) and the Festival Internacional de Música de Piantón during the summers of 2013 and 2014, where he performed and taught masterclasses.
Coelho made collaborated with the National Repertory Orchestra Festival and the Eastern Sierra Symphony Festival. In 2018 Coelho was invited to collaborate with the Auckland Philharmonia Orchestra (New Zealand) during one month. As a soloist he had the opportunity to perform a solo with the Lisbon Metropolitan Orchestra and the USC Symphony Orchestra. About Coelho's performance, Chad Lonski from the "Daily Trojan Newspaper" (Los Angeles, CA) described his interpretation of the Mozart's Clarinet Concerto stating that, "Coelho's performance was superb, to say the least, showcasing the heights of clarinet proficiency and taking the clarinet to its limits." As a winner of the American Youth Symphony Concerto Competition, recently Coelho had the opportunity to perform the Corigliano clarinet concerto with this orchestra.
Coelho won prizes in national and international competitions such as: 1st Prize Winner, American Youth Symphony Concerto Competition (2018, USA), Semifinalist of the Jacques Lancelot International Clarinet Competition (2018, Japan), 1st Prize Winner, University of Southern California Concerto Competition (2015, USA), 2nd Prize Winner, Pasadena Showcase House Instrumental Competition (2014, USA), First Prize Winner, Inatel Prize (soloist prize from the Academia Superior de Orquestra da Metropolitana) (2013, Portugal), 3rd Prize Winner of the 8th Saverio Mercadante International Clarinet Competition (2012, Italy).
Coelho graduated with a Master of Music degree in Clarinet Performance at the University of Southern California in Los Angeles, CA, studying with Mr. Yehuda Gilad. During his Masters of Music degree he became a fellow of the Latin Grammy Awards Foundation after being selected for a scholarship from this institution. Coelho received his Bachelor of Music degree in Clarinet and Orchestra Performance in the Metropolitan National Academy of Orchestra, Portugal, where he studied with Mr. Nuno Silva.
Currently, he is pursuing an Artist Diploma Degree at the University of Southern California under the tutelage of Mr. Yehuda Gilad.
Conor Hanick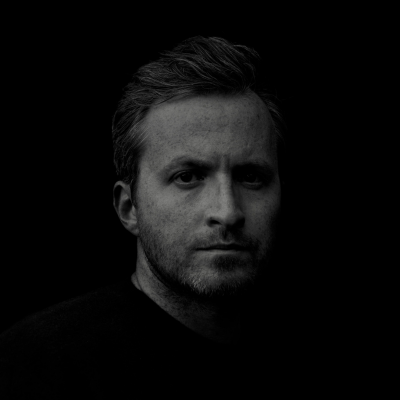 Pianist Conor Hanick is regarded as one of his generation's most inquisitive interpreters of music new and old whose "technical refinement, color, crispness and wondrous variety of articulation benefit works by any master." (New York Times) Hanick has recently performed with the San Francisco Symphony, Seattle Symphony, Alabama Symphony, Orchestra Iowa, and the Boston Modern Orchestra Project, been presented by the Gilmore Festival, New York Philharmonic, Elbphilharmonie, De Singel, Caramoor, Cal Performances, Philadelphia Chamber Music Society, and the Park Avenue Armory, and worked with conductors Esa-Pekka Salonen, Ludovic Morlot, Alan Gilbert, and David Robertson.
A fierce advocate for the music of today, Hanick has premiered over 200 pieces and collaborated with composers ranging from Pierre Boulez, Kaija Saariaho, and Steve Reich, to the leading composers of his generation, including Nico Muhly, Caroline Shaw, Tyshawn Sorey, Samuel Carl Adams, and Anthony Cheung. This season Hanick presents recitals in the US and Europe, including performances with Julia Bullock, Jay Campbell, Joshua Roman, Seth Parker Woods, AMOC (American Modern Opera Company), and the Takt Trio. Hanick also makes his San Francisco Performances debut at Herbst Theater, joins Sandbox Percussion at 92NY, returns to the Aix-en-Provence Festival, and, in Ojai as part of the California Festival, performs a new set of piano etudes by Samuel Carl Adams, whose piano concerto No Such Spring Hanick premiered last year to wide acclaim with the San Francisco Symphony and Esa-Pekka Salonen.
Hanick is the director of Solo Piano at the Music Academy of the West and serves on the faculty of The Juilliard School, Mannes College, and the CUNY Graduate Center.
Visit Conor Hanick's Website
Sidney Hopson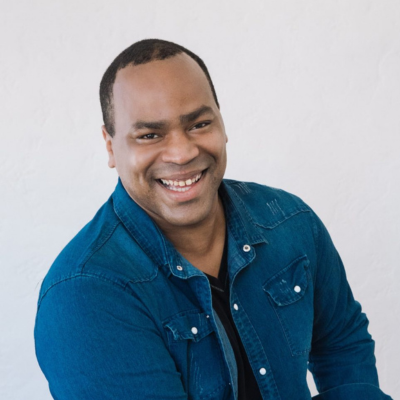 The epitome of the citizen-artist, Sidney Hopson slams out rhythms, articulates the power of the arts, and defines how culture orgs should act, like no one we've ever met. Genius of the dad joke, and aspiring curry-ist, Hopson's mic is never unmuted at the wrong time on a digital meeting. He's built a music program in Jordan to deter refugee-artists and their communities from joining regional terror organizations (who sought to exploit their economic vulnerability and despair). He's designed and co-produced shows that challenged archaic notions of legitimacy and power, and actively worked to develop the platform of a political candidate whom he subsequently voted for. He's failed over and over and (he reports) "often in rapid succession," but he's kept going. Hopson has made music with Peter Eötvös, Adele, Stevie Wonder, Ellen Reid, Garrett McQueen, Rhianna, and John Williams. He's currently authoring a series of essays on the case for – and against – establishing a U.S. Secretary of Culture, Media, & Sport, developing domestic and foreign arts policy platform proposals for the Biden-Harris Administration, and perfecting his panang curry recipe.
Bio from the Wild Up Website
Dylan Mattingly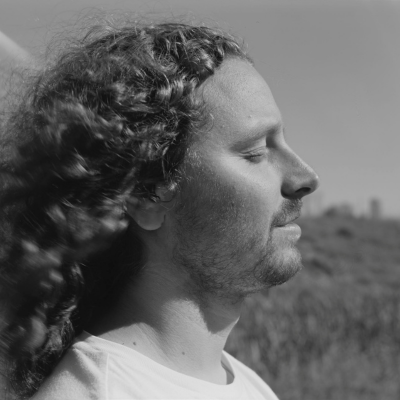 Dylan Mattingly is a composer who creates music which offers ecstatic, transformative experience and provides an opportunity to alter the way we see our world and place within it. Many of Mattingly's projects exist on a massive scale, the results of a dedication to the pursuit of bringing to life the most meaningful projects in the wild reaches of imagination — wherever that path leads — and building a path for the realization of these dreamworks from the ground up, often across many years. This practice has been informed by the decade-long process of creating, developing, and bringing to life Stranger Love, an ecstatic 6-hour durational opera, which offers a grand celebration of being alive. Stranger Love will see its premiere on May 20, 2023 at the Walt Disney Concert Hall in Los Angeles, commissioned by the LA Phil and directed by Lileana Blain-Cruz. At the heart of all of Mattingly's work is a commitment to joy, and to what Hannah Arendt refers to as amor mundi — an ever-renewing quest to find the capacity to love the world, in the complex totality of its experience.
Mattingly's music has been described as "gorgeous" by the San Francisco Chronicle, "transcendent" and "the most poignantly entrancing passages of beautiful music in recent memory" by LA Weekly, and "in the pantheon of contemporary American composers" (Prufrock's Dilemma). Additionally, Mattingly is the Executive and Co-artistic Director of the NYC-based new-music ensemble Contemporaneous. With Contemporaneous, much of his work has focused on creating an opportunity for other composers and musical creators to follow their own wildest dreams, dedicating the resources of the organization to the creation of large-scale new work and allowing artists a path to create the work they most want to create, regardless of scale and conventional practical constraints.
Mattingly's music has been commissioned and performed by the Los Angeles Philharmonic, the Ojai Music Festival, the Cabrillo Festival of Contemporary Music, the Berkeley Symphony, the Del Sol String Quartet, Sarah Cahill, Kathleen Supové, the Albany Symphony, Contemporaneous, ZOFO Duet, John Adams, Marin Alsop, and many others. Mattingly was the Musical America "New Artist of the Month" for February 2013 and was awarded the Charles Ives Scholarship by the American Academy of Arts and Letters in 2016. Mattingly has held residencies at the Ucross Foundation, Harrison House Music, Arts & Ecology, and holds a B.A. in Classics from Bard College, a B.M. in Music Composition from the Bard College Conservatory of Music, and an M.M. from the Yale School of Music. Mattingly lives in Berkeley, CA with his partner Hannah and dog Oly.
Saili Oak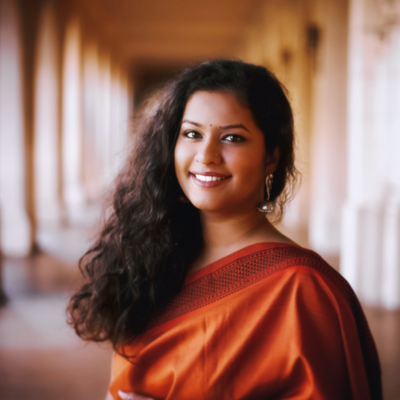 A native of Mumbai, began studying music at the age of 3. A finalist on the popular reality TV series "Zee Marathi SaReGaMaPa," Oak is a senior disciple of Dr. Ashwini Bhide Deshpande, a leading vocalist of the Jaipur-Atrauli Gharana. Oak won the All India Classical music competition when she was barely 17. She completed her Sangeet Visharad from the Gandharva Mahavidyalaya Mandal and has earned awards including the prestigious Pt.Jasraj Yuva Award, Pt Vasantrao Deshpande Yuva Award, and the Gaanwardhan Award. Her performances have been admired for her meticulous architecture of 'khayal,' her systematic and well-crafted raga exploration and impressive command over the 'laya.'
Oak is also known for her distinguished work in the Indian/Western Classical music crossover space. She has performed with notable western music ensembles including the Albany Symphony Orchestra, Los Angeles Chamber Orchestra, Tonality choir, Salastina Music Society. She has been featured on several albums including 'Beyond', 'American Mirror', 'Sing about it' and 'KALA'.
Oak serves as the Programs Director of a non-profit organization 'Shastra', where she co-hosts the "Composing with Indian Voice" annual workshop in the U.S., and "Raga Meets Symphony" in India. She is also a Vocal Mentor for the non-profit organization Street Symphony in Los Angeles.
A passionate educator, Oak maintains a vocal studio 'SailiMusic' where she trains the next generation of upcoming artists and is a frequent guest speaker, panelist and workshop participant at conferences and universities across America. She has presented her work at the Composition in Asia Conference at the University of South Florida, taught master classes at the Salem State University, Smith College in Northampton MA, Kaufmann Music Center NY, and the University of Texas at Austin.
Apart from her musical training, Oak also holds a Master's Degree in Accountancy and has completed the Chartered Financial Analyst Program by the CFA Institute, USA.
Visit Saili Oak's Website
M.A. Tiesenga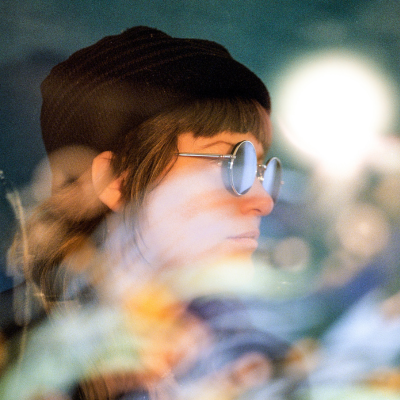 M.A. Tiesenga is an interdisciplinary artist whose practice delves into the intricate interplay of procedure and enaction within collaborative performance contexts, deftly shaping these dynamics through various idioms. Inspired by an affinity for the outdoors and puzzles, Tiesenga draws analogies between these concepts and the art of cartography, illuminating the parallels between a map and a musical score. This exploration opens doors to musically navigate, inhabit, and realize theoretical terrains.
As a composer, interdisciplinary artist, multi-instrumentalist, and improviser, Tiesenga seamlessly merges these creative identities, emphasizing the power of connection in their work. Tiesenga ventures beyond conventional score-making and interpretation, embracing the potential of expanded notation systems. Their lifelong passion for collage, maps, and asemic languages fuels an enchantment with encoding and decoding creative territories, allowing lexical approaches to transform into palpable musical expressions. Within their artistic vision, Tiesenga seeks to convey inner worlds where protocols and rules converge with intuition and mystique.
Tiesenga's creative collaborations include work with the Civic Orchestra of Chicago, Wild Up, Théâtre Musical Tokyo, Long Beach Opera, Kunsthalle for Music, SPEAK Percussion, Dog Star Orchestra, Ensemble Supermusique, and ensembles at the Eastman School of Music, New England Conservatory, California Institute for the Arts, Yale University, and Darmstädter Ferienkurse.
Tiesenga holds an MFA in Experimental Sound Practices and an MFA in Experimental Animation with a Concentration in Integrated Media from California Institute of the Arts, where they studied with Michael Pisaro, Sara Roberts, Eyvind Kang, Alexander Stewart, Pia Borg, and Tom Leeser. Previously, Tiesenga earned a Bachelor of Music from the Eastman School of Music in saxophone performance under the guidance of Dr. Chien-Kwan Lin.
Visit M.A. Tiesenga's Website
Zelter Quartet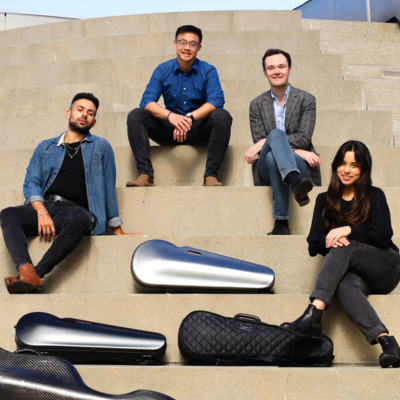 Praised by LA Opus for their "seemingly effortless precision and blend", the Zelter String Quartet formed in Los Angeles in 2018. Recently, the quartet was awarded First Prize of the 2023 Plowman Chamber Music Competition, as well as being the Gold Prize Winners of the 2021 Chesapeake International Chamber Music Competition. The quartet is comprised of violinists Kyle Gilner and Gallia Kastner, violist Carson Rick, and cellist Allan Hon. In 2019, the Zelter String Quartet was awarded a full scholarship to participate in the St. Lawrence String Quartet Chamber Music Seminar, where they worked with members of the St. Lawrence and Danish String Quartets. They were also invited to participate in the Rencontres Franco-Américaines de Musique de Chambre as part of the USC Thornton School of Music Ofiesh Chamber Music Competition in the Saint-Gildas-des-Bois area of France in 2020. Most recently, they participated in the Juilliard String Quartet Seminar, and the Center for Advanced Quartet Studies at the Aspen Music Festival, where they worked with the Pacifica, Escher, and American String Quartets.
Visit the Zelter Quartet's Website
---