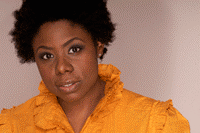 Joelle Lamarre, (soprano, actress and playwright) is thrilled to be joining George Lewis (a Guggenheim Fellowship winner) and Sean Griffin one more time with Afterwords for its west coast premiere at the Ojai 2017 Summer Festival. Afterword, an opera developed with Sean Griffin and Catherine Sullivan, constitutes an aesthetic extension of George E. Lewis's 2008 book, A Power Stronger Than Itself: The AACM and American Experimental Music (University of Chicago Press).
Earlier this year with South Shore Opera Company of Chicago, Ms. Lamarre presented a work of her own, The Violet Hour. The Violet Hour explores the career of internationally acclaimed soprano Leontyne Price and how she rose to prominence during the 50's into the 60's, despite the segregation and discrimination which was prevalent in America. The Violet Hour traces Ms. Price's journey from the beginning of her career up to her final performance of the opera Aida at the Metropolitan Opera House in 1985. Through the ingenious use of projections and voice, Ms. Lamarre will portray the life of Ms. Leontyne Price, a true iconic American.
Last Fall, Joelle played the role of Harriet in a new opera written by Nkeiru Okoye, "Harriet Tubman, When I Crossed That Line to Freedom" with South Shore Opera Company of Chicago. It tells the story of Harriet Tubman, who, a century-and-a-half ago, escaped from slavery and led others to freedom. Again, with South Shore Opera Company of Chicago, Joelle was very happy to perform the role of Celeste in the William Grant-Still opera, Troubled Island.
In the Fall of 2015, Joelle joined with Charles Gaines to perform, Manifestos 2, a musical arrangement by director and composer Sean Griffin of Opera Povera. Gaines devised musical translations of four influential speeches using a conceptual rule-based musical notation system.
Known for her powerful performance, Joelle began her 2015 season as a guest alum artist with Northwestern University; playing the role of Sister Rose, in their Chicago premiere of Dead Man Walking. In April 2014, she made her first appearance as Sister Rose in a concert production of Dead Man Walking with DePaul University. Dead Man Walking is an opera in two acts by composer Jake Heggie and librettist Terrence McNally. It is based on the narrative book by Sister Helen Prejean, it tells the journey of a Louisiana nun who becomes the spiritual advisor to a convicted murderer on Angola's death row (Bent Pen Music).
Ms. Lamarre debuted as Lady on the Levee in Show Boat and covered the role of Lily in Gershwin's Porgy and Bess both with the Lyric Opera of Chicago.
She debuted as Cio Cio San in Puccini's, Madame Butterfly with the American Chamber Opera, in a unique take with the production being set in Mubasa, Kenya.
Ms. Lamarre is known for her extensive background in classical concert works and her talents in musical theater. Her awards include the BRAVO award from Bel Canto Foundation, the ANNAMARIE GERTS AWARD from the Musicians Club of Women and several vocal scholarships for VoicExperience.