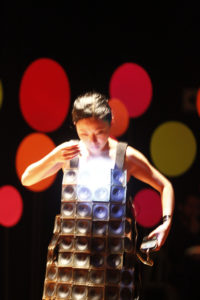 Described by The Wire as an artist "unafraid of working within different disciplines and stylistic constraints"; Pauchi Sasaki's interdisciplinary approach integrates musical composition with the design of multimedia performances, the application of new technologies, and the development of self-designed instruments seeking the embodiment of electronic music performance. A composer, performer and improviser, her music recreates intimate subjective landscapes through electro-acoustic sonorities mixed with field recordings and synthesis, influenced by improvisational aesthetics and ethnic musical traditions.
An active film scorer, "Pauchi Sasaki's effective scores" [Variety] are also featured in more than 30 feature and short films that earned her three "Best Original Score" awards from Festival de Cinema Latino Americano di Trieste in Italy (2015); CONACINE, National Film Council of Peru (2013); and Filmocorto (2011). She also received the Ibermúsicas Latin American grant for sound composition with new technologies at CMMAS-México (2015); The Rolex Mentor and Protégé Arts Initiative, becoming the protégé of American composer Philip Glass (2016), and the Goethe-Institut's artist residency at Salvador-Bahia (2017).
Pauchi studied with César Bolaños, Ali Akbar Khan, Maggi Payne, John Bischoff, Fred Frith, Chris Brown, James Fei, Laetitia Sonami, Les Stuck and Pauline Oliveros. She holds a BA degree in Journalism from PUCP in Lima-Perú, and an MFA degree in Recording Media and Experimental Music from Mills College in Oakland, California. She has performed at the Tokyo Experimental Festival, The Mario Testino Museum [MATE], the Art Basel Miami week, Lincoln Center's Mostly Mozart, The Kitchen, among other venues.