Julia Wolfe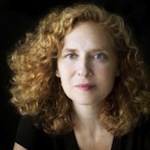 Drawing inspiration from folk, classical, and rock genres, Julia Wolfe's music brings a modern sensibility to each while simultaneously tearing down the walls between them.
Her music is distinguished by an intense physicality and a relentless power that pushes performers to extremes and demands attention from the audience. In the words of the Wall Street Journal, Wolfe has "long inhabited a terrain of [her] own, a place where classical forms are recharged by the repetitive patterns of minimalism and the driving energy of rock."
Wolfe has written a major body of work for strings, from quartets to full orchestra. Her quartets, as described by the New Yorker magazine "combine the violent forward drive of rock music with an aura of minimalist serenity [using] the four instruments as a big guitar, whipping psychedelic states of mind into frenzied and ecstatic climaxes." Wolfe's Cruel Sister for string orchestra, inspired by a traditional English ballad of a love rivalry between sisters, was commissioned by the Munich Chamber Orchestra and received its US premiere at the Spoleto Festival, and was recently released (along with her other string orchestra piece, Fuel) on Cantaloupe Records. Written shortly after September 11, 2001, her string quartet concerto My Beautiful Scream, written for Kronos Quartet and the Orchestre National de France (premiered in the US at the Cabrillo Festival under the direction of Marin Alsop), was inspired by the idea of a slow motion scream. The Vermeer Room, Girlfriend, and Window of Vulnerability exemplify Wolfe's ability to create vivid sonic images. Girlfriend, for mixed chamber ensemble and recorded sound, uses a haunting audio landscape that consists of skidding cars and breaking glass. The Vermeer Room, inspired by the Vermeer painting "A Girl Asleep" — which when x-rayed reveals a hidden figure — received its orchestral premiere with the San Francisco Symphony. Window of Vulnerability, written for the American Composers Orchestra and conducted by Dennis Russell Davies, Wolfe creates a massive sonic universe of dense textures and fragile windows.
The influence of pop culture can be heard in many of Wolfe's works, including Lick and Believing for the Bang on a Can All-Stars. Lick, based on fragments of funk, has become a manifesto for the new generation of pop-influenced composers. The raucous My Lips From Speaking for six pianos was inspired by the opening riff of the Aretha Franklin tune Think. Wolfe's Dark Full Ride is an obsessive and relentless exploration of the drum set, beginning with an extended hi-hat spotlight. In Lad, Wolfe creates a kaleidoscopic landscape for nine bagpipes.
Wolfe has also extended her talents to theatre by composing for Anna Deveare Smith's House Arrest, and won an Obie award for her score to Ridge Theater's Jennie Richie. She has compiled a series of collaborative multimedia works with composers Michael Gordon and David Lang, including Lost Objects (Concerto Koln, directed by Francois Girard), Shelter (Musikfabrik and Ridge Theater), and The Carbon Copy Building (with comic-book artist Ben Katchor). Wolfe recently created the city-wide spectacle Traveling Music with architects Diller Scofidio+Renfro in Bordeaux, France, filling the streets of the old city with 100 musicians walking and riding in pedi-cabs. Her work with film includes Fuel for the Hamburg-based Ensemble Resonanz and filmmaker Bill Morrison, and Impatience and Combat de Boxe for the Asko-Schoenberg Ensemble and 1920s film experimentalist Charles De Keukeleire.
Wolfe's Cruel Sister for string orchestra (commissioned by the Munich Chamber Orchestra) was recently released with Ensemble Resonanz (along with her other string orchestra work, Fuel) on Cantaloupe Music. Other CDs on Cantaloupe include Dark Full Ride (music for multiples) and Julia Wolfe – The String Quartets. Her evening-length cantata for Trio Mediaeval and the Bang on a Can All-Stars, Steel Hammer, is to be released in February 2014.
Recent projects include riSE and fLY, a body concerto written for Colin Currie and the BBC orchestra, and Anthracite Fields, an evening length work based on life in the Pennsylvania Anthracite coal region, for the Mendelssohn Club Choir of Philadelphia with the Bang on a Can All-Stars, which received its world premiere in April 2014 in Philadelphia and its New York premiere in May 2014 with the Trinity Choir as a part of the New York Philharmonic's inaugural NY PHIL BIENNIAL. A staged version of Wolfe's Steel Hammer directed by the legendary Anne Bogart with her SITI Company, Trio Mediaeval, and the Bang on a Can All-Stars will premiere on the 2015 Next Wave festival at the Brooklyn Academy of Music.
Wolfe has collaborated with theater artist Anna Deveare Smith, architects DillerScofidio+Renfro, filmmaker Bill Morrison, Ridge Theater, director Francois Girard, Jim Findlay, and choreographer Susan Marshall among others. Her music has been heard at BAM, the Sydney Olympic Arts Festival, Settembre Musica (Italy), Theatre de la Ville (Paris), Lincoln Center and Carnegie Hall, and has been recorded on Cantaloupe, Teldec, Point/Universal, Sony Classical, and Argo/Decca. In 2009 Wolfe joined the NYU Steinhardt School composition faculty. She is co-founder and co-artistic director of New York's legendary music collective Bang on a Can.
Her music is published by Red Poppy Music (ASCAP) and is distributed worldwide by G. Schirmer, Inc.
Visit Julia Wolfe's website >>
Photo credit: Peter Serling