As a freelance musician living and working in New York City, it has become unquestionably clear that being from Ojai is as distinctive a part of my background as my primary instrument or the schools I attended. Collaborating as often as I do with other musicians, the response I typically hear from those who have visited the valley or attended the Music Festival is something along the lines of: "Wait, you're actually from there?" Ojai, even in the minds of those who have only briefly experienced it, is a kind of otherworldly oasis.
Growing up in Ojai, I now realize, was similarly uncommon in its richness of exposure to the arts and artists. My first musical memories are of my father plunking out bass lines on our upright piano in preparation for rehearsals with his singing group, Madrigali. A long-standing Ojai treasure, Madrigali remains a charming, lively vocal ensemble under the vibrant direction of Jaye Hersh. As a child, I sang with Madrigali's youth incarnation, Harmonia Mundi. Both groups were particularly active in the summers, when we gave concerts on the Libbey Bowl lawn and provided incidental music for the Ojai Shakespeare Festival's annual productions. In retrospect, performing with Madrigali and Harmonia Mundi laid the foundation for my love of vocal timbres, a cappella singing, and tight harmonies—elements very much alive in my work today.
Additiona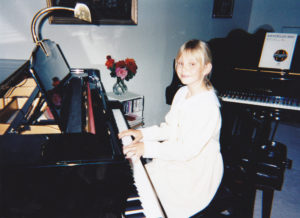 lly, I took piano lessons at the Suzuki Piano School of Ojai with Patricia Bean, who patiently taught me foundational keyboard skills that continue to permeate every aspect of my teaching. I first put those skills to use in the (now-defunct) Ojai Lutheran Church, where the congregation would caringly listen to my attempts to concertize. It was also at that church that I had the good fortune to play and sing in the worship band with Bill Wagner, who exemplified well-rounded musicianship in wearing the many hats of vocalist, keyboardist, trumpet player, band leader, improviser, arranger, and more. Perhaps most importantly, the ethos of the band was simple: using our musical talents to give back to our little community, a sentiment I have seen echoed across the work of many Ojai musicians. This was similarly evident in the BRAVO Program's involvement in local schools with presentations (such as the instrument "petting zoo"), which were perceptibly driven by a love of and belief in the value of spending part of one's day or week being musical.
I was lucky to keep working with Bill Wagner and Jaye Hersh in the ensembles at Nordhoff High School, where the two comprised an effective team that ran a small music department with big ambitions—and, as evidenced by a packed trophy case and endless award plaques, nearly always exceeded them. I can still recall how large the seniors loomed—many of whom have gone on to successful performing careers—while still a freshman struggling to hold up my cymbals in marching band. Taking part in numerous instrumental and vocal groups at Nordhoff, I was fortunate to also play percussion with the Ojai Youth Symphony headed by Andy Radford, where I got my first taste of performing orchestral classics.
Wallflower that I was, it is nothing short of a miracle that Bill, Jaye, and Andy were able to look past my painfully shy exterior and encourage a budding musician who has now, in turn, taught hundreds of students. Underlying all of this, my parents, Wayne and Jackie Francis, have tirelessly supported my zigzagging music career, and even now continue to volunteer with the Festival and find ways to sustain Ojai's musical livelihood. While I believe these individuals had the strength of character to encourage me regardless of their surroundings, I also think a certain artistic essence holds sway in the collective Ojai mindset, making this kind of boundless support by valley citizens the norm rather than the exception.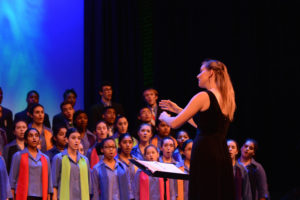 The more I teach, the more I have come to see music-making as a practice that not only transcends a single class or academic subject, but is a foundational part of the human experience. While studying Edwin Gordon's Music Learning Theory in my master's program, one line in the teacher's manual would often jump out: It is important to remember that everyone has the potential to achieve in music, and some students have the potential to achieve more in music than in any other subject. While the extrinsic benefits of studying music are many (and perhaps among the most commonly touted, such as learning soft skills like confidence, discipline, cooperation, etc.), music-making is, at its core, intrinsically worthwhile: it provides an outlet for expressing oneself through singing, playing, and moving to music in ways no other subjects or practices can replicate or replace. Applying aesthetics to performance, it can provide a window to another time, tradition, or culture, and as music-makers we can discuss how to integrate new and different ideas into our playing and, ultimately, our lives. "Harmony," already a rich interpersonal concept, enjoys added depth and necessity in musical contexts.
The farther my career has taken me from Ojai, the more comforting it has been to discover reminders of the valley sprinkled across various music communities, such as a composition professor sporting a Music Festival cap, or hearing east coast colleagues wistfully describe playing in past Festivals. When I visit the valley now, it hurts to see that some programs that were so formative in my early musical life have faded. However, it is also heartening that programs such as BRAVO are thriving and growing, and I have no doubt the Ojai Valley will continue to nurture its artists into the future.
BA in Music Theory/Composition, UC San Diego
MA, Music Education (Vocal/General), Eastman School of Music
Dubbed "the next generation of a cappella specialist" by Pitch Perfect and The Sing-Off vocal producer Deke Sharon, Kari Francis is an avid vocalist, arranger, and educator. She has shared the stage with Taylor Swift, Imogen Heap, and competed on Season 3 of NBC's The Sing-Off with Kinfolk 9. She currently directs the contemporary a cappella ensemble at CUNY Hunter College and is a choral teaching artist with Midori & Friends. Kari has been an active lecturer and clinician since 2009, giving workshops on musicianship, arranging, and vocal percussion at music festivals and vocal camps across the States.