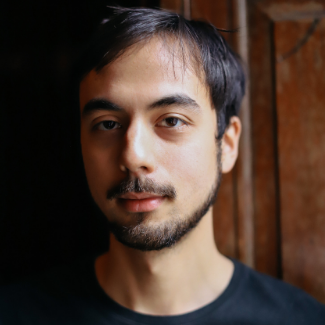 Keir GoGwilt is a violinist, writer, and musicologist, whose work spans a range of critical and creative disciplines. As a violinist he has been described as a "formidable performer" (New York Times) noted for his "evocative sound" (London Jazz News) and "finger-busting virtuosity" (San Diego Union Tribune). He is a core member of AMOC, and he co-composes, improvises, and performs music with bassist Kyle Motl as part of their duo, Treesearch.
He has soloed with groups including the Orchestra of St. Luke's, the Chinese National Symphony, the Orquesta Filarmonica de Santiago, the Bowdoin International Music Festival Orchestra, the Boston Modern Orchestra Project, the Manhattan School of Music Chamber Sinfonia, and the La Jolla Symphony. He works closely with composers Matthew Aucoin, Celeste Oram, and Carolyn Chen, choreographer Bobbi Jene Smith, bassist Mark Dresser (as part of the Dresser Quintet/Septet), taonga puoro musician Rob Thorne, and percussionist/conductor Steven Schick.
He has been a featured artist at festivals/series including Luminato, PS 122 COIL, Rockport Chamber Music, Spoleto (in Italy), Carolina Performing Arts, the American Repertory Theater, Music Academy of the West, Darmstadt, and YellowBarn, has released records on Tzadik, Clean Feed, and 577 Records, and has published articles with Naxos Musicology and the Orpheus Institute Series (Leuven Press). He studied literature at Harvard University, where he was awarded the Louis Sudler Prize in the Arts, and is a PhD candidate in Music at UC San Diego. His research looks at performance pedagogies engaging histories of science, aesthetics, and phenomenology. He teaches a hybrid seminar/performance workshop, "Histories and Philosophies of Performance," which draws from his research and practice.