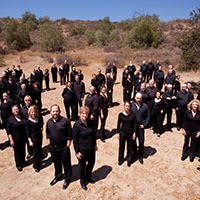 Los Robles Master Chorale (LRMC), led by Artistic Director Lesley Leighton and lauded for its "robust choral tapestry" (Artillery), is one of Southern California's premier choirs. Celebrating a rich legacy and hailed for its remarkable sound, striking versatility, and commitment to commissioning new choral works, the 100+voice chorus harnesses the power of music to enrich people of all ages. With repertoire ranging from early music and great choral masterworks to folk, contemporary and world music, LRMC presents its own concert series each season and performs with leading music organizations across the Southland in such iconic venues as Walt Disney Concert Hall, Hollywood Bowl and Royce Hall. The chorale has recently appeared with the Los Angeles Philharmonic, San Bernardino Symphony Orchestra, the New West Symphony, among others.
The Los Robles Master Chorale's 2018-19 season is highlighted by a compelling array of world premieres, debut performances and incomparable masterworks. The chorus presents four concerts led by Leighton, including Handel's Messiah on December 1, at Church of the Epiphany in Oak Park; "A Joyful Noise!," showcasing holiday favorites, on December 8, 2018, at Calabasas Performing Arts and Education Center (C-PAEC); "Copland/Randall," featuring a world premier of a work by Jasper Randall, with Agoura High School Chamber Singers and Women's Chorus, at Agoura Performing Arts and Education Center (A-PAEC) in Agoura Hills; and the season finale, an inspirational program of choral music by living composers, including Zoltan Kodaly and Olivier Messien,, among others, on June 9, 2019, at Church of the Epiphany. Additionally, the chorale will perform with the San Bernardino Symphony Orchestra in October, the New West Symphony in May, and the LA Opera (under the direction of Lesley Leighton) in June.
LRMC often collaborates with leading choral composers, such as Lauridsen and Shawn Kirchner, to create fresh insight into the interpretations of their works, and has given dozens of world premieres by John Rutter, Christina Whitten Thomas, Jordan Nelson, Thomas Goedecke and Leighton, to name a few, as well as West Coast premieres by John Tavener, Franz Biebl, Matthew Brown, Bruce Vandervalk, Melanie McCoy and Steve Eisle. LRMC is also recognized for expanding and invigorating the choral repertoire, commissioning some 20 works by Rutter, Randall and Goedecke, among others, and championing through its highly regarded "Los Robles Master Chorale Artist Choral Composer Competition" such rising composers as Lauren McLaren, Tobin Sparfeld, Jordan Nelson and Giorgio Navarini.
During its notable history, the chorale has hosted a number of distinguished guest conductors, including Roger Wagner, Sir David Willcocks, Paul Salamunovich, Vance George and Lloyd Pfautsch. LRMC has toured internationally, sharing its distinctive artistry and resonant sound with audiences in Austria, the Czech Republic, England, Finland, France, Ireland and Italy, appearing at Notre Dame Cathedral, St. Martin-in-the-Fields, Salzburg Cathedral, Basilica San Marco, the Duomo di Santa Maria del Fiore, Basilica Santa Maria Maggiore and Dvorak Hall, among other cultural landmarks. The chorus has made two recordings under Leighton's baton, including êkó, a collection of folksongs, spirituals and LAMC-commissioned works by Leighton, McLaren, Southers, Thomas, Philip Welby and Brent Michael Davids; and Sing We Noel!, featuring traditional carols and holiday music.
Founded in 1977 by James Stemen as a community chorus, Los Robles Master Chorale has flourished for 39 years. Leighton, who succeeded Stemen, was appointed artistic director in 2008 and, during her tenure, has considerably expanded the chorale's reach and versatility. Under her leadership, the organization has more than doubled in size and budget; now includes exceptional singers from Los Angeles and Riverside Counties, in addition to Ventura County; and broadened its repertoire to include choral music of all styles.