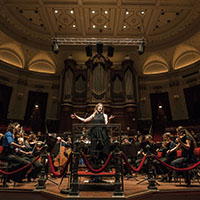 In 2012, six Dutch orchestral musicians defied prevailing trends and created a new musical collective. They wanted an ensemble which would distinguish itself not only artistically, but in its range and flexibility. LUDWIG – the name of course refers to the cultural entrepreneur in classical music – varies in size from a single soloist to full-scale symphonic orchestra. Their dream became reality: in no time at all the collective, with its fearless elan and contemporary vision for established repertoire, shot to prominence in the Netherlands.
LUDWIG's programming is as thoroughly thought out as it is adventurous. Artistic director Peppie Wiersma effortlessly brings together composers from different time periods, styles, and backgrounds. The musicians perform the greatest music to the highest possible standard but free from the organisational and management norms of conventional ensembles and orchestras. And distinctive it certainly is: the musicians often interact directly with their audience, play from memory, experiment with different forms of presentation, collaborate with makers in other disciplines and have staged a number of legendary appearances with leading soloists such as Barbara Hannigan, the Jussen brothers and Remy van Kesteren.
In July 2015 LUDWIG received a grant from the prestigious governmental funding program The Art of Impact for their pioneering research project LUDWIG and the Brain, exploring the impact of music. In LUDWIG and the Brain, LUDWIG develops innovative implementations for music that have a positive effect on the wellbeing and education of specific target groups in cooperation with leading scientists. As of 2016 LUDWIG introduced a series of so-called Brainwaves: multidisciplinairy events revealing the latest developments in different fields of music-related brainresearch. Brainwave #1 Music and Identity toured the Netherlands in 2016, in 2017 Music as Medicine was presented and in 2018 Music and the Future researches the transition into the new era of infinite possibilities that digitalisation has created.
In september 2017 LUDWIG and conductor/singer Barbara Hannigan recorded their first cd Crazy Girl Crazy, which was awarded with a Grammy in january 2018. In 2019 Barbara and LUDWIG will tour Europe and the United States with Stravinsky's Rake's Progress.