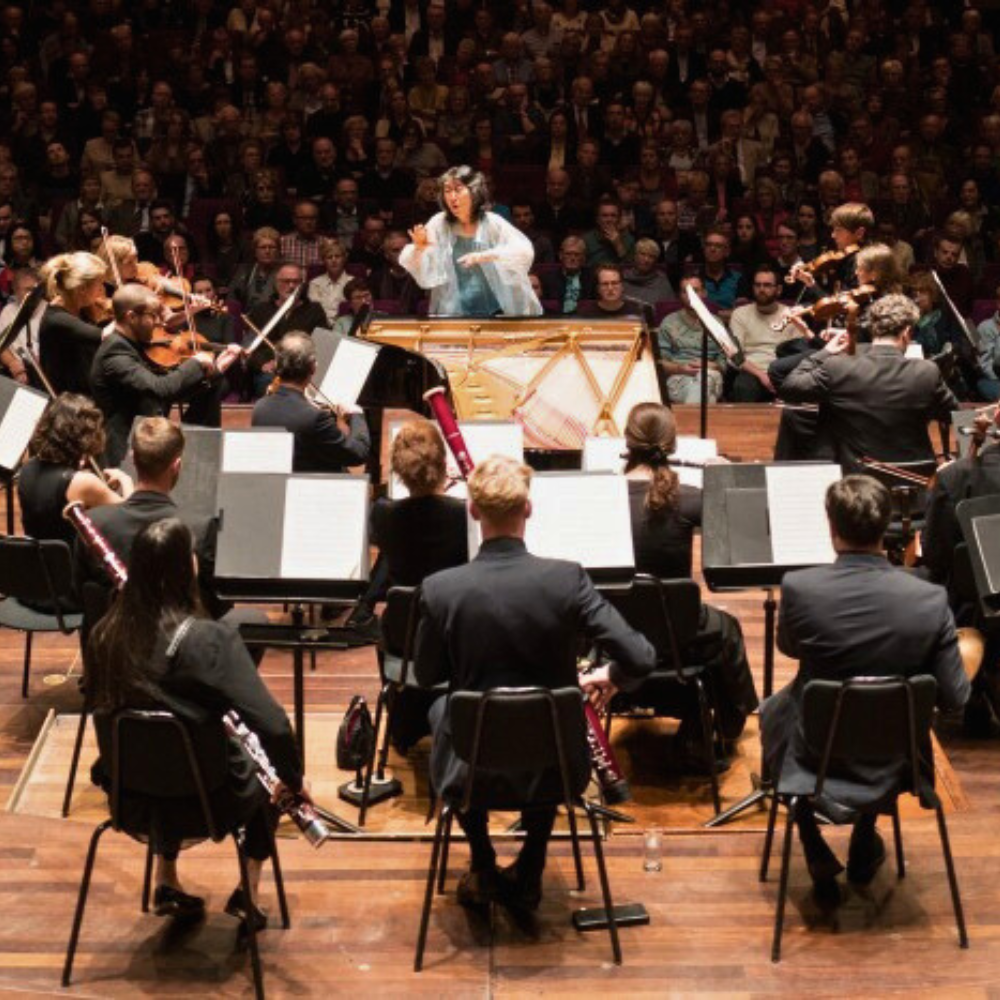 Since its creation in 1997, the Mahler Chamber Orchestra (MCO) has continuously shaped its distinct sound, independent artistic identity, and agile and democratic structure. To this day, the MCO is still governed by its musicians in collaboration with its managing office.
The orchestra is constantly on the move in search of the next musical horizon. It has, to date, performed in over 40 countries across five continents.
The MCO's sound is characterized by the chamber music style of ensemble playing among its alert and independent musical personalities. Its core repertoire, ranging from the Viennese classical and early Romantic periods to contemporary works and world premieres, reflects the MCO's agility in crossing musical boundaries.
The orchestra received its most significant artistic impulses from its founding mentor, Claudio Abbado, and from Conductor Laureate Daniel Harding. The MCO works closely with a network of Artistic Partners who inspire and shape the orchestra in long-term collaborations. Current MCO Artistic Partners include pianists Mitsuko Uchida and Yuja Wang, as well as violinist Pekka Kuusisto. Concertmasters Matthew Truscott and José Maria Blumenschein lead and direct the orchestra regularly in chamber orchestra repertoire, while the MCO's longstanding collaboration with Artistic Advisor Daniele Gatti focuses on larger symphonic works.
MCO musicians all share a strong desire to continually deepen their engagement with audiences. This has inspired a growing number of offstage musical encounters and projects that bring music, learning and creativity to communities across the globe. Since 2012, Feel the Music has opened the world of music to deaf and hard-of-hearing children through interactive workshops in schools and concert halls. MCO musicians are equally committed to sharing their passion and expertise with the next generation of musicians: since 2009, they have, through the MCO Academy, worked with young musicians to provide them with a high-quality orchestral experience and a unique platform for networking and international exchange. Welcome Home: a concert about finding the place where you belong is a concert format in which school groups are invited on a multicultural journey, fostering introspection and contemplation on the theme of "Belonging". These endeavors highlight the MCO's commitment to enriching lives through music and promoting inclusivity.
Each summer, the MCO forms the core group of the Lucerne Festival Orchestra. Meetings with Conductor Laureate Daniel Harding and Artistic Advisor Daniele Gatti bring the MCO to numerous prestigious festivals and concert halls in Europe. This season, the partnership with Mitsuko Uchida spans three continents and includes a residency at Ojai Music Festival in California. The first project with the MCO's newest Artistic Partner Yuja Wang takes place in January, with a programme that crosses musical styles. In 2024, the orchestra will fulfill its inaugural year as Artistic Director of Musikwoche Hitzacker, in the company of violinist Alina Ibragimova. MCO debuts are made by conductors Maxim Emelyanychev and Sir Simon Rattle, and cellist Kian Soltani.
Visit the MCO's Website