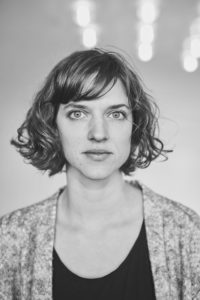 Maria Ursprung, Director
Maria Ursprung is a theatre director and dramatic writer. She started to work with Patricia Kopatchinskaja 2015. They invented the staged concert Bye Bye Beethoven together with the Mahler Chamber Orchestra for the Hamburg International Music Festival 2016.
Ursprung was born in Solothurn, Switzerland. She studied in Bern and Berlin and graduated from University of Bern in Theatre Studies and German Literature. After receiving her education, Ursprung worked as a director's assistant and later dramatic adviser in Theater Basel. 2009-2012 Ursprung was a director's assistant in Thalia Theater Hamburg where she was working with Luk Perceval, David Marton, Stefan Pucher, and Jette Steckel. Later productions in Theaterhaus Jena, Staatstheater Darmstadt, and Konzerttheater Bern. Since 2014 several publications as a dramatic writer for theatre and radio plays in Switzerland and Germany.
She realized scenic orchestra projects with Jeffrey Tate and the Hamburger Symphoniker and with Happy New Ears in Hamburg. For the Lucerne Festival in 2017, Ursprung directed and wrote the Festival's Late Night Show.