Michael Harrison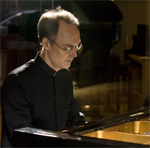 Michael Harrison, composer and pianist, has been called "an American Maverick" by Philip Glass. Through his expertise in "just intonation" tunings, Indian ragas and rhythmic cycles, he has created "a new harmonic world…of vibrant sound" (The New York Times). With a personal style that transcends the ages, his music is both forward looking and deeply rooted in different forms of traditional music.
Harrison has collaborated with filmmakers, choreographers and visual artists for installations and performances of his work at Carnegie Hall, Lincoln Center, Stuttgart Ballet, MoMA, Metropolitan Museum of Art, Centre Pompidou, MASS MoCA, Spoleto Festival USA, United Nations, American Academy in Rome, Klavier Festival Ruhr, BAM Next Wave Festival (scheduled for October 2015), Sundance Film Festival, American Film Institute Film Festival, and screenings at film festivals throughout the world. He has collaborated or performed with filmmaker Bill Morrison, Roomful of Teeth, Bang on a Can, Kronos Quartet, JACK Quartet, Del Sol Quartet, Young People's Chorus of NYC, Contemporaneous, and his mentors, composers La Monte Young and Terry Riley.
Time Loops, his CD with cellist Maya Beiser, was selected by NPR as one of the Top 10 Classical Albums of 2012. Revelation: Music in Pure Intonation, his 75-minute work for solo piano,was chosen by the New York Times, Boston Globe and Time Out New York as one of the Best Classical Recordings of the Year, and received awards from the Classical Recording Foundation and IBLA Foundation. Critic Tim Page wrote: Say it plainly — Michael Harrison's 'Revelation: Music in Pure Intonation' is probably the most brilliant and original extended composition for solo piano since the early works of Frederic Rzewski three decades ago.
As La Monte Young's composition and tuning assistant during the 1980's, Harrison prepared the specialized tunings and scores for Young's 6½-hour work, The Well-Tuned Piano, later becoming the only person besides the composer to perform this work. In 1986, Harrison designed and created the "harmonic piano," an extensively modified grand piano with the ability to play 24 notes per octave. Kyle Gann from The Village Voice hailed the harmonic piano as "an indisputable landmark in the history of Western tuning," and the instrument is described in the second edition of the Grove Dictionary of Musical Instruments.
Harrison is the co-founder and president of the American Academy of Indian Classical Music (AAICM) and a disciple of master Indian vocalists Pandit Pran Nath (1979-1996), and Ustad Mashkoor Ali Khan (1999-present), with whom he performs regularly. Recordings of his works have been released on Bang on a Can's Cantaloupe Music Label, New Albion Records, Important Records, and Fortuna Records, and chapters are devoted to his work in the books Grand Obsession (Perry Knize, Scribner) and Temperament (Stuart Isacoff, A. Knopf). He has been on faculty at Manhattan School of Music's Contemporary Performance Program and the Bang on a Can Summer Institute at MASS MoCA. Recent grants and fellowships include the Aaron Copland Fund for Music recording grant, Classical Recording Foundation Awards (for both Time Loops and Revelation CDs), University of Oregon School of Music Distinguished Alumnus Award, MASS MoCA Residency with Roomful of Teeth, Yaddo Residency, Atlantic Music Festival Composition Fellowship, Djerassi Resident Artists Program, Ucross Foundation Residency Program, and the MacDowell Colony, where he has served on the Fellows Executive Committee since 2013.