Lou Harrison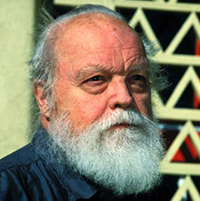 Lou Harrison (1917 – 2003) was an American musical pioneer, composing works that incorporated Javanese gamelan and non-Western influences and explored the use of alternate tunings and new instruments. Spending much of his youth on the West Coast, he studied with Henry Cowell and Arnold Schoenberg, before moving to New York to work with Virgil Thomson. In addition to composing, Harrison also worked tirelessly promote the music of Charles Ives, bringing the composer to the notice of the musical world and conducting the first performances if his Symphony No. 3.
Harrison returned to Aptos, California in 1953, where he explored new tunings and alternative tonalities, as well as his deep interests in Asian music and tuning. But he didn't travel to the region until 1961, when he was invited to the East-West Music Encounter conference in Tokyo. From Japan he then visited Korea and Taiwan. Throughout the decade he would write some of his best known works incorporating Asian influences, including Pacifika Rondo and Young Caesar.
Harrison met Ki K.P.H. Wasitodiningrat, a master of Javanese gamelan, in 1975. Under his instruction, Harrison learned gamelan performance and theory and began to compose works for the ensemble. In the ensuing years, Harrison composed would compose over 50 pieces for gamelan, often pairing the traditional ensemble with Western instruments. These include Philemon and Baukis ( for violin and gamelan) and Bubaran Robert (for trumpet and gamelan), as well as his Concerto for Piano and Javanese Gamelan. Other of Harrison's well-known works include his Piano Concerto and his early percussion collaboration with John Cage, Double Music.
Together with his longtime partner, Bill Colvig, Harrison designed and built several instrument collections, or "American gamelans," for which he also composed works. He was travelling to a festival in his honor in 2003 when he unexpectedly passed away at age 85.
Read a full biography of Lou Harrison >>
Read composer John Luther Adams' tribute to Lou Harrison >>
Read Festival attendee Jain Fletcher's blog posts on her friendship with Lou Harrison >>
Learn more about Eva Soltes' documentary film project >>