Mohammed Fairouz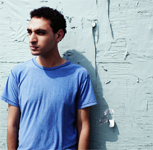 Mohammed Fairouz, born in 1985, is one of the most frequently performed, commissioned, and recorded composers of his generation. Hailed by The New York Times as "an important new artistic voice" and by BBC World News as "one of the most talented composers of his generation," Fairouz integrates Middle-Eastern modes into Western structures, to deeply expressive effect. His large-scale works, including four symphonies and an opera, engage major geopolitical and philosophical themes with persuasive craft and a marked seriousness of purpose. His most recent symphony, In the Shadow of No Towers for wind ensemble, was described by Steve Smith of The New York Times as "technically impressive, consistently imaginative and in its finest stretches deeply moving." His solo and chamber music attains an "intoxicating intimacy," according to New York's WQXR.
Fairouz's cosmopolitan outlook reflects his transatlantic upbringing and extensive travels. His catalog encompasses virtually every genre, including opera, symphonies, ensemble works, chamber and solo pieces, choral settings, and electronic music. Prominent advocates of his instrumental music include the Borromeo String Quartet, The Imani Winds, violinist Rachel Barton Pine, and clarinetist David Krakauer, who all appear on his Naxos portrait disc, Native Informant; The Knights Chamber Orchestra, Metropolis Ensemble, and conductor Gunther Schuller.
Fairouz, described by Gramophone as "a post-millennial Schubert," has composed an opera (with a second in progress), thirteen song cycles, and hundreds of art songs. Anthony Tommasini of The New York Times called his debut opera Sumeida's Song "intensely dramatic [with] a searing score… The Arabic elements of his style – microtonal modes, spiraling dance rhythms, plaintive melodic writing – give fresh, distinctive jolts to the Western elements." Among the eminent singers that have promoted his wealth of vocal music are Kate Lindsey, Sasha Cooke, D'Anna Fortunato, Mellissa Hughes, David Kravitz and Randall Scarlata.
Commissions have come from Rachel Barton Pine, the Detroit and Alabama Symphony Orchestras, Borromeo Quartet, Imani Winds, New York Festival of Song, Da Capo Chamber Players, New Juilliard Ensemble, Cantus Vocal Ensemble, Cygnus Ensemble, Counter)induction, Musicians for Harmony, Cantori New York, Back Bay Chorale, Reach Out Kansas, and many others. Recordings are available on the Naxos, Innova, Bridge, Dorian Sono Luminus, Cedille, Albany, GM/Living Archive, and GPR labels.
Mohammed Fairouz was chosen by the BBC to be a featured artist for the television series Collaboration Culture, which aired globally on BBC World Service TV (viewership approximately 70 million). He has been heard in interviews on nationally syndicated shows such as NPR's All Things Considered, BBC/PRI's The World, and The Bob Edwards Show. He has been profiled in the Wall Street Journal, Symphony Magazine, Strings Magazine, New Music Box, and the Houston Chronicle, among others.
His principal teachers in composition have included György Ligeti, Gunther Schuller, and Richard Danielpour, with studies at the Curtis Institute and New England Conservatory. Fairouz's works are published by Peermusic Classical. He lives in New York City.
Visit Mohammed Fairouz's website >>

Photo credit: Samantha West