Suzanne Farrin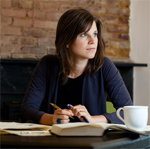 Suzanne Farrin's music explores the interior worlds of instruments and the visceral potentialities of sound. Her music has been performed by some of the great musicians of today on stages across Europe and North and South America. Tim Page, the former classical music critic of the Washington Post wrote: "If you can imagine the dense, perfumed chords of Messiaen's piano music combined with the clangorous, insistent, near-pictorial tone-clusters of Frederic Rzewski's Winnsboro Cotton Mill Blues, you will have some idea of what Farrin's work sounds like. Yet it transcends its derivations to leave the distinct impression of its own."
She has been featured at venues and festivals such as Mostly Mozart, Matrix, Alpenklassik, Music in Würzburg, BAM NextWave, Die Glocke (Bremen), Theaterforum (Bayern), Town Hall Seattle, Carnegie's Weill Hall, Symphony Space, the Walker Art Center, SALT (Victoria, B.C.), Festival Nuevo Mundo (Venezuela) and New York's The Stone, Spectrum, Joe's Pub, among many others. She has been supported by organizations such as the Rockefeller Foundation, Meet The Composer, the Wachovia Foundation, Concert Artists Guild and New Music USA. Some of the musicians and ensembles who have interpreted her work include the American Composers Orchestra, The League of Composers Orchestra, ICE, the Arditti Quartet, the Spektral Quartet, So Percussion, Antoine Tamestit, Leonard Elschenbroich, Anthony Roth Costanzo, Ksenija Sidorova, Joshua Rubin, Nuiko Wadden and Ben Melsky. She has been a guest at the MATRIX Festival at the SWR in Freiburg, Germany (2013) and the Harvard Summer Composition Institute (2012, 2014). In addition to composing, she is a regular host on Q2, the New York City-based new music radio station.
Upcoming commissions for 2014-15 include new works for countertenor and ensemble for the International Contemporary Ensemble (ICE) with Anthony Roth Costanzo and a work for cello and accordion for The Philharmonic Society of Bremen.
Suzanne Farrin is Associate Professor and Chair of Composition at the State University of New York (SUNY) Purchase. She holds a doctorate in composition from Yale University. Corpo di Terra, released on New Focus Recordings, is devoted entirely to her music, which may also be heard on the VAI, Signum Classics, Albany Records and Tundra labels.
Visit Suzanne Farrin's website >>
Photo credit: Luke Redmond