My Memories of Lou Harrison Part II
Part II of My Memories of Lou Harrison by Jain Fletcher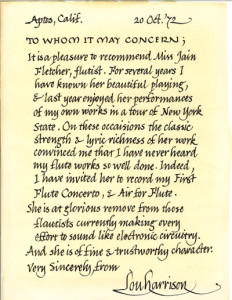 In my last year of school, I started trying to make plans to go to New York, but with my chronic lack of funds, my chances were not looking very promising. At around that same time, Lou told me he was being asked to make a tour of New York state with his small group (Bill Colvig and Richard Dee) and, since I was "going to New York anyway" he had some music for violin (ossia flute) and drone that he thought would be nice to have me play on the concerts. I could not imagine saying "no" to this unbelievable opportunity, so I happily agreed. To prepare for our tour, we spent at least 3 weekend days at Lou's and Bill's place in Cabrillo, practicing the music for the concert. After that, we would have a little dinner before I coaxed my '56 VW back over the Santa Cruz mountains to San Jose.
Practicing for the concert was very special, indeed, but I treasure even more the chance I got to be with Lou and his friends in his and Bill's very colorful and comfortable home. The most pleasant part of those dinners was the stories they would tell.  My most vivid memory of those stories was this one time when Bill and Lou regaled me over dinner with their recent adventure at a local hardware store trying out various metallic canisters to be used as "drums" (such as galvanized steel garbage cans) or beaters (such as hammers and large bolts, etc.) for a piece they were going to be staging soon. I could not help imagining the look on other shoppers' faces when they saw two men pulling several garbage can lids out into the aisles to test their sound qualities–all the while engaged in a spirited discussion of their relative merits. When I registered both my delight and amazement at this story, they assured me that they had long since managed to garner the proprietor's "blessing" for this activity. I also remember how much Lou shared of himself at his house. I remember asking one evening about how he got such beautiful handwriting. He not only told me how he got his start at calligraphy (which I have managed to forget after all these years), but he also gave me my first impromptu calligraphy "lesson". He wanted to show me how "easy" it was to make the strokes, first by showing me, then by letting me try. My results could not have been much more than scribbles at the time, but his lesson "took", because it gave me the courage to continue. About three years later (when I was working in a book and art supplies store), I had my first real chance to learn some calligraphy–and I have practiced it since. Not to either Lou's or Ron's level, mind you, but it pleases me anyway…

As to the tour itself, there was a little remuneration involved, and I also managed to scrape together the funds I would need to fly to New York (my first ever plane trip!) and went along with them. We started in Buffalo, where we received a wonderfully welcoming reception. For one, each of us was housed with a faculty member and treated as his or her personal guest. There was also a party at Peter Yates' house on our first evening. (It was quite evident how highly Lou regarded Peter Yates [and the sentiment was returned in full force], and that made me respect him without question, despite having never heard of him. But there was just something about him that made me know he was worthy of that respect, so I just kind of sat quietly around his circle when I could. But I was not aware, until much later, about all that Yates had done for music in California. So it wasn't until many years later that the last chip finally fell into place for me!)  Aside from our eminent host, there was a large gathering of current composers and other musicians at his party—an altogether dizzying array of personages for me. (If memory serves correctly, I believe one of the guests was Ned Rorem, but I have forgotten the rest.) After a few days in Buffalo, we traveled to Albany and then finally, to NYC (where, as I am fond of telling people, Virgil Thomson was in the audience–asleep!!)
After the tour, I stayed in Poughkeepsie, New York with some friends. While there, I decided to contact Julius Baker to see if I really could arrange some flute lessons. His home was in Carmel (emphasis on the first syllable), along the Hudson River about halfway between Poughkeepsie and NYC. He ended up accepting me as a student and I traveled to Carmel five times during that very snowy winter. Aside from the interesting repertoire he introduced me to, I remember him being "blown away" by my tone–each and every time I played for him. He would exclaim, "How did you get that beautiful tone??! "–not really seeming to need an answer.  Still, since I had honed my tone throughout my career, it was extremely gratifying to hear someone of his stature and experience making such a comment—especially so often!
Despite the fact that I found a job in Poughkeepsie soon after arriving in New York, my funds were such that I could not seriously pursue a music career in New York (it hadn't taken me long to realize what a naïve plan it had been), so I returned home a few months later by Greyhound, spending my last dollars on the fare. About a year later, when I had returned to a state of relative solvency, I went back to SJSU for a Master's degree (in Music Literature–as close to Music History as SJSU had to offer).  One of the most memorable music events during the mid-1970s was the Bicentennial music festival that SJSU put on for a week in the summer of 1976.  If it had not been for Lou and the seemingly unending pool of friends he could tap, San José State would never have been able to implement such an ambitious plan at so high a standard. I do not remember every musician and composer who was there, but I do remember performing a beautiful solo flute piece by Alan Hovhaness, who was in the audience (and listening!). Every time Lou brought his friends to San José State, the results were outstanding for all of us.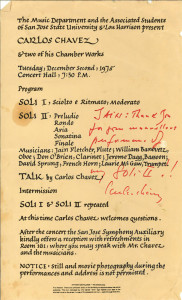 Another memorable performance along these lines came when Carlos Chavez was going to be in the Bay Area and Lou convinced him to come to SJSU where he promised we would give a concert of his music. One of the pieces chosen for that concert was a wind sextet, Soli II. Because it was so difficult for all the players, Chávez claimed he had never had success with performances of that work. For that reason, he insisted that professional musicians from San Francisco be brought in to play it. This meant paying union rates to these performers, which the Music Dept. agreed to do. The musicians were contacted and all was set. However, a glitch occurred when the flute player called somewhat later and declined, saying the part was too difficult to play. They scrambled to find another union flutist, but to no avail. So, Lou finally decided to suggest me for the job and was able to defend his case successfully to his friend.  As for me, I agreed to do it even without knowing quite what a challenging work I would be facing.  I was simply committed to working hard on it because I could never have let either Lou or Chávez down. I am glad to say that the concert went very well and Chávez was pleased. Having interactions like that with important composers was indeed something special, but it was also Lou's generosity that gave me the chance to perform in some really special concerts. I have been grateful to him all my life for those wonderful experiences.
I always appreciated my great good fortune in being able to see, experience and play Lou's music for so many years. But it wasn't until I left San José State that I realized that I had, unexpectedly, taken our special experiences with Lou at SJSU for granted. After the sumptuous saturation of Lou Harrison music in my college years, it has been difficult since that time to find concerts featuring his music. So, you can imagine how thrilled I was at the end of last year's Festival to notice a sign that announced the composers represented in OMF 2013–and it included Lou Harrison!  So, this year I will be attending every offering related to Lou Harrison with utter elation at the chance to bask in his music again. Thank you Mark Morris and Ojai!!!!!!!!!!!!