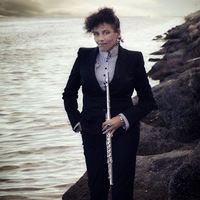 Nicole Mitchell is a creative flutist, composer, bandleader and educator. As the founder of Black Earth Ensemble, Black Earth Strings, Ice Crystal and Sonic Projections, Mitchell has been repeatedly awarded by DownBeat Critics Poll and the Jazz Journalists Association as "Top Flutist of the Year" for the last four years (2010-2014). Mitchell's music celebrates African American culture while reaching across genres and integrating new ideas with moments in the legacy of jazz, gospel, experimentalism, pop and African percussion through albums such as Black Unstoppable (Delmark, 2007), Awakening (Delmark, 2011), and Xenogenesis Suite: A Tribute to Octavia Butler (Firehouse 12, 2008), which received commissioning support from Chamber Music America's New Jazz Works.
Mitchell formerly served as the first woman president of Chicago's Association for the Advancement of Creative Musicians (AACM), and has been a member since 1995. In recognition of her impact within the Chicago music and arts education communities, she was named "Chicagoan of the Year" in 2006 by the Chicago Tribune. With her ensembles, as a featured flutist and composer, Mitchell has been a highlight at festivals and art venues throughout Europe, the U.S. and Canada.
Ms. Mitchell is a recipient of the prestigious Alpert Award in the Arts (2011) and has been commissioned by Chicago's Museum of Contemporary Art, the Ravinia Festival, the Chicago Jazz Festival, International Contemporary Ensemble (ICE), the Chicago Sinfonietta Orchestra and Maggio Fiorentino Chamber Orchestra (Florence, Italy). In 2009, she created Honoring Grace: Michelle Obama for the Jazz Institute of Chicago. She has been a faculty member at the Vancouver Creative Music Institute, the Sherwood Flute Institute, Banff International Jazz Workshop and the University of Illinois, Chicago. Her work has been featured on National Public Radio, and in magazines including Ebony, Downbeat, JazzIz, Jazz Times, Jazz Wise, and American Legacy.
Nicole MItchell is currently a Professor of Music, teaching in "Integrated Composition, Improvisation and Technology," (ICIT) a new and expansively-minded graduate program at the University of California, Irvine. In November 2014, ICIT was approved for the unleashing of a new MA/PhD program, which will be offered starting fall 2015. Mitchell's recent composition, Flight for Freedom for Creative Flute and Orchestra, a Tribute to Harriet Tubman, premiered with the Chicago Composers' Orchestra in December 2011 and was presented again with CCO in May 2014. She was also commisisoned by Chicago Sinfonietta for Harambee: Road to Victory, for Solo Flute, Choir and Orchestra in January 2012. Her latest commission was from the French Ministry of Culture and the Royaumont Foundation in October 2014, which supported the development and French tour of Beyond Black – a collaboration with kora master Ballake Sissoko, Black Earth Ensemble and friends. Currently Mitchell is preparing her next commission supported by the French American Jazz Exchange, entitled Moments of Fatherhood, featuring Black Earth Ensemble and the Parisian chamber group L'Ensemble Laborintus, to premiere at the Sons d'hiver Jazz Festival in late January 2015.
Among the first class of Doris Duke Artists (2012), Mitchell works to raise respect and integrity for the improvised flute, to contribute her innovative voice to the jazz legacy, and to continue the bold and exciting directions that the AACM has charted for decades. With contemporary ensembles of varying instrumentation and size (from solo to orchestra), Mitchell's mission is to celebrate the power of endless possibility by "creating visionary worlds through music that bridge the familiar and the unknown." She is endorsed by Powell flutes.