Prashant Bhargava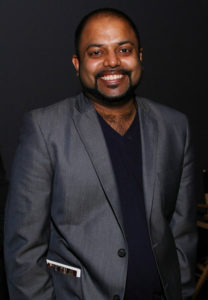 Prashant Bhargava is an award winning filmmaker and commercial director/designer, described by producer Anthony Bregman as "visionary and soulful", "masterful" by Roger Ebert and a "humanist and real talent" by Michael Phillips of the Chicago Tribune. With his signature "hypnotically beautiful visuals", "naturalistic storytelling" and a "colorfully vivid" poetic style, Prashant Bhargava stands at the leading edge of independent film with his "original storytelling and honest craft".
Bhargava's filmmaking builds from his pioneering work as a commercial director and motion designer. Known for his intricately layered and lush visuals, Bhargava spear headed over 100 campaigns for HBO including The Wire, Def Poetry Jam, Rome and OZ and films such as Born into Brothels, John Frankenhiemer's Path to War, Mira Nair's Hysterical Blindness, Raoul Peck's Lumumba, and Denzel Washington's Antwone Fisher. Bhargava has designed effects sequences for Alex Rivera's feature Sleep Dealer (Berlin, Sundance) and directed music videos and promos for bands Cornershop, Talib Kweli and Missy Elliot. Notable clients include Accenture, NBC, Woolrich, PBS, Blue Cross Blue Shield, Volvo and OMango. He has collaborated with numerous design and production studios including R/GA, Click 3x and Edgeworx. His commercial work has earned recognition by the Broadcast Design Assocation and Adobe Systems.
Bhargava's feature length directorial debut, PATANG (The Kite), currently in theaters, is anthem of the old city of Ahmedabad, weaving the stories of six people during India's largest kite festival. Defying convention in its process and cinematic language, PATANG united a community ravaged by religious conflict and natural disaster. Starring two of India's finest actors Seema Biswas and Nawazuddin Siddiqui, PATANG is receiving rave reviews, garnering a rare 4 stars from Roger Ebert who selected chose the film as 1 of 12 films in his annual film festival. The New York Times selected PATANG as a Critics Pick, celebrating its "lovely, unforced quality". Hailed as a "masterpiece" by celebrated composer Michael Nyman, "reminiscent of Wong Kai Wai" (Los Angeles Times), "warranting comparison to cinema's great poet Terence Malick" (HollywoodChicago.com), PATANG has been showcased to sold out audiences across the globe in over 30 international film festivals and recognized as "one of the best films" of 2012 (Ithaca.com). PATANG premiered at prestigious Berlin Film Festival and in the highly selective main competition at the Tribeca Film Festival. PATANG is the winner of the Best Feature Narrative at the Hawaii Film Festival, Best World Narrative at the Indy Film Festival, a Special Jury Award at the Osians Film Festival in New Delhi, Best Feature Narrative at the DC APA Film Festival and received both Best Film and Best Director at SAIFF's Rising Star Film Awards.
Bhargava's short film SANGAM, described by Greg Tate of the Village Voice as "an elegant and poetic evocation of immigrant angst, memory and haunted spirituality", premiered at the Sundance Film Festival, recieving awards at the Clermont Ferrand Film Festival, Nashville Film Festival and Short Shorts Asia. "Beautiful shot on Super 16, Super 8 and still photography" the "poetic and affecting" film (Indiewire) was distributed by Film Movement and MUBI and broadcast on Arte/ZDF, The Sundance Channel and PBS. His other directorial efforts include the documentary portrait of his grandmother AMMAJI, experimental Super 8 short BACKWATERS (Vimeo Staff Pick) and the poignant and meditative KASHMIR, an audiovisual performance with band Dawn of Midi on broken dreams and natural beauty in war torn Kashmir. He directed film segments for the politically searing Still Life Commentator by Vijay Iyer & Mike Ladd (BAM Next Wave Festival).
Born and raised on the southside of Chicago, Bhargava's interest in the arts began as a graffiti artist. Bhargava studied computer science at Cornell University and theatrical directing at the Barrow Group and at the Actors Studio MFA program. He has lectured at New York University, Columbia College, Cornell University, Amherst College, CUNY, University of Chicago and CEDIM. Bhargava was an Copeland Fellow at Amherst College and New York Foundation of the Arts Fellow in both 1997 and 2012.
Bhargava's latest collaboration with grammy nominated musician Vijay Iyer, a film with live orchestral music, is entitled RADHE RADHE: Rites of Holi. Based on Stravinsky's Rite of Spring, the film is a journey of sexual desire and primal devotion during the vibrant celebration of Holi in Mathura, India.
http://www.patang.tv/director.php
Prashant Bhargava passed away on May 16, 2015. The Ojai Music Festival's performance of RADHE RADHE will be dedicated to Mr. Bhargava.