red fish blue fish, percussion ensemble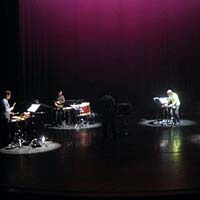 The New York Times calls red fish blue fish a "dynamic percussion ensemble from the University of California." Founded fifteen years ago by Steven Schick, the San Diego-based ensemble performs, records, and premieres works from the last 85 years of western percussion's rich history.
The group works regularly with living composers from every continent. Recent projects include a world premiere of a Roger Reynolds' Sanctuary and the American premiere of James Dillon's epic Nine Rivers cycle with the International Contemporary Ensemble (ICE). In the Summer of 2011, red fish blue fish collaborated with George Crumb, Dawn Upshaw, and Peter Sellars to premiere the staged version of The Winds of Destiny at the Ojai Music Festival.
eighth blackbird invited red fish blue fish to join them in performances of works by American icons such as John Cage and Steve Reich at the Park Avenue Armory in New York City. The New York Times called their "riveting" performance of John Cage the "highlight" of the program. Recordings of the percussion chamber music of Iannis Xenakis and Roger Reynolds on Mode Records have been praised by critics around the world. Recordings to be released in the 2012-13 season include the works of Karlheinz Stockhausen, Giacinto Scelsi, and rare works of Iannis Xenakis. Red fish blue fish will present four concerts of percussion music alongside Percussion Group Cincinnati at the John Cage Centennial Festival in Washington D.C. where they will perform highlights from the 10-disc box set of the complete percussion works of John Cage to be released on Mode Records. See the Calendar of Events for red fish blue fish performances.
red fish blue fish is:
Leah Bowden
Carlota Cáceres
Christopher R. Clarino
Fiona Digney
Dustin Donahue
Jason Ginter
Jonathan Hepfer
Ryan Nestor
Kjell Nordeson
Stephen Solook