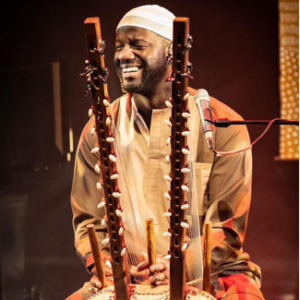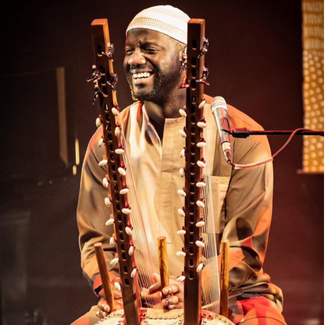 Since arriving in the U.K. from Senegal in 1999, Seckou Keita has been on an epic creative journey that has seen him broaden the idiomatic scope of his instrument as well as spread his wings, literally and figuratively. Nicknamed "the Hendrix of the Kora," he has been celebrated for his ingenious tunings and virtuosity and praised as "one of the finest exponents of the kora." Performing all over the globe as a solo artist and with his groundbreaking quintet, he has captivated audiences at WOMAD, Hay, Glastonbury, Tokyo Jazz, Chicago World Music Festival, Sydney International, Montreal Jazz Festivals and many more places.
Acclaimed collaborations with numerous jazz, pop, Latin, folk, and classical artists, notably include Damon Albarn & the Africa Express; Welsh harpist Catrin Finch; Cuban pianist Omar Sosa; AKA trio with Italian guitarist Antonio Forcione and Brazilian percussionist Adriano Adewale; Paul Weller and the Folk Collective; The Lost Words: Spell Songs (2019) joined by the words of Robert Macfarlane and artwork of Jackie Morris. Since 2007, he has had several opportunities to perform with classical ensembles including Orchestre National de Bretagne, which has spurred him towards his dream of leading an orchestral work specifically for the kora.
Seckou Keita has released 11 albums as a leader and co-leader. Through this work, he has earned numerous accolades including three Songlines Music Awards, and several BBC Radio 2 Folk Awards, including 2019 Musician of the Year. "I don't know if I'm a folk musician, a jazz, or a world one," he said at the time. "Forget about categories. My music is just music for the soul."
Seckou Keita released African Rhapsodies (Claves Records), a work for kora and orchestra arranged by Italian composer and bass player Davide Mantovani and recorded with BBC Concert Orchestra. Directed by Royal Northern College of Music's Head of Conducting Mark Heron, Keita also invited Mantovani on double bass and his brother, Gambian percussionist (and kora player) Suntou Susso; pride of place was given to the outstanding South African cellist and vocalist Abel Selaocoe.