Staff Notes – Meet Nathalie Selleslags
We're relaunching our blog with a new series, Staff Notes, where you can learn a little bit more about the faces behind the Festival's day-to-day operations and their relationship with OMF. First up is Nathalie – if you've stopped by the office or contacted the Festival, chances are Nathalie's smiling face has been the one to greet you.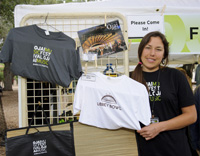 To date, it has been exactly 15 months since I first officially started working as the office manager at the Ojai Music Festival. As a teenager I volunteered in the office doing mailings (nothing has changed much from that time…) and for the 2011 Festival, my good friend and I worked as co-managers for the retail booth. From there, I got sucked into the special family, (or tribe, as we now call ourselves) that makes up this great organization.
What struck me about working here in 2011, and what still impresses me is how supportive and hard-working each and every staff member, volunteer and contractor is. It's a unique environment that I don't believe many in the workforce can easily find elsewhere. To be honest, I may not be in love with all of the music, or with all of the artists or programs, but what I have fallen in love with is the community here.
No matter what department each of us works in, we all find ourselves doing even the most mundane of tasks, stamping envelopes and mailing them out. No one is exempt, and I guess that is what happens at a non-profit. I love it though. When Jeff Haydon, our former Executive Director was here, you would even see him running things to the mail or reaching out to our volunteers to make sure they knew how valuable their help has been and how much our organization runs on their support.
The fact that we are in Ojai adds to the environment here at the Festival. Our musical programs incorporate the "essence" of Ojai so to speak. Ojai cannot be excluded from the experience of participating in four days, eight concerts and multiple community events immersed in music and surrounded by the nest of our Topa Topa mountain range.
I have grown up in Ojai since I was two and a half, and I am proud to call this place my home and my nest; a place where I find rest and rejuvenation, a place where I will always return, no matter where my travels take me. Working at the Festival has been a huge and exciting process in my life. To find myself back in Ojai after living abroad and to have become a part of the Festival has helped me appreciate Ojai that much more. The skills I have learned here, the relationships that have been built and the experiences that I have had in the past 15 months, are unequaled.
I am truly blessed to be working here with the motivated and passionate people I do.