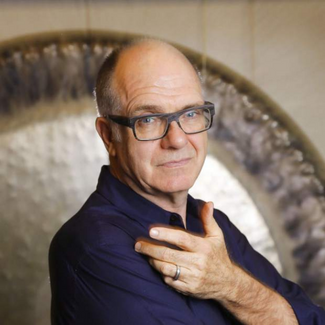 Percussionist, conductor, and author Steven Schick was born in Iowa and raised in a farming family. Hailed by Alex Ross in the New Yorker as, "one of our supreme living virtuosos, not just of percussion but of any instrument," he has championed contemporary percussion music for nearly 50 years, and in 2014 was inducted into the Percussive Arts Society Hall of Fame.
Steven Schick is music director emeritus of the La Jolla Symphony and Chorus, serving as its music director from 2006–22, and the artistic director of the Breckenridge Music Festival. He has guest conducted the BBC Scottish Symphony Orchestra, Saint Paul Chamber Orchestra, Milwaukee Symphony, Ensemble Modern, the International Contemporary Ensemble, and the Asko/Schönberg Ensemble. He was artistic director of the San Francisco Contemporary Music Players (2010–18) and directed programs at Banff Centre for Arts and Creativity from 2009–19, the last three as co-artistic director, with Claire Chase, of the Summer Classical Music program.
In 2020, Schick won the Ditson Conductor's Award, given by Columbia University for commitment to the performance of American music. Schick's publications include a book, The Percussionist's Art: Same Bed, Different Dreams; and numerous recordings including the 2010 Percussion Works of Iannis Xenakis and its companion The Complete Early Percussion Works of Karlheinz Stockhausen in 2014 (Mode). The latter received Germany's award for the best new music release of 2015.
Steven Schick is a distinguished professor of music and the inaugural holder of the Reed Family Presidential Chair at the University of California, San Diego.