Each year, the Festival conducts an audience survey as an ongoing effort to measure various aspects of our own performance and receive feedback from patrons. Below are the results from this past Festival in June. We strive to improve our efforts and appreciate our Festival community's interest in our forward plans.
We welcome any additional comments and observations. Please email us at [email protected] or write your comments below.
---
Survey invitations were e-mailed to 2014 Festival attendees the week following the event. Of a total of 678 delivered, 323 were returned for a response rate of 48%.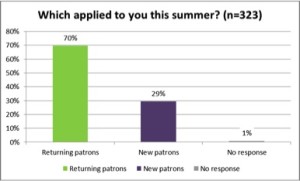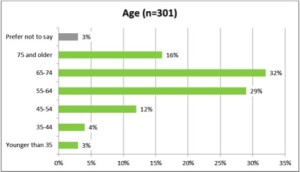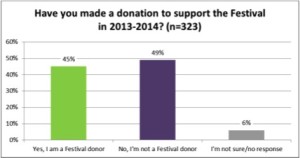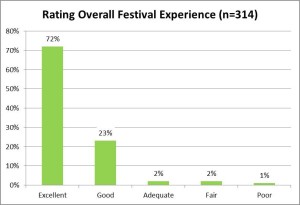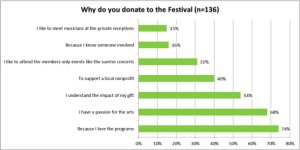 ---
 Ratings for the following:
1. Food Trucks on Friday Night:
Excellent 16%
Good 41%
Adequate 18%
Fair 13%
Poor 12%
Comments: Just didn't have time to try the food trucks and would love to have done so….perhaps more than one night; more food truck varieties; more places to sit
2. Saturday Supper at Libbey Park
Excellent 45%
Good 33%
Adequate 17%
Fair 2%
Poor 3%
3. Live Streaming
Excellent 21%
Good 56%
Adequate 18%
Fair 3%
Poor 2%
Comments: Live streaming and intermission interviews seen after returning home; loved it!
4. Gathering Place in Libbey Park
Excellent 41%
Good 45%
Adequate 11%
Fair 2%
Poor 1%
---
Selections of Enthusiastic Patrons' Memorable Moments
There were so many memorable moments that were shared. Here are several to read online, or read 2014 Selections of Memorable Moments
Hands down: The Classical Style. We loved it and wished we could sit through it twice. (Two of us are trained musically; the third, just a music lover.) Next I'd have to say Jeremy Denk playing the Ligeti Etudes.

I wished I could spend all four days in Ojai. The organization was perfect. Enough restrooms, very clean. I watched afterwards the videos and the program and artists are outstanding. Also very funny especially my first language is German.

Listening to the musicians at the Gazebo on Friday and hearing Storm.

Lying with my young son under the giant oak on the lawn listening to Mozart on a gorgeous Sunday morning and getting a picture that captured the moment – smiles all around.

Sitting in the middle of the choir at Sunday Sunrise concert.  My whole body was immersed in the sound, and my soul was deeply touched by the power of the voices around me.

Both Late night concerts were excellent.  I loved the discussions on Thu and Fri but must admit that I liked Jeremy's discussion of the idea of the opera more than the opera itself.  Brooklyn Rider and that venue were amazing but so was Sun morning at Meditation Mount and I am not a choral lover usually.

Sunday morning: sitting in that beautiful bowl with the trees and their dappled sunlight and listening to Mozart and the bird's responses.  It was exquisite.