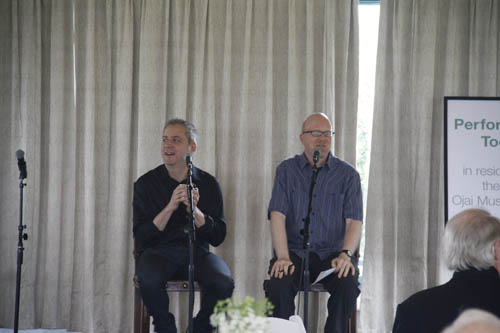 The Ojai Music Festival is pleased to announce that American Public Media's popular radio program Performance Today will return to Ojai in June for a second residency with the Festival. Performance Today and its host Fred Child was seen at the 2012 Festival with Music Director Leif Ove Andsnes. At the Festival, Fred hosted a Concert Insights session, conducted artists and patron interviews, and recorded performances for rebroadcast throughout the year.
Also present in 2012 was 2014 Music Director Jeremy Denk, who sat down with Fred Child at the Sunrise Subscriber Breakfast at the Ojai Valley Inn. At the breakfast, Jeremy spoke with Fred about his plans for the 68th Festival and answered questions from subscribers. The conversation was recorded and later aired on Performance Today.
If you missed the reception, or want to listen again, you can do so below:
[soundcloud url="https://api.soundcloud.com/tracks/117519844″ params="color=000000&auto_play=false&show_artwork=true" width="100%" height="166″ iframe="true" /]
Now, almost two years later, Jeremy prepares to return to Ojai for his Festival. Programs and works may have shifted from his "original ideas," but the spirit of the ideas shared in 2012 still live on in the planned Festival schedule. We're so excited to have both Jeremy and APM back in Ojai this June – we hope you will join us!
View the 2014 Festival schedule >>
Order series passes online >>