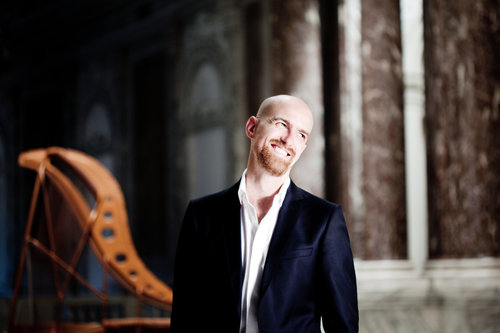 Pianist/harpsichordist Anthony Romaniuk is engaged in a diverse musical environment incorporating solo recitals, concertos, chamber music, baroque basso continuo and improvised performances.
His repertoire spans several centuries; from Byrd, Bach, Beethoven, Chopin and Brahms – often on historical instruments – to Crumb, Ligeti and 21st-century industrial noise music.
Frequent collaborators include Patricia Kopatchinskaja, Pieter Wispelwey, Vox Luminis and the Australian Chamber Orchestra.
Highlights of the 2017/18 season include solo and chamber performances at the festivals of Lucerne, Adelaide and Ojai (California) in addition to a tour of the U.S.A and Canada with Vox Luminis; appearances with the Orchestra della Toscana; and further development of his collaboration with DJ/composer Jorge Sanchez-Chiong.
Solo recordings planned for summer 2018 include an all-Beethoven programme c.1801 on a replica of an 1801 piano, as well as a project featuring repertoire spanning several centuries linked with improvisations on modern piano. His work on Patricia Kopatchinskaja's 2015 duet-disc "Take Two" was widely acclaimed, particularly his improvisations on Bach's chaconne.
During the 2016/17 season he was heard with Kopatchinskaja on the stages of (among others) Wigmore Hall, the Konzerthaus in Berlin, Zentrum Paul Klee in Bern and De Bijloke in Ghent; with Vox Luminis at the Berkeley Early Music and Aldeburgh Festivals, and with the Australian Chamber Orchestra at the Sydney Opera House.