Bent Sørensen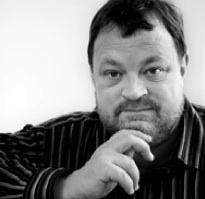 "It reminds me of something I've never heard." Such was the spontaneous reaction of the Norwegian composer Arne Nordheim upon hearing a work by Bent Sørensen. And it is not easy to imagine a more strangely to-the-point description of the ambiguous, almost paradoxical expressive idiom of this unique composer, who is without doubt the leading Danish composer of his generation. Sørensen's music is not recycled, in no way does it rely on the yellowing pages of history for its musical nourishment his musical language is undeniably of the present day, both aesthetically and technically.

The music does, however, appear to be pervaded with memories, wisdom of experience and old dreams, of the inevitability of transitoriness and parting. It is a flickering, glittering world where things seem to disappear at the slightest touch.
Bent Sørensen was born in 1958, and received his musical education by, amongst others, Per Nørgård and Ib Nørholm. His originality, imagination and technical abilities were praised long before his major breakthrough in the mid-80s. And the first string quartet ALMAN (1984) along with the other three quartets ADIEU (1986), ANGELS' MUSIC (1988), and SCHREIE UND MELANCHOLIE (1994) are still characterised as some of the Sørensen's most important works. The very productive 1990s were dominated be large-scale orchestral works. The major vocal works THE ECHOING GARDEN (1992) for soloists, choir and orchestra unfolds as wandering weightless melodies in an echo chamber of many different simultaneous tempi. The violin concerto STERBENDE GÄRTEN (1993) – a concerto in the grand tradition, dramatic, graceful, and wild; the SYMPHONY (1996); and the Piano Concerto LA NOTTE (1998) are surrounded by several major ensemble pieces scored for a variety of forces; for instance, the enchanting concerto BIRDS AND BELLS for trombone and 14 instruments (1995) written for Christian Lindberg. After this "everything" in the composer's own words, "has been about opera". The Danish playwright Peter Asmussen was so taken by the co-existence of the past and the present in Sørensen's violin concerto the two decided to collaborate on an opera commission from the Danish Royal Opera. And after 5 years of intense work and collaboration Bent Sørensen finished the full-scale opera UNDER THE SKY in April 2003. Bent Sørensen received the prestigious Nordic Council Music Price in 1995 and the Wilhelm Hansen Composer Prize in 1999.
Visit Bent Sørensen's website >>