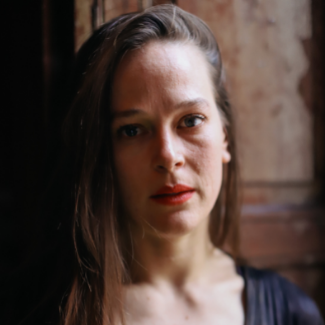 Bobbi Jene Smith is an alumnus of The Juilliard School, North Carolina School of the Arts, and the Royal Winnipeg Ballet School. Her choreography has been presented by The Batsheva Dance Company, CORPUS of The Royal Danish Ballet, LADP, VAIL Dance Festival, LaMama Experimental Theater, and The Martha Graham Dance Company. In 2019 she was awarded The Harkness Promise Award and was The Martha Duffy Resident Artist at Baryshnikov Art Center.
Smith's film and video work include "Annihilation," directed by Alex Garland starring Natalie Portman; "MA," directed by Celia Rowlson-Hall; and "Yossi," directed by Eytan Fox. The documentary "Bobbi Jene," which follows Smith's trajectory of leaving a dance company to create her own work, swept the Tribeca Film Festival, winning Best Documentary, Best Cinematography, and Best Editing in 2017. In 2018, Bobbi starred in and choreographed the feature films "Mari," directed by Georgia Parris and choreographed by Maxine Doyle, which premiered at BFI; and "Aviva," directed by Boaz Yakin, which was a SXSW selection.
Smith has been a certified GAGA teacher for the past 15 years and has taught Ohad Naharin's repertory in schools and universities around the world. She is part-time faculty at The Juilliard School, and is on guest faculty at NYU and UArts.