Where to get a cup of coffee (and more) in Ojai
By Lisa McKinnon
First-time visitors to downtown Ojai may be surprised when they go looking for a Starbucks: There isn't one, thanks to a moratorium on chain businesses with five or more locations. Luckily, Ojai Music Festival audiences in need of a caffeinated pick-me-up between song cycles and dance-theater pieces have plenty of non-corporate options from which to choose.
Beacon Coffee Co., 211 W. Ojai Ave., no phone, beaconcoffee.com. Daily from 7 a.m. to 2 p.m.
Beans sourced from small farms in Kenya, Costa Rica and Guatemala are roasted at the café's sister location in Ventura, then featured in pour overs, flat whites, cappuccinos and seasonal mochas (the festival coincides with Beacon's annual switch from Ojai Pixie to lavender, the latter from Frog Creek Farm in the Upper Ojai). Magic Hour teas blended in Ojai are available hot or cold. The café's kitchen is home to SunOven gluten-free vegan bakery, which produces lavender-lemon doughnuts among other treats. Additional baked goods are from Frontside Cafe in Ventura.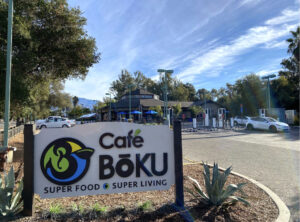 Café Boku, 987 W. Ojai Ave., 805-650-2658, cafeboku.com. Daily from 8 a.m. to 5 p.m.
The menu of organic, plant-based food and drinks infused with ingredients from Ojai-based Boku Superfoods includes coffees and espressos made from locally roasted beans from Bonito Coffee Roaster. Enjoy an invigorating Golden Shroom Latte while juicing up your electric car at the café's bank of chargers.
Coffee Connection, 311 E. El Roblar Drive, Meiners Oaks, 805-646-7821, coffeeconnectionojai.com. 6 a.m. to 1 p.m. Mondays through Saturdays.
Look for the orange patio umbrellas to locate this off-the-beaten path local favorite specializing in organic, fair-trade coffee, espresso and loose-leaf teas. Drinks are available hot or cold. You'll also find Mexican hot chocolate and baked goods.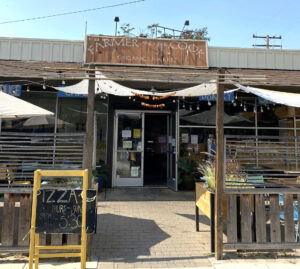 Farmer and the Cook, 339 W. El Roblar Drive, Meiners Oaks, 805-640-9608, farmer-and-the-cook.com. 8 a.m. to 4 p.m. Mondays through Wednesdays, 8 a.m. to 8 p.m. Thursdays through Sundays.
The combination organic bakery, market and Mexican café with vegan, vegetarian and gluten-free options also operates as a community gathering place and espresso bar with drip coffee and specialty drinks. "Beneficial" beverages like the Turmeric Toddy and adaptogenic hot chocolate (made with fungi) are available from 9 a.m. to 2 p.m.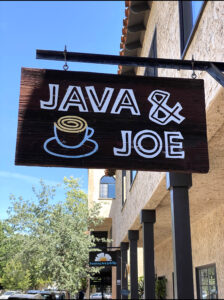 Java & Joe, 323 E. Matilija St., Suite 105, 805-646-3138, javajoeojai.com. Daily from 7 a.m. to 5 p.m.
Nearing its 28th anniversary, the coffeehouse offers an ever-changing lineup of roasts, plus specialty drinks that can be made hot or cold. There's also a wide selection of whole beans, loose-leaf teas and mugs, carafes and tea pots to take home as gifts.
Love Social Café, 205 N. Signal St., 805-646-1540, lovesocialcafe.com. Daily from 8 a.m. to 2 p.m.
Dune Coffee from Santa Barbara is featured, both freshly brewed and on nitro (cold). The café also serves lattes, cappuccinos and the eye-opening Gibraltar/Cortado – a double espresso topped with an equal amount of micro foam. Fresh-squeezed orange juice and matcha lemonade are also available.
Ojai Coffee Roasting Co., 337 E. Ojai Ave., 805-646-4478, facebook.com/OjaiCoffee. 6 a.m. to 2 p.m. Mondays through Fridays, 6 a.m. to 4 p.m. Saturdays and Sundays.
Owner and roaster Stacey Jones is often behind the counter at the café she opened in 1995 (and which served as a filming location for the 2010 movie "Easy A" starring Emma Stone). Arabica beans are roasted on site in small batches for coffees, espressos, red eyes (espresso plus drip coffee) and more. Check the specials board for lattes ranging from lavender to honey cinnamon.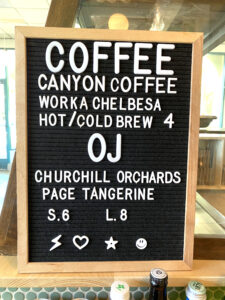 Pinyon, 423 E. Ojai Ave., no phone, pinyonojai.com. 9 a.m. to 9 p.m. Thursdays through Sundays.
In a nod to the coffee-served-all-day tradition set by the pre-moratorium Jersey Mike's that previously occupied its address, Pinyon serves French-press hot and cold-brew versions of Los Angeles-based Canyon Coffee from opening till close.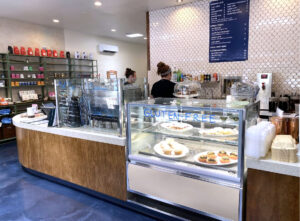 Sage Cafè, 217 E. Matilija St., 805-646-9204, rainbowbridgeojai.com/sage. 8 a.m. to 3 p.m. Wednesdays through Sundays; 5-7:30 p.m. Wednesdays through Saturdays.
Keeping track of your caffeine intake? A "none-to-high" scale for teas is spelled out on glass display case at this counter-service restaurant that also serves drip coffee, collagen lattes and herbal tonics.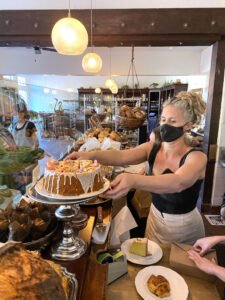 The Dutchess, 457 E. Ojai Ave., 805-640-7987, thedutchessojai.com. Daily from 7 a.m. to 9:30 p.m.
Named for a vintage bread oven, the Rustic Canyon Family restaurant operates as a coffeehouse from 7 a.m. to 4 p.m.-ish, when the focus is on order-at-the-counter service of Bonito Coffee drinks and Magic Hour teas (including a heavy-caffeine black variety dubbed Organic Flower Dutchess) to go with grab-and-go sandwiches, cookies, seasonal-ingredient cakes and artisanal breads by pastry chef/partner Kelsey Brito and bread baker/partner Kate Pepper. The Dutchess switches to sit-down dinner mode at 4:30 p.m., when its California-Burmese menu becomes available.
Westridge Midtown Market, 131 W. Ojai Ave., 805-646-4082, westridgemarket.com. Daily from 7 a.m. to 9 p.m.
Fans of Peet's Coffee will find the brand served at the service deli.
Lisa McKinnon is Ventura-based food writer who drank a LOT of coffee and still managed to fall asleep during a special, four-hour performance at the 2002 Ojai Music Festival — but only because audience members were invited to bring pillows and blankets and told get comfortable on the Ojai Art Center floor for the duration. She's on Twitter, Instagram, Facebook and TikTok as 805foodie, and blogs at 805foodie.com.