Concert Notes
STEVE REICH (b. 1936)
Drumming (1971)
A Concert for Ojai: Pulses and Patterns
The 2020 Ojai Music Festival programs designed by Matthias Pintscher have alluded to numerous threads and connections, bridges and transitions — all resulting in the enticingly varied menu of today's scene. We've encountered a mixture of leading European and American composers, reflected on Pierre Boulez and his ties to the natural setting of Ojai, and sampled from the legacy of figures from the post-Boulez generation like Olga Neuwirth, Unsuk Chin, and Pintscher himself. The music of Steve Reich completes this summer of creative juxtapositions — and fills in a missing link between the realms of European and American musical innovation.
But first, we turn to a pair of pieces by two other contemporary composers to start off this Concert for Ojai. Based in her native Mexico City, where she grew up in a family devoted to the traditions of Mexican folk music, Gabriela Ortiz explores intersections between the realms of avant-garde, jazz, and folk. Her opera Camelia La Tejana: Only the Truth was presented by Long Beach Opera in 2013. Written to celebrate the 30th anniversary of the Cuarteto Latinoamericano, Lío de 4 is a brief and playful piece that focuses on the potential of rhythmic elegance and vitality.
A generation younger and a native of Puerto Rico, Brooklyn-based Angélica Negrón is a composer and multi-instrumentalist who has received accolades for her idiosyncratic use of toys, electronics, and robotic instruments. One of her current projects, for National Sawdust, is Chimera, a work-in-progress she describes as "a lip sync opera for drag queen performers and chamber ensemble exploring the ideas of fantasy and illusion as well as the intricacies and complexities of identity."
Triste Silencio Programático (2002) is one of Negrón's first compositions and was inspired by the 1920 silent film The Cabinet of Dr. Caligari as well as by the aesthetic of German Expressionist cinema. Directed by Robert Wiene and written by Hans Janowitz and Carl Mayer, Dr. Caligari involves "an insane hypnotist [who] uses a somnambulist to commit a series of crimes," the composer explains. "At that time, I played violin and Celtic harp in a band called Sinestesia and one of our earliest gigs was to compose and perform a live score to go along with this film."
Triste Silencio Programático draws on some of the themes she wrote for this score. "The first movement focuses on the dark mood of the film as well as the visual style with its unusual angles and distorted sets," writes Negrón. "The second movement examines the dramatic contrast between light and shadow, while the third movement explores the destabilized characters and their inner mind with their complex psychological states. Triste Silencio Programático is a piece of music in black and white."
It was during the 1966 Summer Festival (programmed by Ingolf Dahl) that Steve Reich's music made its Ojai debut: Michael Tilson Thomas played his Two Fugues for Piano. By an ironic coincidence, Boulez paid his first visit to Ojai that same year. His inaugural season as music director followed in 1967, and Boulez would return over the span of nearly four decades as music director at Ojai more often than any other artist. Yet he had a blind spot for major contemporary American composers. Dismissive of Minimalism in general, he never programmed any Reich. Yet the Ensemble intercontemporain, founded by Boulez himself, would later commission Reich and won his admiration for its precision perfection in interpreting his music.
Completed in 1971 after a year of work, Drumming is one of the acknowledged early masterpieces of Minimalism and a pivotal work in Reich's development. On the surface, it must have seemed far removed from the concerns of Boulez and his fellow avant-gardists in Western Europe — with the exception of György Ligeti. Reich once referred to Ligeti as "the European composer who has best understood both American and non-Western music."
Reich's teenage love of jazz — in particular, Kenny Clark's artists with the Modern Jazz Quartet — led him to take up percussion and form his own band. In 1970, a few years after his breakthrough experiment with phase music [see sidebar], Reich traveled to Ghana to study the indigenous drumming traditions of the Ewe people. Ligeti would follow his lead in the next decade, similarly drawing inspiration from African sources.
Through close study with a master drummer of the Ewe tribe in Accra and his daily recording of lessons, Reich familiarized himself with the patterns and structures of African drumming. The most important influence of his stay in Africa, according to the composer, is that "it confirmed my intuition that acoustic instruments could be used to produce music that was genuinely richer in sound than that produced with electronic instruments." Upon his return to the United States, he composed Drumming, which was premiered by the Steve Reich Ensemble at the Museum of Modern Art (in the film theater) in New York City in 1971.
Depending on the number of repeats that are played in performance, Drumming lasts between 55 and 75 minutes and is Reich's longest composition. His unusual scoring calls for four tuned bongo drums, three marimbas, three glockenspiels, and piccolo, plus an alto and a soprano; whistling is also part of the soundscape, contributed by one of the singers or a percussionist. Reich recalls that the long decay of the marimba is what suggested the idea of incorporating women's voices, which sing the "sub-patterns" that result acoustically from this resonance. He also compares the vocal patterns to Ella Fitzgerald's style of scat singing, which he listened to often while exploring jazz in his early years. A similar process results in the whistling and piccolo patterns in the glockenspiel and final ensemble sections.
Notice the absence of bass instruments — in fact, the first three parts of the four-part work spiral successively upward in timbre until all of the forces join together in the fourth and final part. The whole work is shaped from a single core pattern. As Reich describes it: "Drumming begins with two drummers building up the basic rhythmic pattern of the entire piece from a single drum beat, played in a cycle of twelve beats with rests on all the other beats. Gradually, additional drumbeats are substituted for the rests, one at a time, until the pattern is completed. The reduction process is simply the reverse, where rests are gradually substituted for the beats, one at a time, until only a section leads to a build-up for the drums, marimbas, and glockenspiels simultaneously."
—Thomas May
[SIDEBAR] Phase Music
In the mid-1960s, Reich experimented with material he taped from an African American San Francisco street preacher named Brother Walter. He lined up identical loops taped live from Brother Walter's fire-and-brimstone speech-song commentary on Noah and the Flood and played them back on two cheap machines. By accident, the machines grew slightly out of sync with each other as they continued playing from the same starting point. This overlapping echo created fascinating rhythmic patterns in which the identical strands slowly separated as they went out of phase and then came together again in cycles. By manipulating the phasing — multiplying the individual strands and so forth — Reich found that he could build a dense web that acquires a hallucinatory quality as it lifts the listener outside ordinary time.
STEVE REICH (b. 1936)
Tehillim (1981)
Fire, Metal, and Praise
A Hebrew title graces Tehillim, a landmark composition in Steve Reich's long career. "Western music before 1750 and from Debussy onwards, as well as jazz and non-Western music, are the sources from which I've drawn almost everything," Steve Reich once observed. Within the rich spectrum of those non-Western musical sources can be found Ghanaian drumming, Balinese gamelan, and the Sephardic music he encountered in the mid-1970s in Israel.
The last involved a fresh encounter with Reich's own roots and has born fruit in numerous compositions that reflect on the meaning of Jewish tradition and philosophy. Tehillim, composed in 1980, is the first of these — and Reich's first piece incorporating voices since the mid-1960s, when he experimented with taped material. Here, he scores for four female voices plus chamber ensemble (with voices, winds, and strings amplified).
Referring to the Biblical Psalms attributed to David, Tehillim literally means "praises," Reich explains, adding that the word derives from the same three-letter Hebrew root as does "Hallelujah." The work is divided into four parts based, respectively on these Psalms (Hebrew sources are followed by the equivalent Christian translations shown in parentheses): 19:2-5 (19:1-4), 34:13-15 (34:12-14), 18:26-27 (18:25-26), and 150:4-6.
"One of the reasons I chose to set Psalms as opposed to parts of the Torah or Prophets," according to Reich, "is that the oral tradition among Jews in the West for singing Psalms has been lost. (It has been maintained by Yemenite Jews.) This meant that I was free to compose the melodies for Tehillim without a living oral tradition to either imitate or ignore." Handclapping, rattles, tuned tambourines without jingles, and small pitched cymbals are the closest analogues he uses to instruments that would have made music in the Biblical period. "Beyond this, there is no musicological content to Tehillim. No Jewish themes were used for any of the melodic materials." The rhythms of the texts suggest the musical rhythms.
For the first text, Reich implements a sequence of canons leading up to all four voices in canon on each of the text's four verses. A transition on the drum leads to two- or three-voice harmony for Psalm 34, with English horn, clarinet, drums, and clapping interwoven into the texture. The attention to melody here is inspired by Reich's experiences of Sephardic cantillation.
The third part (Psalm 18), a slow movement, is unusually chromatic and begins as a duet between two of the voices. Ending with Psalm 150, Reich recapitulates ideas from the first three parts, returning to the opening tempo, and ends with full ensemble for a setting of Halleluyah.
—Thomas May
Artist Bios
Steve Reich, Composer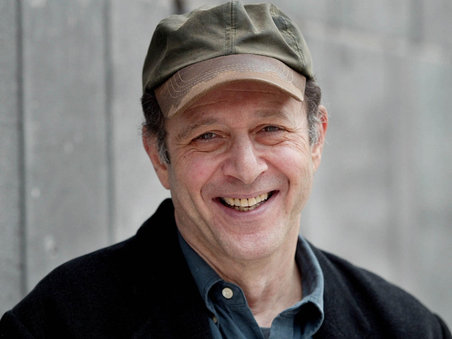 Steve Reich was recently called "our greatest living composer" (The New York Times), "America's greatest living composer." (The Village VOICE), "…the most original musical thinker of our time" (The New Yorker) and "…among the great composers of the century" (The New York Times).. From his early taped speech pieces It's Gonna Rain (1965) and Come Out (1966) to his and video artist Beryl Korot's digital video opera Three Tales (2002), Mr. Reich's path has embraced not only aspects of Western Classical music, but the structures, harmonies, and rhythms of non-Western and American vernacular music, particularly jazz. "There's just a handful of living composers who can legitimately claim to have altered the direction of musical history and Steve Reich is one of them," states The Guardian (London).
In April 2009 Steve Reich was awarded the Pulitzer prize in Music for his composition 'Double Sextet'.
Performing organizations around the world marked Steve Reich's 70th- birthday year, 2006, with festivals and special concerts. In the composer's hometown of New York, the Brooklyn Academy of Music (BAM), Carnegie Hall, and Lincoln Center joined forces to present complementary programs of his music, and in London, the Barbican mounted a major retrospective. Concerts were also presented in Amsterdam, Athens, Brussels, Baden-Baden, Barcelona, Birmingham, Budapest, Chicago, Cologne, Copenhagen, Denver, Dublin, Freiburg, Graz, Helsinki, Los Angeles, Paris, Porto, Vancouver, Vienna and Vilnius among others. In addition, Nonesuch Records released its second box set of Steve Reich's works, Phases: A Nonesuch Retrospective, in September 2006. The five-CD collection comprises fourteen of the composer's best-known pieces, spanning the 20 years of his time on the label.
In October 2006 in Tokyo, Mr. Reich was awarded the Preamium Imperial award in Music. This important international award is in areas in the arts not covered by the Nobel Prize. Former winners of the prize in various fields include Pierre Boulez, Lucian Berio, Gyorgy Ligeti, Willem de Kooning, Jasper Johns, Richard Serra and Stephen Sondheim.
In May 2007 Mr. Reich was awarded The Polar Prize from the Royal Swedish Academy of music. The prize was presented by His Majesty King Carl XVI Gustaf of Sweden. The Swedish Academy said: "…Steve Reich has transferred questions of faith, society and philosophy into a hypnotic sounding music that has inspired musicians and composers of all genres." Former winners of the Polar Prize have included Pierre Boulez, Bob Dylan, Gyorgi Ligeti and Sir Paul McCartney.
In December 2006 Mr. Reich was awarded membership in the Franz Liszt Academy in Budapest and in April 2007 he was awarded the Chubb Fellowship at Yale University. In May 2008 he was elected to the Royal Swedish Academy of Music.
Born in New York and raised there and in California, Mr. Reich graduated with honors in philosophy from Cornell University in 1957. For the next two years, he studied composition with Hall Overton, and from 1958 to 1961 he studied at the Juilliard School of Music with William Bergsma and Vincent Persichetti. Mr. Reich received his M.A. in Music from Mills College in 1963, where he worked with Luciano Berio and Darius Milhaud.
During the summer of 1970, with the help of a grant from the Institute for International Education, Mr. Reich studied drumming at the Institute for African Studies at the University of Ghana in Accra. In 1973 and 1974 he studied Balinese Gamelan Semar Pegulingan and Gamelan Gambang at the American Society for Eastern Arts in Seattle and Berkeley, California. From 1976 to 1977 he studied the traditional forms of cantillation (chanting) of the Hebrew scriptures in New York and Jerusalem.
In 1966 Steve Reich founded his own ensemble of three musicians, which rapidly grew to 18 members or more. Since 1971, Steve Reich and Musicians have frequently toured the world, and have the distinction of performing to sold-out houses at venues as diverse as Carnegie Hall and the Bottom Line Cabaret.
Mr. Reich's 1988 piece, Different Trains, marked a new compositional method, rooted in It's Gonna Rain and Come Out, in which speech recordings generate the musical material for musical instruments. The New York Times hailed Different Trains as "a work of such astonishing originality that breakthrough seems the only possible description….possesses an absolutely harrowing emotional impact." In 1990, Mr. Reich received a Grammy Award for Best Contemporary Composition for Different Trains as recorded by the Kronos Quartet on the Nonesuch label.
In June 1997, in celebration of Mr. Reich's 60th birthday, Nonesuch released a 10-CD retrospective box set of Mr. Reich's compositions, featuring several newly-recorded and re-mastered works. He won a second Grammy award in 1999 for his piece Music for 18 Musicians, also on the Nonesuch label. In July 1999 a major retrospective of Mr. Reich's work was presented by the Lincoln Center Festival. Earlier, in 1988, the South Bank Centre in London, mounted a similar series of retrospective concerts.
In 2000 he was awarded the Schuman Prize from Columbia University, the Montgomery Fellowship from Dartmouth College, the Regent's Lectureship at the University of California at Berkeley, an honorary doctorate from the California Institute of the Arts and was named Composer of the Year by Musical America magazine.
The Cave, Steve Reich and Beryl Korot's music theater video piece exploring the Biblical story of Abraham, Sarah, Hagar, Ishmael and Isaac, was hailed by Time Magazine as "a fascinating glimpse of what opera might be like in the 21st century." Of the Chicago premiere, John von Rhein of the Chicago Tribune wrote, "The techniques embraced by this work have the potential to enrich opera as living art a thousandfold….The Cave impresses, ultimately, as a powerful and imaginative work of high-tech music theater that brings the troubled present into resonant dialogue with the ancient past, and invites all of us to consider anew our shared cultural heritage."
Three Tales, a three-part digital documentary video opera, is a second collaborative work by Steve Reich and Beryl Korot about three well known events from the twentieth century, reflecting on the growth and implications of technology in the 20th century: Hindenburg, on the crash of the German zeppelin in New Jersey in 1937; Bikini, on the Atom bomb tests at Bikini atoll in 1946-1954; and Dolly, the sheep cloned in 1997, on the issues of genetic engineering and robotics. Three Tales is a three act music theater work in which historical film and video footage, video taped interviews, photographs, text, and specially constructed stills are recreated on computer, transferred to video tape and projected on one large screen. Musicians and singers take their places on stage along with the screen, presenting the debate about the physical, ethical and religious nature of technological development. Three Tales was premiered at the Vienna Festival in 2002 and subsequently toured all over Europe, America, Australia and Hong Kong. Nonesuch is releasing a DVD/CD of the piece in fall 2003.
Over the years, Steve Reich has received commissions from the Barbican Centre London, the Holland Festival; San Francisco Symphony; the Rothko Chapel; Vienna Festival, Hebbel Theater, Berlin, the Brooklyn Academy of Music for guitarist Pat Metheny; Spoleto Festival USA, West German Radio, Cologne; Settembre Musica, Torino, the Fromm Music Foundation for clarinetist Richard Stoltzman; the Saint Louis Symphony Orchestra; Betty Freeman for the Kronos Quartet; and the Festival d'Automne, Paris, for the 200th anniversary of the French Revolution.
Steve Reich's music has been performed by major orchestras and ensembles around the world, including the London Symphony Orchestra conducted by Michael Tilson Thomas, New York Philharmonic conducted by Zubin Mehta; the San Francisco Symphony conducted by Michael Tilson Thomas; The Ensemble Modern conducted by Bradley Lubman, The Ensemble Intercontemporain conducted by David Robertson, the London Sinfonietta conducted by Markus Stenz and Martyn Brabbins, the Theater of Voices conducted by Paul Hillier, the Schoenberg Ensemble conducted by Reinbert de Leeuw, the Brooklyn Philharmonic Orchestra conducted by Robert Spano; the Saint Louis Symphony conducted by Leonard Slatkin; the Los Angeles Philharmonic conducted by Neal Stulberg; the BBC Symphony conducted by Peter Eötvös; and the Boston Symphony Orchestra conducted by Michael Tilson Thomas.
Several noted choreographers have created dances to Steve Reich's music, including Anne Teresa de Keersmaeker ("Fase," 1983, set to four early works as well as"Drumming,"1998 and "Rain" set to "Music for 18 Musicians"), Jirí Kylían ("Falling Angels," set to "Drumming Part I"), Jerome Robbins for the New York City Ballet ("Eight Lines") and Laura Dean, who commissioned "Sextet". That ballet, entitled "Impact," was premiered at the Brooklyn Academy of Music's Next Wave Festival, and earned Steve Reich and Laura Dean a Bessie Award in 1986. Other major choreographers using Mr. Reich's music include Eliot Feld, Alvin Ailey, Lar Lubovitch, Maurice Bejart, Lucinda Childs, Siobhan Davies and Richard Alston.
In 1994 Steve Reich was elected to the American Academy of Arts and Letters, to the Bavarian Academy of Fine Arts in 1995, and, in 1999, awarded Commandeur de l'ordre des Arts et Lettres.
Sunday Playlist
Sunday, June 14, 2020 | 8:30-9:30am
Libbey Bowl
MATTHIAS PINTSCHER 4° quartetto d'archi ("Ritratto di Gesualdo")
Calder Quartet
SALVATORE SCIARRINO Gesualdo senza parole (a 400 anni dalla morte)
I. Libro III: XI. "Non t'amo"
II. Libro XIV: XI. "Sparge la morte"
III. Libro VI: I. "Se la mia morte brami"
IV. Libro VI: II. "Beltà poi che t'assenti"
Ensemble intercontemporain (EIC)
Matthias Pintscher conductor
J.S. BACH Contrapunctus Nos. 1, 3, 4, and 9 from The Art of the Fugue, BWV 1080
Calder Quartet
PIERRE BOULEZ Mémoriale (…explosante-fixe… Originel)
EIC
Matthias Pintscher conductor
Sunday, June 14, 2020 | 11:00am-12:30pm
Libbey Bowl
EDGARD VARÈSE Octandre
I. Assez lent
II. Trèsvif et nerveux
III. Grave-Animé et jubilatoire
Ensemble intercontemporain (EIC)
FRANK ZAPPA The Perfect Stranger
EIC
Matthias Pintscher conductor
GUSTAV MAHLER Das Lied von der Erde (arr. Glenn Cortese)
Das Trinklied vom Jammer der Erde" ("The Drinking Song of Earth's Sorrow")
Der Einsame im Herbst ("The Solitary One in Autumn")
Von der Jugend ("Of Youth")
Von der Schönheit ("Of Beauty")
Der Trunkene im Frühling ("The Drunkard in Spring")
Der Abschied ("The Farewell")
Tamara Mumford mezzo-soprano
Andrew Staples tenor
EIC
Matthias Pintscher conductor
GABRIELA ORTIZ Lío de 4
ANGÉLICA NEGRÓN Triste Silencio Programático
Calder Quartet
STEVE REICH Tehillim
(Spotify Playlist)
(Apple Music)
LA Phil New Music Group
Paolo Bortolameolli conductor
STEVE REICH Drumming
Percussion All Stars