CHAD SMITH NAMED ARTISTIC DIRECTOR OF THE OJAI MUSIC FESTIVAL
"For nearly 75 years, the Ojai Music Festival has been Southern California's home for the most probing, adventurous, and visionary musicians, and I couldn't be more excited to be joining this or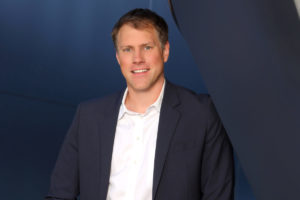 ganization as its next Artistic Director. I first experienced the unique spirit of Ojai in 2001, when Esa-Pekka Salonen was the Festival's Music Director. I was struck by the uncompromising programming, the incredibly devoted and informed audience, and the pure joy in the performances emanating from the Libbey Bowl. In that weekend, in that first experience with Ojai, I came to understand the special nature of making music in this part of the world, and I was hooked. From my seat in Los Angeles, I have watched as Tom Morris has expanded the possibilities of what this Festival could be, making it more international, more inclusive, and ultimately more relevant year by year. Tom is one of the lions in our field, and I could not be more humbled, but also inspired, to take the reins from him. This Festival is poised for even greater things; I am thrilled to be a part of that future." – Chad Smith
Download a PDF Version of the Announcement Here
(March 21, 2018 – Ojai, CA) – Today, the Ojai Music Festival announces the appointment of Chad Smith as its next Artistic Director. Mr. Smith begins his initial three-year tenure with the 2020 Festival, in partnership with Ojai's 2020 Music Director Matthias Pintscher. Mr. Smith's collaboration with the Ojai Music Festival will be concurrent with his post as Chief Operating Officer of the Los Angeles Philharmonic. He will join the ranks of such distinguished predecessors as Lawrence Morton, Ara Guzelimian, and Ernest Fleischmann. He succeeds Thomas W. Morris who will have shaped Ojai's artistic direction for sixteen years when he retires from the Festival following the 73rd Festival in 2019.
Festival Board Chair David Nygren said, "I am honored to welcome Chad Smith to the Ojai family. Chad's depth of experience and artistic sensibilities are in perfect alignment with where the Festival is today as we approach our 75th anniversary celebration in 2021 and 2022, and as we look toward the future. I have complete confidence that Chad will build on the momentum that Tom has set in motion over these last fifteen years. This seamless transition in artistic leadership will enable Ojai to continue to meet the demands of our supremely curious audiences, to build on the Ojai aesthetic of discovery, adventure, and engagement, to foster an environment where great artists can experiment, and perhaps enter a new stage in their own artistic development. The rich heritage of this glorious Festival and sublimely beautiful place have a way of melding with great musical personalities, leaving behind lasting impressions. Chad and Tom are collaboratively planning already for a seamless transition as we anticipate the Festival's milestone anniversary."
Thomas W. Morris commented, "I am thrilled that Chad Smith will succeed me as Artistic Director of the Ojai Music Festival. I have known Chad for many years, and have always been impressed with his distinctive creativity in programming, his insatiable curiosity in the broadest range of music, and his deep relationships with artists. The Ojai Music Festival stands as a pillar of musical creativity and adventure, and I can think of no one better than Chad to follow this tradition through and well beyond Ojai's 75th anniversary."
Chad Smith
Chad Smith is the Chief Operating Officer for the Los Angeles Philharmonic Association. Mr. Smith joined the Los Angeles Philharmonic Association in 2002, serving as VP of artistic planning for over a decade before becoming COO in 2015. As COO, he is responsible for the artistic oversight and coordination of the orchestra's programming, as well as the organization's strategic planning, marketing, PR, production, orchestra operations, media and educational initiatives.
During his tenure, Mr. Smith has implemented an expansive vision of what an orchestra can be through a deep commitment to living composers, the development of multi-disciplinary collaborations, and thematic festivals which have positioned the Philharmonic at the center of the city's cultural discourse. Committed to making classical music more inclusive, he has overseen the launch of many of the organization's defining educational programs, including YOLA, a program which has provided daily after-school music training to thousands of children in several of LA's most underserved communities.
He currently serves as a trustee of New England Conservatory of Music, as a member of Lincoln Center's Avery Fisher Prize executive committee and on the artistic advisory board for the Music Academy of the West. Mr. Smith began his career in 2000 at the New World Symphony, after receiving his B.M. (Vocal Performance) and B.A. (European History) in the NEC/Tufts dual degree program. He received his M.M. in 1998 in Vocal Performance from NEC.
About the Ojai Music Festival
From its founding in 1947, the Ojai Music Festival has become a place for groundbreaking musical experiences, bringing together innovative artists and curious audiences in an intimate, idyllic setting 75 miles northwest of Los Angeles. The Festival presents broad-ranging programs in unusual ways with an eclectic mix of new and rarely performed music, as well as refreshing juxtapositions of musical styles. The four-day festival is an immersive experience with concerts, free community events, symposia, and gatherings. Considered a highlight of the international music summer season, Ojai has remained a leader in the classical music landscape for seven decades.
Through its signature structure of the Artistic Director appointing an annual Music Director, Ojai has presented a "who's who" of music including Aaron Copland, Igor Stravinsky, Michael Tilson Thomas, Kent Nagano, Pierre Boulez, John Adams, Esa-Pekka Salonen, Robert Spano, Pierre-Laurent Aimard, David Robertson, Eighth Blackbird, George Benjamin, Dawn Upshaw, Leif Ove Andsnes, Mark Morris, Jeremy Denk, Steven Schick, Peter Sellars, and Vijay Iyer. Following Patricia Kopatchinskaja, Ojai will welcome Music Director Barbara Hannigan (2019), Mathias Pintscher (2020) and Mitsuko Uchida (2021).
As the Ojai Music Festival approaches its 75th anniversary and looks toward the future with Chad Smith, the innumerable contributions by Thomas W. Morris will continue to be realized through the 2019 Festival and beyond. Under Mr. Morris' creative watch, the Festival continues to push boundaries and scope; explore each music director's individual perspective, creativity, and artistic communities; invite an ever-broadening roster of artists; and build connections across musical communities with through-curated programming for each Festival. Over the years, Mr. Morris has also expanded the Festival's reach beyond Ojai with ongoing partnerships with Cal Performances in Berkeley and this year, the Aldeburgh Festival in England, as well as through live and archival video streaming of performances, available on the Festival's website.
2018 Ojai Music Festival, June 7-10
The 72nd Ojai Music Festival, June 7-10, 2018, will present the dynamic violinist Patricia Kopatchinskaja as music director. Praised for her "mesmerizing artistry" (The Strad) and "savage energy" (The Washington Post), Ms. Kopatchinskaja's unbounded musical creativity will be in full force as a soloist, collaborator, and new music advocate. Joining her will be close artistic collaborators making their Festival debuts, including the Berlin-based Mahler Chamber Orchestra in its first extended United States residency, JACK Quartet, composer/pianist Michael Hersch, pianist Markus Hinterhäuser, pianist/harpsichordist Anthony Romaniuk, composer/sound designer Jorge Sanchez-Chiong, and Kopatchinskaja's parents, Viktor and Emilia Kopatchinsky. Major 2018 Festival projects include two staged concerts conceived by Ms. Kopatchinskaja. The first is Bye Bye Beethoven, a musical commentary that challenges the clichés and conventions of classical music. Her second concert, Dies Irae, is her own provocative view on the inevitable consequences of global warming. Receiving its world premiere will be a dramatic narrative by American composer Michael Hersch, I hope we get a chance to visit soon, after texts of Rebecca Elson, Mary Harris O'Reilly and Christopher Middleton. For more information on programs and tickets, visit OjaiFestival.org