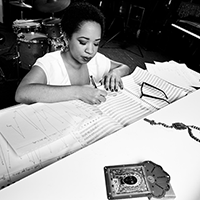 Courtney Bryan, a native of New Orleans, La, is "a pianist and composer of panoramic interests" (New York Times). Her music ranges from solo works to large ensembles in the new music and jazz idioms, film scores, and collaborations with dancers, visual artists, writers, and actors, and is in conversation with various musical genres, including jazz and other types of experimental music, as well as traditional gospel, spirituals, and hymns. Focusing on bridging the sacred and the secular, Bryan's recent compositions explore human emotions through sound, confronting the challenge of notating the feeling of improvisation. She performs around the New York area, and is the Director of the Institute of Sacred Music at Bethany Baptist Church of Newark, NJ. Dr. Bryan has academic degrees from Oberlin Conservatory (BM), Rutgers University (MM), and a DMA in music composition from Columbia University of New York, with advisor George Lewis. Bryan has been an instructor at Columbia University and Oberlin Conservatory, and is currently a Postdoctoral Research Associate in the Center for African American Studies at Princeton University. In the fall of 2016, Bryan will join the Newcomb Department of Music at Tulane University as an Assistant Professor of Music. She has two independent recordings, "Quest for Freedom" (2007) and "This Little Light of Mine" (2010).
Bryan's work has been presented in a wide range of venues, including Lincoln Center, Miller Theatre, The Stone, Roulette Intermedium, La MaMa Experimental Theatre, The Museum of Modern Art, National Gallery of Art, Blue Note Jazz Club, Jazz Gallery, and Bethany and Abyssinian Baptist Churches. Recent premieres include Sanctum for orchestra and recorded sound commissioned by the American Composers Orchestra, Prophetika: an Oratorio, a collaboration with director Charlotte Brathwaite and artist Abigail DeVille, and Steffani Jemison's Promise Machine. Other compositions include, Shedding Skin for orchestra, performed by the American Composers Orchestra at Miller Theatre as part of the Jazz Composers Orchestra Institute, saved for three gospel choirs, as part of artist Kara Lynch's sound installation invisible :: meet me in okemah :: saved, performed by Bethany, First Corinthians, and Convent Ave Baptist Church Choirs, and IMPACT Repertory Theatre at Harlem River Park, and Songs of Laughing, Smiling, and Crying for solo improvised piano and recorded sound, including re-crafted YouTube sound recordings based on the title theme, including popular songs by Placido Domingo, Louis Armstrong, Screamin' Jay Hawkins, and others. Upcoming commissions include original compositions for The Dream Unfinished orchestra and chorus, the guitar ensemble, Duo Noire, the New York Jazzharmonic orchestra, the Colorado Springs Philharmonic, and a new work for orchestra and jazz sextet to be premiered at Carnegie Hall's Orchestra Swings program.
Recent performances include, the premiere of Spooky Interaction (2014) by George Lewis, a telematic collective improvisation between two human pianists and two computer pianists performing on Disklaviers along with Paul Grabowsky in Melbourne, Australia, and Mary Lou Williams Tribute: The Next Generation at Harlem Stage.
Bryan was featured as a speaker in the Institute for Research in African-American Studies (IRAAS) Conversation Series at Columbia University and in the Harlem Jazz Shrines Festival, and was featured in the Columbia University Institute for Religion, Culture, and Public Life radio documentary "The Harlem Renaissance: Music, Religion, and the Politics of Race." She was the featured composer at the Callaloo Conference 2014 at Emory University, and recently traveled with Jazz at Lincoln Center's Horns to Havana program as an instructor with the New Orleans Louis "Satchmo" Armstrong Jazz Camp to Havana, Cuba, and is a subject in a documentary by Geoffrey Poister, entitled "Jazz Dreams II," which documents fourteen years in the lives of musicians, Courtney Bryan, Jason Marsalis, and Irvin Mayfield.