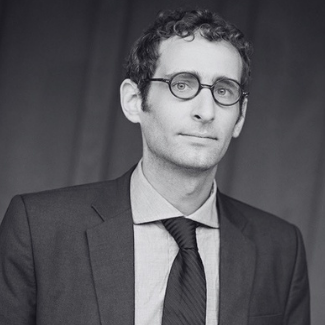 Doug Balliett is a composer, instrumentalist and poet based in New York City. The New York Times has described his poetry as "brilliant and witty," his bass playing as "elegant," and his compositions as "vivid, emotive, with contemporary twists." He is a tireless performer of new music, and is professor of historic basses at the Juilliard School. With a constant stream of commissions, a weekly show on New York Public Radio, and nearly 200 performances per year, Balliett has been identified as an emerging voice for his generation.
Balliett graduated from Harvard with high honors in 2007 and from Juilliard in 2012 with a Master's in Historical Performance. Balliett has received commissions from the St. Lawrence String Quartet, Carnegie Hall, the Tanglewood Music Center, the San Antonio Symphony, William Christie, Metropolis Ensemble, SOLI, and has written for some of today's finest singers, including Grammy winners Estelí Gomez and Dashon Burton, members of the Trinity Wall Street Choir, as well as young breakout singers like Charlotte Mundy, Davóne Tines, and Ariadne Greif. Notable projects include the evening-length A Gnostic Passion, written with his twin brother and commissioned by CANTORI NYC, a cycle of songs based on stories from The Brothers Grimm which premiered at the Lucerne Festival, and a series of rap cantatas based on Ovid's Metamorphoses. His works have been performed at many major New York venues, including Carnegie Hall, Lincoln Center, Juilliard, the Stone, SubCulture, (le) Poisson Rouge, Galapagos, ShapeshifterLab, and Spectrum. Alongside his brother and composers Elliot Cole and Majel Connery, Balliett is a member of The Oracle Hysterical, a half-band-half-book-club that has presented hip-hoperas, art-rock song cycles, rap cantatas, and other genre-bending works all over America and Europe.
Balliett maintains an extremely active career as a performer. He has performed as principal or solo double bass with Ensemble Modern, the San Antonio Symphony, Alarm Will Sound, and many other ensembles. He has collaborated with musicians from all walks, ranging from baroque opera at William Christie's French estate, to tours with pop band Pink Martini, to appearances with MacArthur fellow Steve Coleman at the Newport Jazz Festival. Deeply committed to period instrument performance, Balliett is also principal bass of the Trinity Wall Street Baroque Orchestra, the Holy Trinity Lutheran Bach Orchestra, 17th century string band ACRONYM, and has appeared as principal bass of Les Arts Florissants, Boston Baroque, the Handel & Haydn Society, and the Washington Cathedral. He performs regularly on the viola da gamba and the violone.