Press Play; Click Box Above to Go Full Screen [ ]

Welcome to the Festival's continuing series of the virtual Ojai Talks, where we celebrate the intersection of music, ideas, and the creative process with Ojai Festival artists, innovators, and thinkers.
Festival composer Dylan Mattingly and harpist Emily Levin discuss Dylan's new work Sunt Lacrimae Rerum (these are the tears of things), which will receive its world premiere with the LA Phil New Music Group in Ojai this coming September 19, 2021 as part of the 75th Ojai Music Festival.
Dylan has a unique voice that draws as much from innovative, often microtonal sonic language as it does from his deep absorption in the classics of ancient Greece and Rome. The piece takes inspiration (and its title) from Virgil's Aeneid – Aeneas, fleeing the destruction of war, finds a vision of salvation in a work of art. We will also watch a performance of Dylan's La Vita Nuova for guitar and harp by Festival artist Emily Levin and guitarist Colin Davin.
About Dylan Mattingly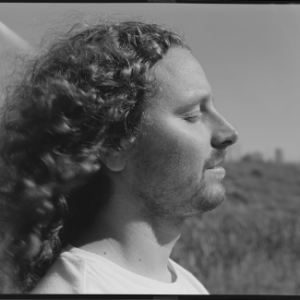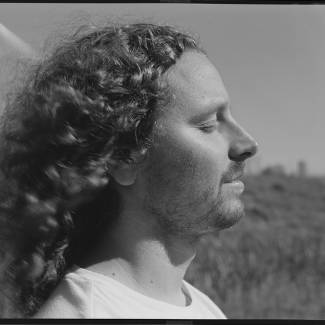 Dylan Mattingly's work is fundamentally ecstatic, committed to transformative experience. His music has been described as "gorgeous" by the San Francisco Chronicle, "transcendent" and "the most poignantly entrancing passages of beautiful music in recent memory" by LA Weekly, and "in the pantheon of contemporary American composers" (Prufrock's Dilemma) and is often informed by his scholarship on Ancient Greek music and poetry.
Dylan is the executive and co-artistic director of the NY-based new-music ensemble Contemporaneous. Among the ensembles and performers who have commissioned his music are the Los Angeles Philharmonic, the Cabrillo Festival of Contemporary Music, the Berkeley Symphony, John Adams, Marin Alsop, and many others. Mattingly's in-development 6-hour multimedia opera, Stranger Love, has recently been presented on the PROTOTYPE Festival and the Bang on a Can Marathon. Mattingly was the Musical America "New Artist of the Month" for February 2013 and was awarded the Charles Ives Scholarship by the American Academy of Arts and Letters in 2016.
About Emily Levin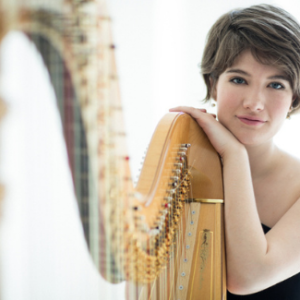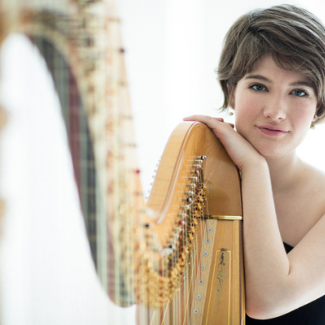 Emily Levin is the Principal Harpist with the Dallas Symphony Orchestra and Bronze Medal Winner of the 9th USA International Harp Competition. Her playing has been praised for its "communicative, emotionally intense expression" (Jerusalem Post) and the Herald Times commended her "technical wizardry and artistic intuition." As a soloist, orchestral musician, and chamber collaborator, Levin brings the harp to the forefront of a diverse musical spectrum, using her instrument to connect with all audiences.
Now in her third season with the Dallas Symphony Orchestra, Emily has also performed as Guest Principal Harp with the Los Angeles Philharmonic and the Houston Symphony, and regularly appears with the New York Philharmonic. As a soloist, she has performed throughout North America and Europe, in venues including Carnegie Hall (New York), the Kimmel Center (Philadelphia) and Festspiele Mecklenburg-Vorpommern (Rugen, Germany). At the request of conductors Jaap van Zweden and John Adams, she appeared as soloist with the DSO in 2018 and 2019; other concerto performances include the Jerusalem, Colorado and West Virginia Symphony Orchestras, the Louisiana Philharmonic, the Lakes Area Music Festival, and the Indiana University Festival Orchestra, among others. Her debut album, Something Borrowed, explores the art of musical borrowing with works inspired by language, literature, and culture. For the album, the Classical Recording Foundation named her their 2017 Young Artist of the Year.
Emily is a top prize winner at the two most prestigious harp competitions—the 2013 USA International Harp Competition, where she won the Bronze Medal, and the 2009 International Harp Contest in Israel, where at age 18 she was a Finalist and recipient of the Renie Prize. She is a 2016 Winner of the Astral Artists national auditions.
In 2019, Emily was appointed Artistic Director of the Fine Arts Chamber Players, a concert chamber music series presented at the Dallas Museum of Art. Her artistic vision will be presented in the 2019-2020 FACP concert series, with seven chamber concerts presented free of charge to the general public. Other notable chamber music performances include the BRAVO! Vail Music Festival, the Lyric Chamber Music Society, the Colorado Chamber Players. Most recently, she recorded a live concert in New York City with her duo partner, guitarist Colin Davin, for video release in spring 2020.
A strong believer in music's powerful impact, Levin organized a concert series in early 2017 with her fellow Dallas musicians, with all profits benefiting the International Rescue Committee and the Refugee Services of Texas. As Artistic Director of FACP, she presents chamber music concerts to the community that are free of charge and open to all. She is passionate about sharing music in schools, and is currently working with the Dallas Symphony to offer free harp lessons as part of their South Dallas Education Initiative.
Emily works extensively with established and emerging composers alike, which led to commendation from the New York Times for "singing well and playing beautifully," She is a core member of the New York-based new music group Ensemble Échappé and is the harpist for the Dallas new music group Voices of Change. In 2012, The Indiana University Composition Department recognized her for her collaboration and performance of new music.
Emily was named Adjunct Associate Professor of Harp at Southern Methodist University in 2019, and is also on Faculty at the Young Artist's Harp Seminar. She received her Master of Music degree in 2015 at the Juilliard School under the tutelage of Nancy Allen, where she was a teaching fellow for both the Ear Training and Educational Outreach departments. A self-described bookworm, she completed undergraduate degrees in Music and History at Indiana University with Susann McDonald. Her honors history thesis discussed the impact of war songs on the French Revolution.
La Vita Nuova (and other consequences of Spring)
La Vita Nuova (and other consequences of Spring), written for Colin Davin and Emily Levin, is music of superbloom, the wave of Spring crashing upon our lives, which does not differentiate the flowering of the Marin headlands from falling in love. The piece is in three paradises, with a reprise of the first at the end — each a part of my imagination of Spring the ideal, a moment of first warmth, first love, first life. Each of these instants is spread out to become an entire world removed from time, into which one might walk, explore, listen for the strange details of a particular gravity.
The title is taken from Dante's La Vita Nuova, which I found and read one morning midway on my journey through a used-bookstore. For many years, La Vita Nuova had seemed peripherally a part of my future, due perhaps to the thousands of times I'd heard it referenced in Bob Dylan's Tangled Up in Blue ("then she opened up a book of poems / and handed it to me / written by an Italian poet from the thirteenth century. / And every one of them words rang true / and glowed like burnin' coal / pouring' off of every page / like it was written in my soul from me to you…"). And so I found myself particularly receptive to its strange beauty and delightful earnestness, which both emphasize and evaporate the vast space and time between Dante's life and the one we're in.
The piece is an imagination of ourselves not separate from the world, its seasons, the gravitational pull of time, entropy, and generation, but as individual strands of an endless superabundance of its consequences. These are the sounds of my Spring, the collapse of memory and experience at winter's thawing, the feeling of grass on bare feet — made to be seen in as vivid a color as I could write, so that we might surround ourselves as much as possible with the force which Spring enacts upon us.
Dylan Mattingly, composer