Eva Soltes, filmmaker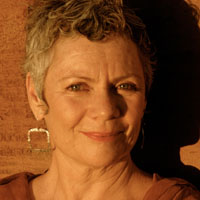 Eva Soltes – Filmmaker/Performing Arts Producer has, over the course of her decades-long career, produced, directed and/or written nearly one thousand music, dance, theater and media works for national and international audiences. Soltes has also facilitated the creation of new work by gifted artists and documented historic figures who would otherwise have been under-recognized.
As a filmmaker her projects include: Producer/Director of LOU HARRISON: A World of Music a biography of the acclaimed American composer Lou Harrison (1917 –2003); American Producer of WEST COAST STORY: Frontiers of New Music a three-part BBC TV production featuring the history of California composers including John Adams, John Cage, Lou Harrison, Henry Cowell and Harry Partch; Co-Producer/Editor of CIRCLES AND CYCLES, KATHAK DANCE an award-winning documentary that aired internationally; Tour Producer/Co-Producer of SAXOPHONE DIPLOMACY a broadcast work featuring The Rova Saxophone Quartet performing in the former Soviet Union during the Regan era; Producer/Director/Editor of ON CONLON NANCARROW a multi-image short portraying ex-patriot composer Conlon Nancarrow, the first artist to receive a MacArthur award. Soltes completed this project as an Artist-in-Residence at The Centre Pompidou; Producer/Director of MADAM DAI ALENE, BEIJING BALLET a rare glimpse into the public and private life of Madam Dai, Founding Director of The Beijing Ballet and key proponent of cultural revisionism in China; Producer/Director/Editor of BUILDING A DREAM a documentary on Frank Lloyd Wright-trained architect, Lois Davidson Gottlieb, through the process of building an ecologically sound home with her son.
Eva Soltes currently lives and works in Joshua Tree, California where, in addition to her work as a filmmaker, she has created an artist residency/performance program at Harrison House, the landmark straw bale music studio built by Lou Harrison near the end of his life. Also housed at this location is Soltes' media archive that is available to select music students and other researchers.
For more information on Lou Harrison and Lou Harrison: A World of Music, visit www.harrisondocumentary.com >>