Yulia Van Doren, soprano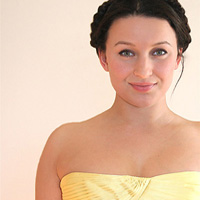 Recently recognized by Opera Magazine as "A star-to-be" following her Lincoln Center debut, young Russian-American soprano Yulia Van Doren's recent debut with the Toronto Symphony Orchestra was acclaimed as "This year's big revelation… a ravishing lyric voice and an ease with vocal ornamentation that turned her into an enchanted songbird" (Toronto Star).

Particularly in love with the collaborative process of bringing to life repertoire off the beaten path, recent highlights include creating the lead female role in the world premiere of Shostakovich's Orango with the Los Angeles Philharmonic, directed by Peter Sellars and released on Deutsche Grammophon; two Grammy-nominated opera recordings with the Boston Early Music Festival; the modern revival of Monsigny's opera Le roi et le fermier at Opera de Versailles, Lincoln Center, and the Kennedy Center (recorded for Naxos); a Carnegie Hall debut premiering a commissioned work by composer Angel Lam; a leading role in Scarlatti's Tigrane at Opera de Nice,  and Nielsen's Symphony No. 3 with the American Symphony Orchestra, released on the ASO label. Dawn Upshaw is an important mentor: Ms. Van Doren was personally invited by the renowned soprano to study in her inaugural class of the Bard Vocal Arts Graduate Program, and they recently performed together with the City of London Sinfonia  in nationally-televised performances at the Cartagena International Music Festival.
Especially recognized for her work in the baroque repertoire, within just a few seasons Yulia Van Doren has debuted with the majority of the North American Baroque festivals and orchestras, and has the distinction of being the only singer awarded a top prize in all four US Bach vocal competitions. Additional recent debuts include the Mostly Mozart Festival, Ravinia Festival, and Tanglewood Festival (Handel Orlando with the Philharmonia Baroque Orchestra);  Macao International Music Festival (Handel Acis and Galatea with Akademie für Alte Musik Berlin); Cincinnati Symphony (Faure Requiem and Vivaldi Gloria); Houston Symphony (Messiah);Phoenix Symphony (De Falla El retablo de maese Pedro), Colorado Music Festival (Haydn Creation); andthe historically-notable Hungarian premiere of Barber's Knoxville: Summer of 1915 with the Hungarian Radio Symphony Orchestra. A frequent collaborator of choreographer Mark Morris, recent projects include multiple tours and international performances as Belinda in his iconic version of Dido and Aeneas, St. Teresa in Virgil Thomson's Four Saints in Three Acts at the Brooklyn Academy of Music, and Ms. Van Doren will be the featured soprano of the 2013 Ojai Music Festival (curated by Morris), performing a variety of modern works including a Cage collaboration with pianist Ethan Iverson of The Bad Plus.
During the 2012–13 season Ms. Van Doren returns to the Mostly Mozart Festival (Dido and Aeneas with Mark Morris); Kennedy Center (Actéon with Opera Lafayette); Music of the Baroque (St. John Passion with Jane Glover); Phoenix Symphony (Messiah with Michael Christie);  and Bard Music Festival (recital with Kent Tritle). She travels twice to the Netherlands for performances with the Radio Kamer Filharmonie, including her Concertgebouw debut in broadcast performances as the title role in Handel's Acis and Galatea. Symphonic debuts include the Toronto Symphony (Messiah),  Baltimore Symphony (Messiah), Milwaukee Symphony (Pergolesi and Handel), and Albany Symphony (Bach  Magnificat). Further exploring the Romantic repertoire, she sings her first Mendelssohn Elijah (Nashville Symphony), Mahler Symphony No. 4 (Pasadena Symphony), and Brahms Requiem (Los Angeles Master Chorale). She closes this season with a debut in the Lincoln Center Festival, creating the lead female role in the world premiere staging of Lera Auerbach's The Blind, an a cappella opera.
Born in Moscow, Yulia Van Doren was raised in the United States in a music-filled household in which she and her seven younger siblings were taught by her Russian mezzo-soprano mother and American jazz pianist father. Before turning her full attention to singing Yulia was an accomplished classical pianist and amateur flutist and violist. Ms. Van Doren is honored to be an Astral Artist, a Paul and Daisy Soros Fellow, and as the recipient of a Beebe Grant for Advanced European Study she spent the 2011-2012 season based in Paris.