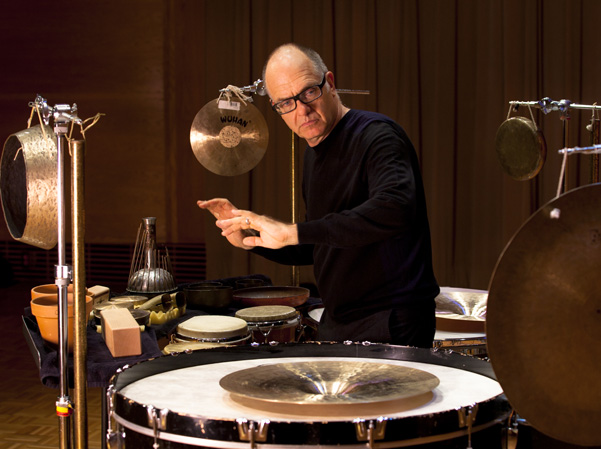 Percussionists are different. Their musical world has no fixed boundaries; there is no limit to the instruments they play and the sounds they make. There are no pretentious barriers between nature and artifice, no strictures on performing indoors or out. Their precursors reach back to the dawn of time and members of their guild are found in every culture. Hand a percussionist a random rock or the most exquisitely forged gong and he or she will make it speak, sometimes with breathtaking virtuosity born of the simplest gestures by which we interact, though touch, with our material world. So what does it mean that Ojai's 2015 music director is a percussionist? Quite a lot if that percussionist is Steven Schick.
No one has done more to champion, interpret, and expand the repertory of contemporary percussion music than Steven Schick. Not only has he mastered the entire solo repertory – and more than doubled its size through commissions – but as a conductor, educator, and author he has deepened our understanding of the role of percussion in music's past, present, and future. More importantly, as an artist of broad interests and deep convictions he has explored cultural issues well beyond the already boundless frontiers of his chosen specialization.
To a percussionist's ear music begins with rhythm, color, and gesture and these are the elements that form the nexus of the diverse works and decidedly international array of composers of this all 20th– and 21st-century festival. Naturally, we'll hear Steven Schick perform classics of the solo percussion repertory – compositions by Stockhausen, Xenakis, and Globokar, as well as more recent compositions by David Lang and Kaija Saariaho, and the American premiere of Roland Auzet's staging of Kurt Schwitter's Dadist masterpiece, Ursonate. But Steve will also conduct ICE (International Contemporary Ensemble), red fish blue fish, Renga, and musicians from CalArts, groups with which he is closely identified, in a broad array of ensemble works of varied scorings, including the West Coast premiere of John Luther Adams' Sila. Among the distinguished soloists is cellist Maya Beiser playing pieces by Osvaldo Golijov, Michael Harrison, and Chinary Ung.
Other highlights are a sunrise performance of Morton Feldman's For Philip Guston in which Steve is joined by flutist Claire Chase and pianist Sarah Rothenberg, Lou Harrison's Concerto for Pipa featuring Wu Man, and Messiaen's Vision de l'amen with pianists Gloria Cheng and Vicki Ray. This year's "old timers" include Copland, Chavez, Ginastera, and Varèse, all with scores new to Ojai, save one late-night chestnut: Appalachian Spring.
2015 marks the beginning of a three-year celebration of Ojai's roots in Southern California, where open exploration and cross-cultural dialogue are written into the DNA. It is therefore especially apt that this festival opens with a Wednesday night multimedia tribute to Pierre Boulez, seven-time festival director, on the occasion of his 90th birthday. Four concerts are devoted to his music, each in creative juxtaposition with works by Béla Bartók: the six string quartets and, as the finale, the Sonata for Two Pianos and Percussion. This means Steven Schick will have the last word: a snare drum diminuendo with which he ushers us across the fluid borders of his imagination into silence.
– Christopher Hailey
Christopher Hailey is a music historian specializing in new music. He is the Ojai Music Festival's longtime annotator and host of Concert Insights, the Festival's in-depth discussions held before each concert.
Listen and view Steven Schick's playlist >>
Embrace the Ojai Experience! Purchase your series passes now >>