Thanks to donations from our generous supporters and sponsors, we are able to provide free concerts to the community. Please join us for these one-of-a-kind events during this year's Ojai Music Festival.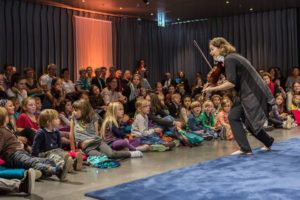 POP-UP CONCERTS

11:30am and 6:00pm | Libbey Park Gazebo
Members of the Mahler Chamber Orchestra will be performing Berio Sequenzas in the Libbey Park Gazebo throughout the Festival. Come visit the gazebo at 11:30am and 6:00pm every day of the Festival for these remarkable short pieces! (Please note – the Festival begins at 1:00pm on Thursday, June 7)
10:00 – 11:00am, Friday June 8 and Sunday June 10 | Ojai Art Center
MUSICAL MINIATURES (Children's Concert)
Patricia introduces our youngest listeners to music that soars, leaps, creeps, crawls, chirps, screeches, squawks, meows… and to top it all she tells a story about one very gentle, poetic bull. Seating will be on a first come, first serve basis.
10:30 – 11:30pm, Friday June 8 | Libbey Bowl
COMMUNITY CONCERT OF RENEWAL
To celebrate the renewal of the Ojai Valley, JACK Quartet will perform John Luther Adams' recent piece Everything That Rises