Press Play; Click Box Above to Go Full Screen [ ]

Welcome to the Festival's continuing series of the virtual Ojai Talks, where we celebrate the intersection of music, ideas, and the creative process with Ojai Festival artists, innovators, and thinkers.
Last year, Nonesuch Records released an album titled, I Still Play, a collection of 11 newly commissioned piano pieces written for Bob Hurwitz, the legendary recording executive who had recently retired as president of the label. The project honored Hurwitz's championing of composers – among them John Adams, Laurie Anderson, Steve Reich, Philip Glass, Louis Andriessen, Randy Newman, and Timo Andres – as well as his own practice as a serious amateur pianist. This year's Festival will feature the first public performance of these works, played by composer/pianist Timo Andres.
Enjoy this wonderful treat – an intimate conversation between colleagues and friends: 2021 Festival artist/composer Timo Andres, artist/composer Laurie Anderson and Bob Hurwitz.
About Timo Andres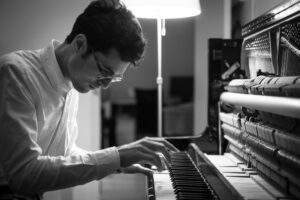 Timo Andres (b. 1985, Palo Alto, CA) is a composer and pianist who grew up in rural Connecticut and lives in Brooklyn, NY. A Nonesuch Records artist, his album of orchestral works, Home Stretch, has been hailed for its "playful intelligence and individuality," (The Guardian) and of his 2010 debut album for two pianos Shy and Mighty (performed by himself and duo partner David Kaplan), Alex Ross wrote in The New Yorker that "it achieves an unhurried grandeur that has rarely been felt in American music since John Adams came on the scene… more mighty than shy, [Andres] sounds like himself."
Notable works include Everything Happens So Much for the Boston Symphony with Andris Nelsons; Strong Language, a string quartet for the Takács Quartet, commissioned by Carnegie Hall and the Shriver Hall Concert Series; Steady Hand, a two-piano concerto commissioned by the Britten Sinfonia and premiered at the Barbican with Andres and pianist David Kaplan; and The Blind Banister, a piano concerto for Jonathan Biss, which was a 2016 Pulitzer Prize Finalist.
As a pianist, Timo Andres has appeared with the LA Phil, North Carolina Symphony, the Britten Sinfonia, the Albany Symphony, New World Symphony, and in many collaborations with Andrew Cyr and Metropolis Ensemble. He has performed solo recitals for Lincoln Center, Wigmore Hall, San Francisco Performances, the Phillips Collection, and (le) Poisson Rouge. Among others, Andres has collaborated with Ted Hearne, Becca Stevens, Jeffrey Kahane, Gabriel Kahane, Brad Mehldau, Nadia Sirota, the Kronos Quartet, the LA Dance Project, John Adams, and Philip Glass, with whom he has performed the complete Glass Etudes around the world, and who selected Andres as the recipient of the City of Toronto Glenn Gould Protégé Prize in 2016.
Recent and upcoming projects include a new work for the Calder Quartet commissioned by the LA Phil, premièred at Noon to Midnight; a major choral-orchestral work for the Orchester Cottbus Staatstheater, Land Mass; orchestrations for Sufjan Stevens and New York City Ballet for Justin Peck's Principia; and dates at the Elbphilharmonie Hamburg, the Neue Galerie, and the Big Ears Festival with vocalist Theo Bleckmann. In November 2019, Andres curates (and performs in) "American Perspective," a concert with the Cincinnati Symphony, André de Ridder, Dance Heginbotham, and cellist Inbal Segev, playing his concerto, Upstate Obscura. In April 2020, Carnegie Hall presents him in a piano recital at Zankel Hall, playing works by himself, John Adams, Nico Muhly, Robin Holcomb, Philip Glass, Donnacha Dennehy, Louis Andriessen, and the world premiere of a commissioned work by Gabriella Smith.
Timo Andres earned both his bachelor's and master's degrees from the Yale School of Music. He is a Yamaha/Bösendorfer Artist and in 2018 joined the composition faculty at Mannes School of Music. Visit his website here.
About Laurie Anderson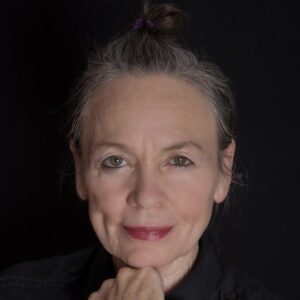 Laurie Anderson is one of America's most reknowned – and daring – creative pioneers. Known primarily for her multimedia presentations, she has cast herself in roles as varied as visual artist, composer, poet, photographer, filmmaker, electronics whiz, vocalist, and instrumentalist.
O Superman launched Anderson's recording career in 1980, rising to number two on the British pop charts and subsequently appearing on Big Science, the first of her seven albums on the Warner Brothers label. Other record releases include Mister Heartbreak, United States Live, Strange Angels, Bright Red, and the soundtrack to her feature film Home of the Brave. A deluxe box set of her Warner Brothers output, Talk Normal, was released in the fall of 2000 on Rhino/Warner Archives. In 2001, Anderson released her first record for Nonesuch Records, entitled Life on a String, which was followed by Live in New York, recorded at Town Hall in New York City in September 2001, and released in May 2002.
Anderson has toured the United States and internationally numerous times with shows ranging from simple spoken word performances to elaborate multimedia events. Major works include United States I-V (1983), Empty Places (1990), The Nerve Bible (1995), and Songs and Stories for Moby Dick, a multimedia stage performance based on the novel by Herman Melville. Songs and Stories for Moby Dick toured internationally throughout 1999 and 2000. In the fall of 2001, Anderson toured the United States and Europe with a band, performing music from Life on a String. She has also presented many solo works, including Happiness, which premiered in 2001 and toured internationally through Spring 2003.
Anderson has published six books. Text from Anderson's solo performances appears in the book Extreme Exposure, edited by Jo Bonney. Anderson has also written the entry for New York for the Encyclopedia Brittanica and in 2006, Edition 7L published Anderson's book of dream drawings entitled "Night Life".
Laurie Anderson's visual work has been presented in major museums throughout the United States and Europe. In 2003, The Musée Art Contemporain of Lyon in France produced a touring retrospective of her work, entitled The Record of the Time: Sound in the Work of Laurie Anderson. This retrospective included installation, audio, instruments, video and art objects and spans Anderson's career from the 1970's to her most current works. It continued to tour internationally from 2003 to 2005. As a visual artist, Anderson is represented by the Sean Kelly Gallery in New York where her exhibition, The Waters Reglitterized, opened in September 2005. In 2008, the Museum of Modern Art acquired her "Self-Playing Violin" which was featured in the "Making Music" exhibition in Fall 2008.
As a composer, Anderson has contributed music to films by Wim Wenders and Jonathan Demme; dance pieces by Bill T. Jones, Trisha Brown, Molissa Fenley, and a score for Robert LePage's theater production, Far Side of the Moon. She has created pieces for National Public Radio, The BBC, and Expo '92 in Seville. In 1997 she curated the two-week Meltdown Festival at Royal Festival Hall in London. Her most recent orchestra work Songs for Amelia Earhart. premiered at Carnegie Hall in February 2000 performed by the American Composers Orchestra and later toured Europe with the Stuttgart Chamber Orchestra conducted by Dennis Russell Davies. The piece was performed as part of the Groningen Festival honoring Laurie Anderson in Fall 2008 with the Noord Nederlands Orkest.
Recognized worldwide as a groundbreaking leader in the use of technology in the arts, Anderson collaborated with Interval Research Corporation, a research and development laboratory founded by Paul Allen and David Liddle, in the exploration of new creative tools, including the Talking Stick. She created the introduction sequence for the first segment of the PBS special Art 21, a series about Art in the 21st century. Her awards include the 2001 Tenco Prize for Songwriting in San
Remo, Italy and the 2001 Deutsche Schallplatten prize for Life On A String as well as grants from the Guggenheim Foundation and the National Endowment for the Arts. She recently collaborated with Bran Ferren of Applied Minds, Inc to create an artwork that was displayed in "The Third Mind" exhibition at the Guggenheim Museum in New York in Winter 2009.
In 2002, Anderson was appointed the first artist-in-residence of NASA which culminated in her 2004 touring solo performance "The End of the Moon". Recent projects include a series of audio-visual installations and a high definition film, "Hidden Inside Mountains", created for World Expo 2005 in Aichi, Japan. In 2007 she received the prestigious Dorothy and Lillian Gish Prize for her outstanding contribution to the arts. In 2008 she completed a two-year worldwide tour of her performance piece, "Homeland", which was released as an album on Nonesuch Records in June, 2010. Anderson's solo performance "Delusion" debuted at the Vancouver Cultural Olympiad in February, 2010 and toured internationally throughout 2011. In 2010 a retrospective of her visual and installation work opened in Sao Paulo, Brazil and later traveled to Rio de Janeiro.
In 2011 her exhibition of all new work titled "Forty-Nine Days In the Bardo" opened at the Fabric Workshop and Museum in Philadelphia. That same year she was awarded with the Pratt Institute's Honorary Legends Award. In January of 2012 Anderson was the artist-in-residence at the High Performance Rodeo in Calgary, Alberta where she developed her latest solo performance titled "Dirtday!" Her exhibition "Boat" curated by Vito Schnabel opened in May of 2012. She has recently finished residencies at both CAP in UCLA in Los Angeles and EMPAC in Troy New York. Her film Heart of a Dog was chosen as an official selection of the 2015 Venice and Toronto Film Festivals. In the same year, her exhibition Habeas Corpus opened at the Park Avenue Armory to wide critical acclaim and in 2016 she was the recipient of Yoko Ono's Courage Award for the Arts for that project. Anderson lives in New York City. Visit her website here.
Music Links
Timo Andres' Wise Words

Philip Glass' Evening Song No. 2

John Adams' I still play

I Still Play
I Still Play, an album of eleven new solo piano compositions written by artists who have recorded for Nonesuch Records, is now available on Nonesuch. The pieces were written in honor of the label's longtime President Bob Hurwitz on the occasion of his 2017 shift into the Chairman Emeritus role after running the label for thirty-two years. I Still Play features works by John Adams, Laurie Anderson, Timo Andres, Louis Andriessen, Donnacha Dennehy, Philip Glass, Nico Muhly, Brad Mehldau, Steve Reich, Pat Metheny, and Randy Newman. The pieces have been recorded by Andres and fellow Nonesuch artist Jeremy Denk, as well as by Mehldau and Newman themselves.
The pieces were first performed at the Brooklyn Academy of Music (BAM) in 2017, at a concert celebrating Hurwitz's tenure at the label. His longtime friend and colleague, current Nonesuch President David Bither, says, "Bob's great friend John Adams deserves credit for the idea at the core of this recording. I enlisted his help in thinking of how we might honor Bob. A few weeks later he suggested that we ask the composers who had worked so closely with Bob to each write him a new piece of music. An honorable suggestion, but with a twist.
"Bob is a pianist and since he was a child has played virtually every day of his life," Bither continues. "He has said many times that this practice has had a profound influence on how he listens to music. John's suggestion was that each composer write something that was not a concert piece but that an accomplished pianist like Bob might play."
Timo Andres, who recorded the majority of the compositions for this record, says in his liner note, "Each of these eleven tributes to Bob Hurwitz was written for an audience of one, on a particular Steinway in a specific Upper West Side living room. Each distills an aspect of its author's voice to a concentrated miniature. The prevailing tone is conversational rather than declamatory, though it's a wide-ranging conversation. Large questions are posed but rarely answered in full." He adds, "If the listener has the odd feeling of having stumbled into an exchange between two friends and missing an inside joke or shared reference here and there—that's not far from the truth."
Learn more on Nonesuch Records website here