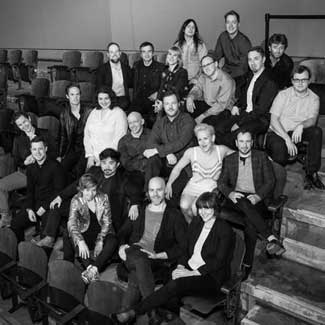 The International Contemporary Ensemble (ICE), described by the New York Times as "one of the most accomplished and adventurous groups in new music," is dedicated to reshaping the way music is created and experienced. With a modular makeup of 35 leading instrumentalists, performing in forces ranging from solos to large ensembles, ICE functions as performer, presenter, and educator, advancing the music of our time by developing innovative new works and new strategies for audience engagement. ICE redefines concert music as it brings together new work and new listeners in the 21st century.

"the new gold standard for new music" – The New Yorker
"bracing, illuminating, reassuring" – Financial Times
"extraordinary" – New York Times
ICE is dedicated to reshaping the way music is created and experienced.
ICE has released acclaimed albums on the Nonesuch, Kairos, Bridge, Naxos, Tzadik, New Focus, New Amsterdam, and Mode labels. Recent and upcoming highlights include headline performances at the Lincoln Center Festival (New York), Aspekte (Austria), Acht Brücken Music for Cologne (Germany), Festival de Música de Morelia (Mexico), Teatro Amazonas (Brazil), and performances with the Nagoya Philharmonic and Seattle Symphony. ICE has worked closely with conductors Ludovic Morlot, Matthias Pintscher, John Adams, and Susanna Mälkki. Since 2012, conductor and percussion soloist Steven Schick has served as ICE's artist-in-residence. Yamaha Artist Services New York is the exclusive piano provider for ICE.
In 2011, with lead support from The Andrew W. Mellon Foundation, ICE created the ICElab program to place teams of ICE musicians in close collaboration with emerging composers to develop works that push the boundaries of musical exploration. ICElab projects have been featured in more than 100 performances from 2011 to 2014, and are documented online through ICE's blog and DigitICE, its online library of performance videos. In 2014, The Andrew W. Mellon Foundation renewed its leadership support to launch the OpenICE initiative, which brings the full scope of ICE's programming and educational activities for free to broader audiences around the world.
In 2015, ICE launched its EntICE education initiative. EntICE brings together leading composers with youth ensembles in new works to be performed side-by-side with ICE. ICE musicians will take young people—and their schools, families, and communities—through the entire collaborative process of bringing premiere pieces to life. As an "enticing" first taste of new music, students have the privilege of being essential to the works' creation. Inaugural EntICE partners include Youth Orchestra Los Angeles (YOLA), People's Music School Youth Orchestra (Chicago), Ojai Music Festival, and Chicago's Ear Taxi Festival. ICE's other workshops include The Listening Room, in which graphic score composition stimulates ideas about creating and interpreting music; sessions of structured group improvisation; and community concerts that introduce schools to the personalities of ICE and the instruments that comprise the ensemble.
Learn more about ICE on their website >>
International Contemporary Ensemble (ICE)
CLAIRE CHASE flute
ALICE TEYSSIER flute
NICK MASTERSON oboe
JOSHUA RUBIN clarinet
CAMPBELL MACDONALD clarinet
RANE MOORE clarinet
REBEKAH HELLER bassoon
RYAN MUNCY saxophone
DAVID BYRD-MARROW horn
RACHEL DREHMANN horn
JEFF MISSAL trumpet
MICHAEL LORMAND trombone
JENNIFER CURTIS violin
SALLEY KOO violin
KYLE ARMBRUST viola
Hosted by John Horn
KIVIE CAHN-LIPMAN cello
RANDY ZIGLER bass
BRIDGET KIBBEY harp
DANIEL LIPPEL guitar
NATHAN DAVIS percussion
ROSS KARRE percussion
DUSTIN DONAHUE percussion
MIKE TRUESDELL percussion
PHYLLIS CHEN piano
JACOB GREENBERG piano
CORY SMYTHE piano
TYSHAWN SOREY piano and drums
NICHOLAS HOUFEK lighting design
LEVY LORENZO live sound
STAFF:
Vanessa Rose, Executive Director
Claire Chase, flutist and Artistic Director (CEO)*
Joshua Rubin, clarinetist and Co-Artistic Director*
Maro Elliott, Executive Assistant
Jacob Greenberg, pianist and Director of Recordings and Digital Outreach*
Rebekah Heller, bassoonist and Director of Individual Giving*
Ross Karre, percussionist and Director of Production/digitICE.org*
Maciej Lewandowski, Production and Operations Associate
Ryan Muncy, saxophonist, Director of Institutional Giving and Co-Director OpenICE*
Alice Teyssier, flutist, Artistic Operations Associate and Co-Director OpenICE*
Meredith Morgan, Director of Operations
Levy Lorenzo, Engineer and Technical Consultant
* denotes ICE Artist Partner
ICE's 2015–16 performances and commissioning activities are made possible by the generous support of The Andrew W. Mellon Foundation, The Howard Gilman Foundation, The Robert Sterling Clark Foundation, French American Cultural Exchange (FACE Foundation), the A.N. and Pearl G. Barnett Family Foundation, The Fan Fox and Leslie R. Samuels Foundation, The Elizabeth F. Cheney Foundation, The Aaron Copland Fund for Music, Mid-Atlantic Arts Foundation, The Francis Goelet Charitable Lead Trusts, New Music USA, The Amphion Foundation, The Ann and Gordon Getty Foundation, The Gladys Krieble Delmas Foundation, Alice M. Ditson Fund of Columbia University, The Concinnity Fund, The Casement Fund, the BMI Foundation, the Paul R. Judy Center for Applied Research at the Eastman School of Music, a CityArts Grant from the City of Chicago Department of Cultural Affairs & Special Events, as well as public funds from the New York City Department of Cultural Affairs in partnership with the City Council, the New York State Council for the Arts with the support of Governor Andrew Cuomo and the New York State Legislature, and the National Endowment for the Arts. Yamaha Artist Services is the exclusive piano provider for ICE.
ICE would like to thank Oscar Gerardo and Franz Ressel for their generous support of ICE and this EntICE program with the Youth Orchestra of Los Angeles.