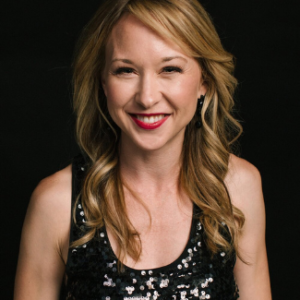 Julie Smith Phillips, principal harpist of the San Diego Symphony Orchestra, is one of the most prominent American harpists today, performing as both an orchestral musician and concert artist. She is a two-time medalist in the USA International Harp Competition having received the silver medal in 2004cand bronze in 2001. She made her National Symphony Orchestra debut in 2003 and has been honored in numerous other competitions throughout the country.
A recitalist and soloist with orchestra, Ms. Phillips's appearances include multiplecsolo performances with the San Diego Symphony Orchestra, the New World Symphony, the South Dakota Symphony, the West Los Angeles Symphony, the Corpus Christi Symphony Orchestra, the National Repertory Orchestra, and the Cleveland Institute of Music Orchestra, among others. She has been a featured soloist for American Harp Society National Conferences, thecUSA International Harp Competition, Lyon
& Healy's 150th Birthday Celebration & Harptacular Concert series, the International Harp Festival, Harp Oklahoma Workshop, and has served as guest artist at the Young Artist Harp Seminar.
Equally experienced as a chamber and orchestral musician, Ms. Phillips collaborates with renowned musicians across the country. A founding member of The Myriad Trio, she regularly appears in chamber concerts across the country and has performed abroad as well. Her chamber and orchestral festival credits include the Piedmont & Kingston Chamber Music Festivals, Breckenridge Music Festival, La Jolla SummerFest, Mainly Mozart, Mozaic Festival, Sun Valley Summer Symphony, Tanglewood Music Festival, and numerous others.
Prior to her post in San Diego, she servedcas acting principal harpist of the Milwaukee Symphony Orchestra (2006–07) and principal harpist for the New World Symphony (2004–06). Ms. Phillips is an avid promoter and performer of new music. Numerous pieces have been written for and premiered by Ms. Phillips including Tree Suite for Harp by Hannah Lash; Cactus, a double concerto for harp and violin by Michael Torke; The Eye of Night by David Bruce; Variations on a Simple Theme by Avner Dorman; Petal by Petal Lei Liang; andSonata by Jeremy Cavaterra. She is also a recipient of the Mario Falcao Prize for Best Performance of Mischa Zupko's Despedida (contemporary music selection at the
2004 USA International Harp Competition). Formerly head of the Harp Department at Arizona State University (2013–17), Ms. Phillips is the founder and director of the Nebraska Harp Workshop and maintains a private studio out of her home working with harpists on skills and career guidance. She is a certified instructor in the Suzuki harp method and is president of the San Diego Harp Society. She has recorded two albums: The Rhapsodic Harp and The Eye of Night. Ms. Phillips received her bachelor's and master's degrees in harp performance from the Cleveland Institute of Music, where she studied with Yolanda Kondonassis. Julie Smith Phillips is a native of Hastings, NE, and now resides in San Diego with her husband and three children.