Mario Diaz de Leon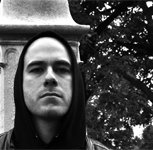 Mario Diaz de Leon has written a body of modern classical works focused on acoustic / electronic hybrids, often expressed as hypnotic walls and gestures of shimmering sound. His influences include the composers Scelsi, Ligeti, Dumitrescu, and Xenakis, free improvisation, underground metal, a wide range of electronic music, and noise / industrial music.
His debut album as composer, Enter Houses Of was released in 2009 on John Zorn's Tzadik label, and praised by the New York Times for its "hallucinatory intensity". He has written extensively for the ICE and Talea Ensembles, and his works have recently been performed at the Venice Biennale, Lucerne Festival, Musica Nova Helsinki, National Gallery of Art (DC) and Roulette (Brooklyn).
As a solo performer, he is active under the name Oneirogen (o-NI-ro-jen), an experimental project known for its merging of ethereal synths, brutal distortion, and noise influences. Since 2012, Oneirogen has released two full length LPs and one EP on the Denovali label.
Born in Minnesota in 1979, he grew up playing guitar in hardcore punk and metal bands before attending the Oberlin Conservatory of Music, where he studied electronic music and composition. He has lived in in New York City since 2004, and received his doctorate in music composition from Columbia University in 2013.
Visit Mario Diaz de Leon's website >>
Photo credit: Yumiko Take