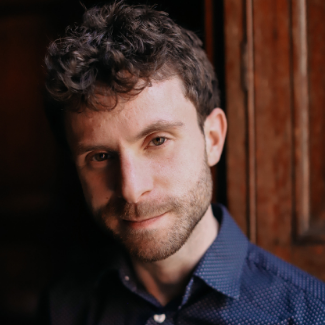 Matthew Aucoin is an American composer, conductor, writer, and pianist. He was awarded a MacArthur Fellowship in 2018, and is both Artist-in-Residence at Los Angeles Opera and co-founder of the American Modern Opera Company. Aucoin's newest opera, Eurydice, a collaboration with the playwright Sarah Ruhl, had its world premiere at the Los Angeles Opera in February 2019, and will travel to the Metropolitan Opera in the 2021-22 season.
The role of Artist-in-Residence at Los Angeles Opera, created for Aucoin, fuses his work as composer and conductor. Aucoin has conducted LA Opera mainstage productions ranging from Verdi's Rigoletto to Philip Glass's Akhnaten; he has also conducted his own works, including the opera Crossing, and founded a new late-night concert series, AfterHours. In addition, Aucoin coaches the singers in LA Opera's Young Artist program, and advises the company on new music.
Aucoin's orchestral and chamber music has been commissioned and performed by such artists as Yo-Yo Ma, Zurich's Tonhalle Orchestra, Salzburg's Mozarteum Orchestra, the Brentano Quartet, the Los Angeles Chamber Orchestra, the Orchestra of St. Luke's, tenor Paul Appleby, countertenor Anthony Roth Costanzo, and Chanticleer. Aucoin's operas include Crossing (2015), commissioned by the American Repertory Theater; and Second Nature (2015), a chamber opera for the young, commissioned by the Lyric Opera of Chicago. Crossing has gone on to productions at the Brooklyn Academy of Music and Los Angeles Opera; Second Nature has been performed all over the continent, including productions at the Canadian Opera Company and the Music Academy of the West. In addition to his work in Los Angeles, Aucoin regularly guest-conducts nationally and internationally. In 2018, Aucoin made his Santa Fe Opera conducting debut leading John Adams's Doctor Atomic in a new production by Peter Sellars.