Meet the 2019 Interns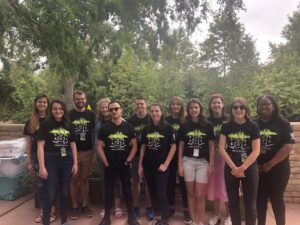 2019 Ojai Music Festival Interns
We are so happy to welcome the 2019 Class of Festival Interns! Learn more about them below.
Glenna Adkins is a musician and writer studying at Sarah Lawrence College, and a recent recipient of the Presser Undergraduate Scholar Award for Music. As a cellist, improviser, and avid music listener, Glenna is passionate about the performance of new music and the collaborative efforts of artists playing and experimenting together. Inspired by the intersection of different art forms, she has created and performed music for various productions of devised theater and dance, exploring ideas of musical narrative through improvised sound. As a writer, Glenna finds inspiration in ideas of time and memory, in music, and the liminal spaces connecting these curiosities. When not in school, Glenna lives in Los Angeles where she teaches cello and finishes novels she mistakenly thought she'd have time to read during the school year. She is very happy to return to Ojai for her second summer as a Festival intern.
Oliver Jung, originally from Santa Monica, CA, is a producer of Wave and Bass music, and an audio engineer. He is currently pursuing a BFA in Music Technology at California Institute of the Arts (Calarts) with a minor in Digital Arts. His work explores the dark, distorted, and ethereal, focusing on bringing beauty to the offensive. Accidentally falling into the world of live sound, Oliver has staged 200+ events for the likes of John Mayer and Carlos Vives. Moving forward, he continues producing for himself, as well as for collaborations and installations.
Maddi Baird is a Music Composition student at San Diego State University. Maddi emphasizes in multimedia scoring and sound design, as well as the creation of sound installations. Having a strong passion for music technology, synthesis and analog gear, she focuses on creating unique and textured soundscapes while utilizing modular synthesis and software such as MAX. Maddi currently serves as the Chief Engineer for KCR College Radio and works as the Student Engineer for KPBS where she is able to blend her interests in technology, music, and public radio. Maddi plays in the SDSU Javanese Gamelan, as well playing bass guitar and synthesizer in the experimental duo Pastel Set. Following the Ojai Festival in 2019, she will study composition in France with Laurel Halo.
Ryan Schmidt's philosophy for navigating a career is the ideal of citizen-artistry. He carries a background of music and the nonprofit sector with the desire to uplift and inspire hope and well-being. An avid contemporary music performer, he was a Performer-Fellow at the Bang on a Can Summer Music Festival last summer and toured five National Parks with the Grand Valley State University New Music Ensemble. He is a Teaching Artist Assistant at a Michigan nonprofit organization called Artists Creating Together which serves individuals with disabilities through visual and performing art programs. He looks forward to meeting and serving the Ojai Music Festival community!
Paul Seitz, a native of Chicago, Illinois, Is currently a rising sophomore at Boston University where he studies Trombone Performance with a minor in Arts Leadership. Paul Has been a student worker at the International Trombone Festival and an Audition Ambassador at Boston University. Paul hopes to one day play trombone professionally In orchestra, opera, solo and chamber music settings. In addition, Paul hopes to develop skills in the fields of arts leadership and Administration. Paul enjoys romantic era classical music and his favorite composers are Mahler, Shostakovich and Hindemith. In his free time, Paul enjoys biking, swimming, running and strength training. Paul is excited for the opportunity to be a intern at Ojai Music Festival.
Bree Fotheringham is a student at the Colburn Conservatory of Music in Los Angeles where she studies with Robert Lipsett. An accomplished violinist, Bree has made solo appearances with many orchestras, including the Utah Symphony and has been awarded several competition prizes including the grand prize at the 2018 North American Recovered Voices competition. She has performed with world-class artists including Joseph Silverstein, and Andrew Marriner. Bree is currently the assistant concertmaster of the American Youth Symphony and an orchestral leadership fellow at the Aspen Music Festival, where she will serve as concertmaster of the Philharmonic beginning in June. Passionate about community engagement, Bree makes a conscious effort to make classical music more accessible in her community by organizing several community concerts a year through Colburn's Center for Innovation and Community Impact. She has performed with the Colburn Orchestra during the school's community engagement week and chamber performances as an artist-in-residence at Street Symphony.
Sierra Dudas is the Marketing and PR intern for the 2019 Ojai Music Festival. After spending her childhood surrounded by music, Sierra decided to pursue her dream as a Music Industry student at the University of Southern California. Eager to learn as much as possible about the music business, she has worked with the Guild of Music Supervisors, Grammy U, and Coyote Country Radio Station. Sierra is also a Showrunner for the USC Speakers Committee, a group that brings guests such as Ken Jeong of Crazy Rich Asians and Jonathan Van Ness of Queer Eye onto campus. In her free time, Sierra loves to paint, eat brunch, and host Bachelor viewing parties for her friends.
Sarah Voshall is currently a fourth year piano major at the California Institute of the Arts studying with Ming Tsu and Vicki Ray. Her current project for this summer is producing a one-day piano festival in Antelope Valley, CA for student pianists. She has recently completed a business affairs internship at Alfred Music in Van Nuys where she worked in license administration. When she's not practicing furiously for her upcoming graduation recital, she spends her time reading, taking photos, playing cajon, and day tripping all over southern California. Upon graduation, her plan is to pursue graduate studies in business or systems engineering with a focus on nonprofit arts organizations.