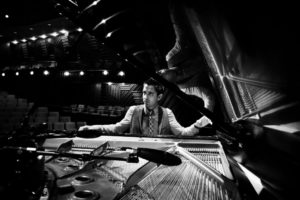 Ojai's 2017 Music Director Vijay Iyer and Q2 Music Host Helga Davis will highlight the upcoming Festival, along with Jennifer Koh, George Lewis, Wadada Leo Smith, and Tyshawn Sorey
For tickets to the April 13, 7:00pm event, visit TheGreeneSpace.org or watch a live video stream of the event at Q2Music.org
"I'm honored, as Music Director of the 2017 Ojai Music Festival, to convene this gathering of some of the most brilliant and important music-makers that I know. Our evening of music and conversation at The Greene Space offers a glimpse of the scope of this four-day event in Southern California, with a few of the incredible artists who will be on hand: George Lewis, whose opera Afterword will have its west coast premiere at the Festival; composer-trumpeter Wadada Leo Smith, a collaborator and mentor of mine, will join me in duets from our project A Cosmic Rhythm with Each Stroke; the dazzling violinist Jennifer Koh will perform some of the ancient and cutting-edge solo music from her sprawling repertoire; and multi-instrumentalist-composer Tyshawn Sorey will offer some of his latest creations." – Vijay Iyer, 2017 Music Director
(OJAI, CA – March 29, 2017) — In advance of the upcoming 2017 Ojai Music Festival (June 8-11), the Festival and media partner WQXR's Q2 Music present an evening of discussion and performance on April 13, at 7pm, at The Jerome L. Greene Performance Space in New York as part of their three-year partnership.
Q2's Helga Davis will host Ojai Music Director Vijay Iyer to discuss and explore the upcoming 2017 Festival. Joining Mr. Iyer in performance and conversation will be violinist Jennifer Koh, composer/trombonist George Lewis, trumpeter Wadada Leo Smith, and composer/percussionist Tyshawn Sorey.
Helga Davis, also a 2017 Ojai Music Festival artist in Courtney Bryan's Yet Unheard, will focus the April 13 evening around the intersection of music composed and improvised. The Association for the Advancement of Creative Music (AACM) has engaged this dichotomy since its inception, and the AACM serves as an underlying thread in the April 13 event as well as the upcoming Ojai Music Festival. The evening will feature solo performances by Vijay Iyer and duets by Mr. Iyer and Tyshawn Sorey, as well as Mr. Iyer and Wadada Leo Smith in excerpts from their acclaimed release A Cosmic Rhythm with Each Stroke. Rounding out the evening, Jennifer Koh will perform Esa-Pekka Salonen's chaconne for solo violin Lachen verlernt (Laughing Unlearnt). Composer George Lewis will join the artists in discussion with Ms. Davis.
This marks the second year of Ojai Music Festival events presented by Q2 Music at The Greene Space. Last spring's event featured Ojai's 2016 Music Director Peter Sellars, guitarist of the International Contemporary Ensemble (ICE) Dan Lippel, soprano Julia Bullock, and vocalist/pianist Leila Adu. The Jerome L. Greene Performance Space's mission is to galvanize conversations around the life, arts, and politics of New York and our world.
Tickets, April 13 at 7pm
Tickets for the event are $20 and can be purchased at TheGreeneSpace.org where the event will be webcast live.
Ojai Music Festival and WQXR's Q2 Partnership
Launched in 2015, additional highlights of the 2017 partnership with WQXR's Q2 Music feature immersive access to select new music concerts at Q2Music.org beginning May 1, 2017, as well as a three-part series of special programs showcasing performances from the 2016 Festival, hosted by Ojai's 2016 Music Director Peter Sellars. Q2 Music audiences can also access performances from prior Festivals with hosts Mark Morris (2013 Music Director) and Steven Schick (2015 Music Director). Imagined as a multiyear collaboration, the Festival and Q2 Music aim to celebrate a shared artistic aesthetic, build audiences and connect respective communities.
About Q2 Music
Q2 Music is WQXR's online platform dedicated to contemporary classical composers, innovative ensembles and musical discovery. Its programming includes immersive festivals, insightful commentary from hosts such as composer Phil Kline and vocalist Helga Davis, full-length album streams, live webcasts and exclusive concert audio from local and national venues, and special events in front of live audiences at The Jerome L. Greene Performance Space at WQXR in downtown New York City. Q2 Music produces Meet the Composer with host Nadia Sirota, a Peabody Award-winning interview podcast which mines the brains of today's leading composers, as well as LPR Live, a podcast which shares dynamic new-music performances from Greenwich Village's Le Poisson Rouge. Q2 Music is streamed live 24/7 at WQXR.org/Q2Music and is also available via the free WQXR App.
Ojai Music Festival, June 8-11, 2017
Of the upcoming Ojai Music Festival, Vijay Iyer commented, "When I was invited to take on the role of Music Director for the 2017 Ojai Music Festival, it was a shocking but validating proposition. As an artist, I like to insert myself into situations where some might not necessarily imagine I belong. I have many different affinities musically, and also very real associations across different musical communities, generations, geographic locations, and traditions that speak to me and through me. Our 2017 Festival feels like a good opportunity to update the idea of what music is today. I know the hallowed history of this Festival and I've seen different versions of what it can be. I'm just glad that Tom Morris invited me to intervene, and to bring my people with me. I'm going to learn so much over those few days in June, and I believe everyone there will discover a great deal – not just about music, but about themselves."
For complete 2017 Ojai Music Festival information, please see the Festival calendar at OjaiFestival.org. Experience the Festival in Ojai (June 8-11) or remotely via Ojai Live webcast (June 8-11); or visit Ojai at Berkeley (June 15-17).
Ojai Music Festival Tickets
Festival single tickets \ may be purchased online at OjaiFestival.org or by calling (805) 646-2053. Tickets range from $40 to $150 for reserved seating and are $15 for lawn tickets. Student and group discounts are also available.
Directions to Ojai and performance venues, as well as information regarding lodging, a concierge service, and other Ojai activities, are also available on the Ojai Music Festival web site.
Ojai Live webcast of 2017 Festival
Ojai Live begins on Thursday, June 8 with the evening concert at Libbey Bowl. The dynamic multi-camera live webcast brings the Ojai Music Festival to audiences around the world with live broadcasts of performances and interview segments. Watch Ojai Live at OjaiFestival.org.
Ojai at Berkeley
Marking the seventh year of artistic partnership, Ojai at Berkeley celebrates the dynamic nature of the Ojai Music Festival and of Cal Performances. As two distinct communities, Ojai and Berkeley are both known for intrepid artistic discovery, spirited intellect, and enduring engagement in the arts. Inaugurated in 2011, Ojai at Berkeley is a joint force that enables co-commissions and co-productions and allows artists to achieve more than could be imagined by each organization separately. Ojai at Berkeley follows the 2017 Ojai Music Festival and will take place from June 15-17 in Berkeley, CA. For more information visit CalPerformances.org.
Vijay Iyer, 2017 Ojai Music Festival Music Director
Composer-pianist Vijay Iyer is the Franklin D. and Florence Rosenblatt Professor of the Arts at Harvard University. He was named Downbeat Magazine's Jazz Artist of the Year for 2012, 2015, and 2016, and he received a 2016 US Artists Fellowship, 2013 MacArthur Fellowship, a 2012 Doris Duke Performing Artist Award, and a 2011 Grammy nomination. He has released twenty-one albums, including A Cosmic Rhythm with Each Stroke (ECM, 2016) in duo with legendary composer-trumpeter Wadada Leo Smith, named "Best New Music" by Pitchfork; Break Stuff (ECM, 2015) with the Vijay Iyer Trio, winner of the German Record Critics' Award for Album of the Year; the live score to the film RADHE RADHE: Rites of Holi (ECM, 2014) by filmmaker Prashant Bhargava; and Holding it Down: The Veterans' Dreams Project (Pi Recordings, 2013), his third politically searing collaboration with poet-performer Mike Ladd, named Album of the Year in the Los Angeles Times.
Mr. Iyer's compositions have been commissioned and premiered by Bang on a Can All-Stars, The Silk Road Ensemble, Ethel, Brentano Quartet, Brooklyn Rider, Imani Winds, American Composers Orchestra, International Contemporary Ensemble, Chamber Orchestra Leopoldinum, Matt Haimowitz, and Jennifer Koh. Mr. Iyer serves as Director of the Banff International Workshop in Jazz and Creative Music.
About the Ojai Music Festival
From its founding in 1947, the Ojai Music Festival has created a place for groundbreaking musical experiences, bringing together innovative artists and curious audiences in an intimate, idyllic setting 80 miles northwest of Los Angeles. The Festival presents broad-ranging programs in unusual ways with an eclectic mix of rarely performed music, refreshing juxtapositions of musical styles, and works by today's composers. The four-day festival is an immersive experience with concerts, free community events, symposia, and gatherings. Considered a highlight of the international music summer season, Ojai has remained a leader in the classical music landscape for seven decades.
Through its unique structure of the Artistic Director appointing an annual Music Director, Ojai has presented a "who's who" of music including Aaron Copland, Igor Stravinsky, Olivier Messiaen, Michael Tilson Thomas, Kent Nagano, Pierre Boulez, John Adams, Esa-Pekka Salonen, Robert Spano, Pierre-Laurent Aimard, David Robertson, Eighth Blackbird, George Benjamin, Dawn Upshaw, Leif Ove Andsnes, Mark Morris, Jeremy Denk, Steven Schick, and Peter Sellars.
The Festival, which enters its 71st year in 2017, is a nonprofit organization based in Ojai, California. David Nygren serves as the board chairman, Jamie Bennett is the president, and Thomas W. Morris serves as Artistic Director.